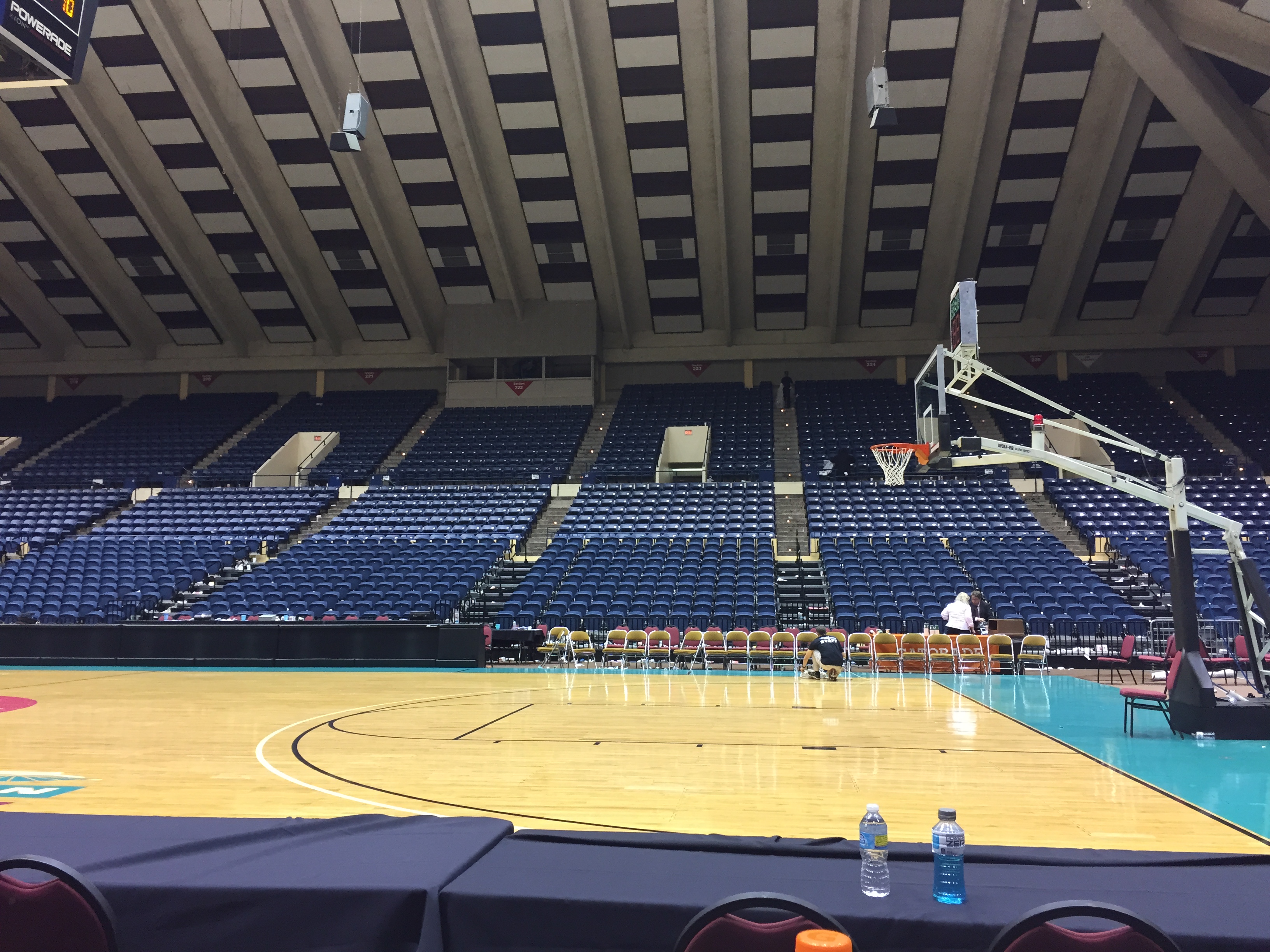 Photo By Kyle Sandy
UPDATED 9/16/15
As there is every year, there was some major offseason movement among some of the best basketball programs in the state of Georgia. Unlike football, there is an AAU circuit that plays nearly year round with the best players in the area joining forces to make a run at Nationals. Playing with players from other schools gives players a chance to bond with one another and learn each other's game. The success on this summer circuit sometimes prompts players to decide to transfer to be able keep playing together. Where it hurts the schools where they transfer from, it helps build powerhouse programs elsewhere. It truly has turned into the Wild Wild West during the offseason, with the entire outlook of programs changing with the loss or the import of one or more transfer(s).
Here is a rundown of some transfers I have heard through the grapevine and a summary of what the addition means. If you know of anymore or any that are incorrect, please shoot me a tweet @KyleSandy355 or leave a comment or an email at Ksandy@Scoreatl.com. Thanks!
Class AAAAAA
SO Chris Parks – 6'6" 210 lbs – (5A Lanier to Collins Hill)
SR Romello White – 6'8" 215 lbs – (IMG Academy, FL to Wheeler)
SR Darnell Rogers – 5'2"135 lbs – (Indian Land, SC to Shiloh)
JR Collin Sexton – 6'2" 160 lbs – (Hillgrove to Pebblebrook)
JR Chuma Okeke – 6'7" 210 lbs – (Langston Hughes to Westlake)
SR A.J. Cheeseman – 6'6" 210 lbs – (Duluth to Collins Hill)
JR Kendrick Summerour – 5'9" 155 lbs – (5A Kell to Milton)
JR Greg James – 6'4" 162 lbs – (Alpharetta to Shiloh)
SO Reikan Donaldson – 6'2" 160 lbs – (1A Calvary Day to Wheeler)
JR Zach Cooks – 5'8" 140 lbs – (Norcross to Berkmar)
SO Justin Brown – 6'0" 165 lbs – (Northview to Milton)
SR Kyrin Galloway – 6'8" 200 lbs – (4A Buford to Milton)
SO Travis Anderson – 5'10" 165 lbs – (2A Holy Innocents to Grayson)
JR Jay Estime – 6'5" 180 lbs – (Peachtree Ridge to Berkmar)
SR Al-Wajid Aminu – 6'6″ 185 lbs – (Coral Gables, FL to Wheeler)
SR Ronald Bell – 6'5″ 175 lbs – (5A North Atlanta to Westlake)
SR Teshaun Hightower – 6'5″ 180 lbs (3A Towers to Collins Hill)
SR Reece Anderson – 6'2" 185 lbs – (5A Chapel Hill to Douglas County)
JR David Swillum – 6'0″ 175 lbs – (Milton to Alpharetta)
SR Keishon Kershaw – 6'2″ 175 lbs – (Milton to Alpharetta)
SR Khalil Richard – 5'11″ 165 – (St. Frances, MD to Shiloh)
Class AAAAA
SR Aaron Augustin – 5'11" 170 lbs – (6A Peachtree Ridge to Miller Grove)
JR Tae Hardy – 6'3″ 150 lbs – (Southwest DeKalb to Miller Grove)
SR Cameron Cox – 6'3″ 170 lbs – (Creekview to Sequoyah)
SR Isaac Kellum – 6'4″ 170 lbs – (Fayette County to McIntosh)
SR Tyler Scott – 6'10″ 215 lbs – (Gainesville to Greenville, SC)
SR Colin Young – 6'3" 185 lbs – (3A Laney to Miller Grove)
SR Marquis Traylor – 6'5″ 180 lbs – (Knob Noster, MO to Houston County)
JR D.J. Young – 6'1″ 180 lbs – (6A Milton to Discovery)
Class AAAA
SR Jacara Cross – 6'6" 220 lbs – (3A Cedar Grove to Lithonia)
SO Alex Jones – 5'9" 155 lbs – (6A Alpharetta to Buford)
SO D.J. Brittian – 6'0″ 160 lbs – (5A Miller Grove to Grady)
SO Kris Gardner – 6'1″ 170 lbs -(6A Lee County to Westover)
Class AAA
SO Lamont Smith – 6'1" 185 lbs – (4A Buford to East Jackson)
JR Zion Williams – 5'8" 155 lbs – (Savannah to Jenkins)
SR Dylan Curry – 6'4″ 165 lbs – (Oak Hill Academy, VA to West Hall)
SO Gabe Bryant – 6'8″ 225 lbs – (Dorman, SC to Dawson County)
SR Ric'Quail Smoot – 6'8″ 230 lbs – (Butler to The Potter House, FL)
Class AA
SO Isaiah Kelly – 6'8" 195 lbs – (SCISA Augusta Christian to Pace Academy)
Class A
SR Anthony Showell – 6'2" 165 lbs – (6A Duluth to St. Francis)
Class AAAAAA Impact Transfers:
One player might shift the balance of power in 6A and especially in Region 3. Chuma Okeke and his 22.8 points and 8.3 rebounds shift from Langston Hughes to Westlake. Hughes was primed for a big season chock full of juniors. An astronomical 12 sophomores suited up last year for coach Rory Welsh and it was Okeke along with guard Khalil Cuffee (18.2 ppg) that ran the show as super sophomores. Now Cuffee will have to shoulder the complete load with Okeke gone. The highly sought after forward joins an already talented roster that stumbled to a 13-15 record in 2014. Big man Michael Durr, shooting guard Raquan Wilkins and point guards Danny and Jamie Lewis along with Okeke make the Lions one of the most intriguing teams for a huge rebound season. Westlake has also added North Atlanta stand-out Ronald Bell. Bell can play both forward positions and has a high motor which he uses to go after loose balls and rebounds.
The Tigers added a strong combo guard in Reece Anderson, who will join an already potent backcourt. Anderson was a key contributor last season for the Chapel Hill Panthers and now will slide in to play with highly sought after swingman Brandon Robinson. Anderson is a big physical guard who has improved his handle and jumpshot throughout his high school career. Anderson will be relied upon to produce in the ultra-competitive Region 3-AAAAAA, which is home to state runner up Pebblebrook, the reloaded Westlake Lions and the talented young Langston Hughes Panthers. Anderson was an honorable mention selection in Region 4-AAA as a sophomore in 2014 and has the upside to garner similar honors or better his senior season.
Collins Hill picked up some great size inside to help add to a team that could use some toughness in the low post. Chris Parks and AJ Cheeseman will bring just that. Parks averaged 8.0 points and 5.2 rebounds as a freshman with Lanier. Cheeseman knows Collins Hill well, as his Duluth Wildcats split a pair with the Eagles during the Region 7 regular season. Cheeseman averaged 11.4 points and 7.1 rebounds as a junior.
The Eagles also nabbed Teshaun Hightower from AAA Towers High School. The combo guard has great athleticism and can become a big time scorer in the right system. Last season as a junior he averaged over 12 points per game and has yet to reach his ceiling. He has nice lift on his jumper and should start to rack up the scholarship offers with a productive senior season. Hightower broke out with a big summer circuit and was originally set to join Grayson High School before settling on Collins Hill.
Shiloh added some dynamic players to its backcourt in Darnell Rogers and Greg James. Rogers averaged over 28 points per game in South Carolina and became a YouTube sensation for his acrobatic and jaw dropping play as the smallest player on the floor. He played with new teammate Josh Okogie on the AAU circuit on Team CP3 and decided to follow him to Georgia to play their senior season together. James is strong outside shooter with nice size and is receiving looks from low to mid-major programs.
The Generals added another dynamic guard with Division-One talent in Khalil Richard. A strong guard who banged home 45% of his three-point attempts last season, Richard announced on Sept. 15 that he committed to Siena. At St. Frances Academy as a junior he averaged 12.9 points per game and 3.0 assists. He joins Darnell Rogers and Greg James at Shiloh, a team that lost just one game in-state as they finished 28-4.
Hillgrove took a major blow in losing Collin Sexton. The rising junior was a major piece to Hillgrove's 23-win season and was a big-game performer when the Hawks needed him the most. He will join last season's state runner up Pebblebrook, who needs to reload after losing Ty Hudson (Clemson), Derek Ogbeide (UGA), Trhae Mitchell and glue guy Kevin Murph. Sexton will team up with Auburn-bound point guard Jared Harper and will form one of the best back courts in the state.
The big winner of all this moving-and-shaking has to be Milton, who vaults itself back into state prominence if all the pieces come together. Kendrick Summerour brings his slick And-1 type handles to the Eagles after averaging 14.1 points and 4.1 assists as a sophomore at Kell. Justin Brown averaged 15.1 points a night as a freshman at Northview, while Kyrin Galloway brings size inside. This new trio will team-up with Harvard bound big man Chris Lewis and the rapidly improving Alex O'Connell.
Although Milton added a plethora of talent this offseason, they also lost some key pieces that saw a lot of time on the court last year. Senior Keishon Kershaw and junior David Swillum will bring their abilities to Alpharetta. Kershaw started half the season for the Eagles and provides energy on the perimeter. Swillum led the JV team in scoring and has been groomed to make a contribution right away in his first season playing full-time on varsity. Fellow junior DJ Young has left for first-year school Discovery and should be thrust into a role which will see him as a primary option on offense. When he gets the opportunity to set his feet, Young can be lethal from outside with his three-point stroke.
Wheeler has added the younger brother of NBA'er and former Norcross star Al-Farouq Aminu. Al-Wajid is a 6-foot-6 forward with long arms which well help Wheeler's defense right away in both the passing lanes and on the interior. Now a senior, as a sophomore Aminu averaged 9.4 points, 9.0 and 1.8 blocks per game at Coral Gables, FL.
The Wildcats also picked up four-star forward Romello White, late into the transfer scene. Initially, it was being reported by sources that White, who started his high school career at Peachtree Ridge, would be back with the Lions, but he indeed has landed with Wheeler. @CoryintheSource looked like the first to break it, and had his tweet retweeted by White himself. On Sept. 14, Shun Williams of OnTheRadarHoops tweeted that Iowa State was at Wheeler to see both Darius Perry and White work out. White committed to Tennessee on Jan. 5, but later de-committed on April 14 after the coaching change.
The Rest of the State Impact Transfers:
Aaron Augustin averaged 16.6 points, 4.3 rebounds and 4.3 assists for Peachtree Ridge a year ago, but now teams up with UConn-commit Alterique Gilbert at Class AAAAA power Miller Grove to form yet another great Peach State backcourt.
Tae Hardy will join Gilbert and Augustin in a now crowded, but loaded backcourt. He comes from Southwest DeKalb where he averaged 16.5 points per game last year as a sophomore.
A third guard has landed at Miller Grove in Colin Young. Young was a part of the break out Laney Wildcats who won 29 games and put together the most impressive resume in all of the state with wins over the likes of Morgan County, Pebblebrook, Norcross and eventual state champ Jenkins last year. The 6-foot-3 guard was named Region 3-AAA Second Team after pitching in 11 points per game. Young is a knockdown shooter who led the Wildcats with 49 threes, connecting at a 46% clip. He will get plenty of opportunities to spot up with Gilbert and Augustin running the show up top.
McIntosh, who has blossomed into a Class AAAAA power after a 29-1 record last year, returns 10 players including the Chiefs' top four scorers. 2015-16 will be the season the Chiefs make a deep run into the playoffs after adding Isaac Kellum. The senior averaged 13.8 points per game at neighboring Fayette County High School and will slide into the starting three spot. He brings great athleticism and may be the missing piece needed for the Chiefs to capture their first ever state championship.
Houston County continues to trend upwards after adding Marquis Traylor from Knob Noster High School in Missouri. The Bears finished the regular season 0-7 in Region 2-AAAAA, but stunned cross-region foe Grovetown (17-7, 9-1) in the region tournament and sent the Warriors home early without a state playoff berth. The Bears featured just four seniors last year and Traylor should help with his athleticism. As a junior he averaged 7.7 points and 6.3 rebounds while showing off his hops, blocking 1.3 shots per game.
Jacara Cross' move from Cedar Grove to Lithonia makes the Bulldogs one of the top dogs in AAAA.  Couple him with Tyleen Patterson, Rodney Chatman and Tyheem Freeman and you have a dynamic team that already is coming off a 27-win season.
Alex Jones graded out as one of the best freshmen in the state last year and was named AAAAAA Freshman of the Year by HoopSeen. He helped lead Alpharetta to a 25-6 record and 18-0 Region 6 record. The floor general averaged a double-double in points and assists and was a lock down defender on the perimeter. Jones will fill in for Tre Hansbrough, who signed to play at Tennessee Tech after averaging 23 points per game his senior season at Buford.
Kris Gardner will bring stability to the Westover backcourt this season after transferring from 6A Lee County. In his freshman season Gardner was named All-Region 1AAAAAA First Team. Now at the AAAA level, Gardner brings strong ball handling and decision making to a Westover team that was bounced in the first round of the state playoffs last year.
A pair of guards should improve backcourts in AAA. Lamont Smith joins super sophomore Drue Drinnon for East Jackson while Zion Williams replaces Jenkins graduate Eric Johnson, who hit the game winner to lift the Warriors to a state championship last season with just seconds left. Williams averaged 10.3 points and 6.8 assists as a sophomore.
Dawson County landed a huge player with big time upside in Gabe Bryant. The 6-foot-8 big man comes from South Carolina and will make an immediate impact with the Tigers, who won just 7 games last season (7-19). Bryant protects the paint with ease and can rebound outside of his zone. His offense has continued to improve and he will enter Dawsonville as the Tigers' go-to guy on day one.
Isaiah Kelly provides Pace head coach Demetrius Smith with an embarrassment of riches inside. Kelly will join top nationally ranked big man Wendell Carter Jr. and will likely give the Knights a say when it comes to the state championship.
Dual sport star Anthony Showell averaged 16.6 points per game for Duluth last season and suits up alongside five-star guard Kobi Simmons.