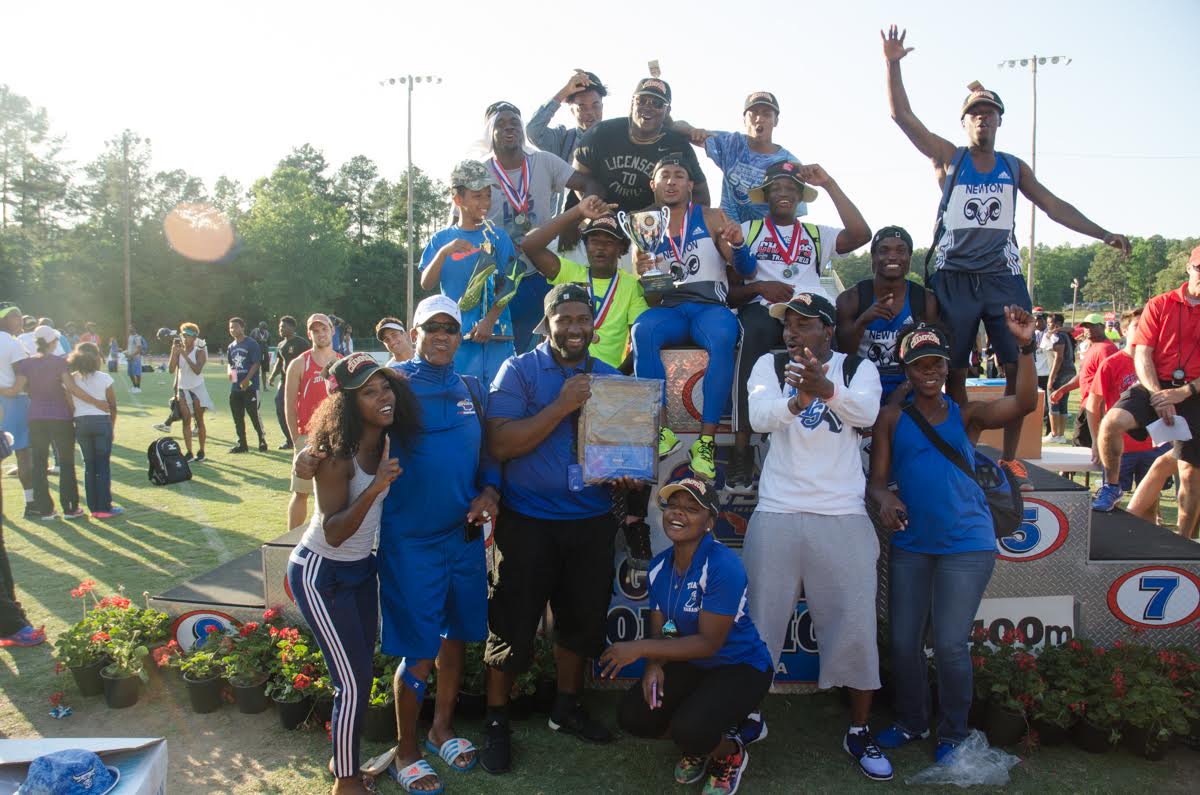 Photo by Walter A. Pinion
Newton trailed South Gwinnett 45-40 after 15 events and had just the 4×400 meter relay left to win the state title, needing a third-place finish or better. The Rams' team of Elija Godwin, Artice Hobbs, Jeremiah Holloman and Alex Sands got it done with a second-place finish of 3:17.85 to add eight points (48-40) and crown Newton this year's Class 6A Boys Track & Field champions.
Newton had just 17 points entering Day 3 and were eighth in the standings. They also had to overcome a shaky 4×100 relay to open the day, in which Godwin, Hobbs, Sands and Riordran Johnson legged a team that did not finish and earned zero points.
Godwin gave the Rams a spark by posting a 47.40 first-place finish in the 400 meter dash for 10 points.
In Class AAAAAA, Southwest DeKalb scored 58 points to edge second-place Cedar Shoals for the title. Brothers Terryon and Terry Conwell solidified the victory with a one-two finish in the 200 meter dash that rewarded the Panthers 18 points with two events left.
Eastside burned the field in Class AAAA with 71 points for the program's first state title. Jovan Brown clocked a 37.62 in the 300 meter hurdles for 10 of the points and Eric Stokes took the 200 meter gold with a 21.58 and the 100 meter gold with a 10.48.
In Class AAA, Cedar Grove defended its state title with a 74-point weekend. Blessed Trinity posted a distant 39 points for second-place. Cedar Grove took first in both relays and Jessie Reverio clocked a 38.65 for first in the 300 meter hurdles.
Wesleyan edged second-place Vidalia 69-61 in Class AA for the program's first state title. The Wolves entered Day 2 with just 21 points and a thrilling 3:24.12 to 3:24.19 win over Holy Innocents' for first-place in the 4×400 meter relay clinched the victory.
After winning seven straight titles from 1996-2002, Landmark Christian returned to the podium for the first time since 2008 with an 88-points outburst in Class A-Private.
Commerce dominated the Class A-Public competition for the program's second state title after tallying 99 points in the 16 events.
Final Team Standings 
Class AAAAAAA
1. Newton (48)
2. South Gwinnett (45)
3. Campbell (43)
3. Lakeside-DeKalb (43)
5. McEachern (38)
Class AAAAAA
1. Southwest DeKalb (58)
2. Cedar Shoals (44)
3. Allatoona (40)
4. Starr's Mill (34)
5. Flowery Branch (32.50)
Class AAAA
1. Eastside (71)
2. Marist (44)
3. Woodward Academy (40)
3. Grady (40)
5. Eagle's Landing (36)
Class AAA
1. Cedar Grove (74)
2. Blessed Trinity (39)
3. Jefferson (35)
3. Central-Carroll (35)
5. East Jackson (33)
Class AA
1. Wesleyan (69)
2. Vidalia (61)
3. Bleckley County (43)
4. Holy Innocents' (40)
5. Early County (37)
A-Private
1. Landmark Christian (88)
2. Athens Christian (65)
3. ELCA (55)
4. Savannah Christian (48)
5. First Presbyterian (44)
A-Public
1. Commerce (99)
2. Turner County (62)
3. Montgomery County (60)
4. Hancock Central (51)
5. Telfair County (50)
100 meters
Class AAAAAA: 1. Jalen Virgil, Mountain View, 10.40; 2. Terrell Smith, South Gwinnett, 10.43; 3. Tyson Spears, Roswell, 10.52; 4. Tyler Simmons, McEachern, 10.60
Class AAAAA: 1. Terryon Conwell, Southwest DeKalb, 10:61; 2. Chris Jackson, Bradwell Institute, 10.91; 3. Chandler Nichols, Camden County, 10.96; 4. Donald McClinton, Richmond Academy, 10.99
Class AAAA: 1. Eric Stokes, Eastside, 10.48; 2. Josh Blackwell, Buford, 10.81; 3. Antonio Gibson, Eagle's Landing, 10.95; 4. Jatavious Harris, Baldwin, 10.96
Class AAA: 1. Tyler Terry, Central-Carroll, 10.72; 2. Mecole Hardman, Elbert County, 10.74; 3. Devon Moore, Appling County, 10.78; 4. Darrell Baker, Hephzibah, 10.83
Class AA: 1. Darren Brisbon, McIntosh County Academy; 11.08; 2. JaTarri Tanksley, Screven County, 11.10; 3. Elliot Moses, Early County, 11.15; 4. Clifford Russell, Pelham County, 11.17
Class A-Private: 1. Demetrius Robertson, Savannah Christian, 10:51; 2. Marquez Bembry, Mt. Vernon Presbyterian, 10.68; 3. Jeffrey Uzell, ELCA, 10.71; 4. Kevon Hudson, Prince Avenue, 10.81
Class A-Public: 1. Zlaire Andrews, Irwin County, 10:75; 2. Javonta Wilcox, Telfair County, 10.75; 3. Lyn-J Dixon, Taylor County, 11.21; 4. TreTez Barksdale, Commerce, 11.21
200 meters
Class AAAAAA: 1. Terrell Smith, South Gwinnett, 21.26; 2. Tyson Spears, Roswell, 21.35; 3. Trevious Frazier, Grayson, 21.595; 4. Elija Godwin, Newton, 21.599
Class AAAAA: 1. Terryon Conwell, Southwest DeKalb, 21.32; 2. Terry Conwell, Southwest DeKalb, 21.47; 3. Chris Jackson, Bradwell Institute, 21.94; 4. Rogerous Swain, Cedar Shaols, 21.96
Class AAAA: 1. Eric Stokes, Eastside, 21.58; 2. Jatavious Harris, Baldwin, 22.09; 3. KJ Anderson, Buford, 22.14; 4. DeAngelo Harris, Riverdale, 22.25
Class AAA: 1. Tyler Terry, Central-Carroll, 21.46; 2. Devon Moore, Appling County, 21.66; 3. Darrell Baker, Hephzibah, 21.93; 4. Austin Pierce, Lumpkin County, 22.13
Class AA: 1. Daren Brisbon, McIntosh County Academy, 22.41; 2. David Dewitt, Greene County, 22.58; 3. Clifford Russell, Pelham County, 22.61; 4. Deon Green, Vidalia, 22.61
Class A-Private: 1. Demetrius Robertson, Savannah Christian, 21.42; 2. Jeffrey Uzell, ELCA, 21.80; 3. Marquez Bembry, Mt. Vernon Presbyterian, 21.93; 4. Zatrick Pearce, Tallulah Falls, 22.39
Class A-Public: 1. Javonta Wilcox, Telfair County, 22.27; 2. Ziaire Andrews, Irwin County, 22.37; 3. Malik Linder, Montgonermy County, 22.62; 4. Shondez Willaims, Hancock Central, 22.76
400 meters
Class AAAAAA: 1. Elija Godwin, Newton, 41.40; 2. Brian Herron, Lakeside-DeKalb, 48.20; 3. Justin Long, Parkview, 48.71; 4. Brian Evans, McEachern, 48.87
Class AAAAA: 1. Terry Conwell, Southwest DeKalb, 47.54; 2. Bobby Johnson, Banneker, 48.56; 3. Ben Jean, Grovetown, 48.99; 4. Maurice McDonald, Richmond Academy, 49.19
Class AAAA: 1. Devin Dixon, Eagle's Landing, 1;52.24; 2. Harper Sigler, North Oconee, 3. Brian Faust, Marist, 1:55.51; 4. Dwayne Watkins, Woodward Academy; 1:56.22
Class AAA: 1. Demarqueze Sneed, South Atlanta, 49.17; 2. Andre Burrell, Cedar Grove, 49.30; 3. Nelson Stalling, Franklin County, 49.51; 4. Kyle Nixon, Peach County, 49.91
Class AA: 1. Braxton Lindley, Holy Innocents', 49.48; 2. Shamel Johnson, Metter, 49.62; 3. Clay Patrick, Wesleyan, 49.64; 4. David Dewitt, Greene County, 50.10
Class A-Private: 1. Dewitt Wood, Athens Christian, 49.76; 2. Kaleb Bryant, Athens Academy, 50.12; 3. Nicolas Toomer, Landmark Christian, 50.71; 4. Oscar Harris, ELCA, 50.85
Class A-Public: 1. Clayton Harvey, Montgomery County, 49.51; 2. Ontaria Wilson, Turner County, 49.52; 3. Camiel Lawrence, Hancock Central, 50.47; 4. Blake Mathis, Terrell County, 50.56
800 meters
Class AAAAAA: 1. Ryne Bevan, North Paulding, 1:55.03; 2. Tyler Barber, Mountain View, 1:55.44; 3. Geoffrey McCullough, Campbell, 1:55.64; 4. John Fravel, Milton, 1:55.66
Class AAAAA: 1. Jonathan Oglesby, Cedar Shoals, 1:54.32; 2. Jonathan Myrthil, Northside-Columbus, 1:55.08; 3. Jonathan Pearce, North Atlanta, 1:55.44; 4. Alan Johnson, Mays, 1:56.35
Class AAAA: 1. Devin Dixon, Eagle's Landuing, 1:52.24; 2. Harper Digler, North Oconee, 1:52.62; 3. Brian Faust, Marist, 1:55.51; 4. Dwayne Watkins, Woodward Academy, 1:56.22
Class AAA: 1. Sam Ellis, Decatur, 1:54.60; 2. Demontrez Hawes, Westside-Augusta, 1:56.13; 3. Clay Pender, Jefferson, 1:56.27; 4. Jacob Poston, Dawson County, 1:57.87
Class AA: 1. Everett Smulders, Lovett, 1:57.61; 2. Zach Henry, Holy Innocents' 1:59.84; 3. Braxton Lindley, Holy Innocents', 2:00.10 4. Keldren Reddick, Thomasville, 2:02.13
Class A-Private: 1. Mark Stein, Hebron Christian, 2:00.03; 2. Drew Swan, Athens Academy, 2:01.28; 3. Taylor Snyder, Landmark Christian, 2:0215; 4. Kermit Jackson, Landmark Christian, 2:03.59
Class A-Public: 1. Jay Acker, Commerce, 2:02.73; 2. Javarie Lawson, Twiggs County, 2:06.56; 3. Jaquavius Culver, Hancock Central, 2:06.72; 4. Gamal Lawton, Montgomery County, 2:08.11
1600 meters
Class AAAAAA: 1. Andrew Kent, Lakeside-DeKalb, 4:13.07; 2. Jonathan Schwind, Lambert, 4:13.50; 3. Chance Roe, Lowndes County, 4:14.73; 4. Khayvon Benson, Marrietta, 4:15.27
Class AAAAA: 1. Jack Shewbert, Flowery Branch, 4:11.64, 2. Jonathan Myrthil, Northside-Columbus, 4:18.78; 3. Grant O'Callaghan, Flowery Branch, 4:19.45; 4. Tyler Whorton, Alexander, 4:19.63
Class AAAA: 1. Frank Pittman, Marist, 4:13.49; 2. Thomas Moore, North Oconee, 4:18.60; 3. Leif Anderson, Marist, 4:19.90; 4. Parker Nail, Whitewater, 4:19.97
Class AAA: 1. Sam Ellis, Decatur, 4:13.10; 2. Chase Kennedy, East Jackson, 4:13.91; 3. Ben McCoy, Blessed Trinity, 4:20.66; 4. Chandler Kennedy, East Jackson, 4:30.79
Class AA: 1. Everett Smulders, Lovett, 4:22.49; 2. Carl Ellis Corley, Bleckley County, 4:26.27; 3. Ben Davies, Holy Innocents'; 4:30.39; 4. Jack Douglass, Pace Academy, 4:36.55
Class A-Private: 1. Mark Stein, Hebron Christian, 4:25.60; 2. Sam Shaylor, North Cobb Christian, 4:25.84; 3. Max Heaberlin, Paideia, 4:26.92; 4. Tunji Afolabi-Brown, Mt. de Sales, 4:38.60
Class A-Public: 1. Jay Acker, Commerce, 4:47.44; 2. Javarie Lawson, Twiggs County, 4:50.25; 3. Jess Lanas, Webster County, 4:50.59; 4. Adan Martinez, Hawkinsville, 4:58.52
3200 meters
Class AAAAAA: 1. Andrew Kent, Lakeside-DeKalb, 9:08.45, 2. Zach Israel, Brookwood, 9:08.48. 3. Jonathan Schwind, Lambert, 9:09.53; 4. David Savic, Marietta, 9:15.36
Class AAAAA: 1. Jake Shewbert, Flowery Branch, 9:02.94; 2. Allen Clark, Lakeside-Evans, 9:22.25; 3. Braeden Collins, Alexander, 9:22.43; 4. Colton Page, Allatoona, 9:31.85
Class AAAA: 1. Frank Pittman, Marist, 9:23.87; 2. Leif Andersen, Marist, 9:26.11; 3. Sean Parker, Pickens County, 9:27.03; 4. Thomas Moore, North Oconee, 9:30.00
Class AAA: 1. Chase Kennedy, East Jackson, 9:17.09; 2. Chandler Kennedy, East Jackson, 9:35.76; 3. Ben McCoy, Blessed Trinity, 9:38.94; 4. Addison Cochran, Jefferson, 9:45.18
Class AA: 1. Carl Ellis Corley, Bleckley County, 9:44.02; 2. Jack Douglass, Pace Academy, 9:47.58; 3. Nicholas Klavohn, Lovett, 10:07.53; 4. Guy Gober, Rabun County, 10:17.22
Class A-Private: 1. Sam Shaylor, North Cobb Christian, 9:39.34; 2. Max Heaberlin, Paideia, 10:05.21; 3. Seth Cruber, Landmark Christian, 10:18.91; 4. Alex Branch, Athens Academy, 10:19.01
Class A-Public: 1 Adan Martinez, Hawkinsville, 10:48.56; 2. Blake Bergeron, Telfair County, 10:50.50; 3. Henry Cox, Drew Charter, 11:14.28; 4. Grant Cook, Telfair County
110 meter hurdles
Class AAAAAA: 1. Sierra Williams, Walton, 14.13; 2. Jeremiah Bridges, Hillgrove, 14.17; 3. Myles Scott, Brookwood, 14.37; 4. Antuane Dennard, South Gwinnett, 14.38
Class AAAAA: 1. Matt Moore, Union Grove, 13.48; 2. Daetrich Harrington, Alexander, 14.40; 3. Ahmad Gray, Paulding County, 14.46; 4. Denzel Harper, Stephenson, 14.56
Class AAAA: 1. Michael Jones, Sandy Creek, 14.16; 2. Christian McNair-Jones, Grady, 14.29; 3. Danbrell Harris, Bainbridge, 14.93; 4. Antone Williams, Woodward Academy, 14.94
Class AAA: 1. Malik Murphy, Tattnall County, 14.89; 2. Jadon Haselwood, Cedar Grove, 14.93; 3. Larry Johnson, Dodge County, 15.15; 4. Bailey Durham, Blessed Trinity, 15.15
Class AA: 1. Quran George, Bryan County, 14.87; 2. Trey Harrison, Rabun County, 15.10; 3. L.J. Smith, Lamar County, 15.31; 4. Arrein Marks, Bremen, 15.77
Class A-Private: 1. Titus Moore, First Prebyterian, 14.61, 2. Cedric Robertson, George Walton Academy; 3. Jack Mchugh, King's Ridge, 15.05; 4. Brandon Stone, Landmark Christian, 15.28
Class A-Public: 1. Jatavion Boone, Turner County, 14.94; 2. Jarvis Collins, Warren County, 15.36; 3. Kell Pound, Telfair County, 15.72; 4. James Dewberry, Mitchell County, 16.07
300 meter hurdles
Class AAAAAA: 1. Antuane Dennard, South Gwinnett, 37.42; 2. Tre Williams, Langston Hughes, 37.85; 3. Myles Scott, Brookwood, 38.19; 4. Khari Johnson, Lassiter, 38.64
Class AAAAA: 1. Denzel Harper, Stephenson, 37.57; 2. Fazion Harris, Allatoona, 37.73, 3. Latrell Murray, Luella, 37.85; 4. Marcus Ellis, Clarke Central, 38.42
Class AAAA: 1. Jovan Brown, Eastside, 37.62; 2. Christian McNair-Jones, Grady, 38.61; 3. Jaylyn Scott, Bainbridge, 39.30; 4. Antone Williams, Woodward Academy, 39.53
Class AAA: 1. Jessie Reverio, Cedar Grove, 38.65; 2. Bailey Durham, Blessed Trinity, 39.09; 3. Jadon Hasselwood, Cedar Grove, 39.63; 4. D'Andre Snead, Jordan, 39.80
Class AA: 1. Clay Patrick, Wesleyan, 38.59; 2. Tyquan Powell, Vidalia, 40.58; 3. Jason McCleskey, Wesleyan, 40.70; 4. Cartez Echols, Temple, 40.99
Class A-Private: 1. Richard Jubinor, Athens Christian, 38.90; 2. James Davis, Tallulah Falls, 39.95; 3. Titus Moore, First Presbyterian, 40.41; 4. Jack Mchugh, King's Ridge, 40.54
Class A-Public: 1. Blake Mathis, Terrell County, 39.59; 2. Jatavion Boone, Turner County, 40.10; 3. Lane Sorrow, Commerce, 40.25; 4. Jameel Dewberry, Mitchell County, 41.79
4×100 Relay
Class AAAAAA: 1. McEachern, 41.36; 2. Campbell, 41.71; 3. Parkview, 42.16; 4. Pebblebrook, 42.17
Class AAAAA: 1. Southwest DeKalb, 41.06; 2. Clarke Central, 42.28; 3. Statesboro, 42.58; 4. Stephenson, 42.61
Class AAAA: 1. Eastside, 41.87; 2. Eagle's Landing, 42.36; 3. Grady, 42.41; 4. Buford, 42.51
Class AAA: 1. Cedar Grove, 41.91; 2. Douglass-Atlanta, 42.68; 3. Jackson-Atlanta, 42.81; 4. Central-Carroll, 43.04
Class AA: 1. Vidalia, 42.09; 2. East Laurens, 42.46; 3. Benedictine, 42.47; 4. Wesleyan, 42.96
Class A-Private: 1. ELCA, 42.33; 2. Athens Christian, 43.04; 3. Mt. Vernon Presbyterian, 43.38; 4. Mt. Pisgah Christian, 44.05
Class A-Public: 1. Montgomery County, 42.28; 2. Telfair County, 43.35; 3. Commerce, 43.42; 4. Turner County, 43.71
4×400 Relay
Class AAAAAA: 1. Grayson, 3:15.86; 2. Newton, 3:17.85; 3. Campbell, 3:18.66; 4. Parkview, 3:19.00
Class AAAAA: 1. Cedar Shoals, 3:18.08; 2. Camden County, 3:19.92; 3. Miller Grove, 3:20.25; 4. Allatoona, 3:22.34
Class AAAA: 1. Sandy Creek, 3:20.06; 2. Monroe-Albany, 3:20.15; 3. Riverdale, 3:23.07; 4. White County, 3:23.07
Class AAA: 1. Cedar Grove, 3:22.57; 2. Decatur, 3:26.88; 3. Spencer, 3:27.17; 4. Elbert County, 3:27.97
Class AA: 1. Wesleyan, 3:24.12; 2. Holy Innocents', 3:24.19; 3. Vidalia, 3:26.00; 4. Putnam County, 3:32.03
Class A-Private: 1. Savannah Christian, 3:24.40; 2. Athens Christian, 3:25. 01; 3. Tallulah Falls, 3:27.75; 4. ELCA, 3:28.31
Class A-Public: 1. Commerce, 3:24.99; 2. Montgomery County, 3:28.59; 3. Turner County, 3:35.53; 4. Mitchell County, 3:37.27
High Jump
Class AAAAAA: 1. Antuane Dennard, South Gwinnett, 6-06.00; 2. Quentin Campbell, South Forsyth, 6-06.00 (J); 3. DeAndre Beal, Hillgrove, 6-04.00; 4. Mushadi Ibere, Newton, 6-04.00 (J)
Class AAAAA: 1. Jasmine Chamber, Dutchtown, 6-04.00; 2. James Williams, Lithia Springs, 6-04.00 (J); 3. Tobi Adeyeye, Allatoona, 6-02.00; 4. Chris Jackson, Bradwell Institute, 6-00.00
Class AAAA: 1. Ratayvius Jackson, Eastside, 6-08.00; 2. Marcus Cade, Thomson, 6-06.00; 3. Luke Johns, S.E. Whitfield, 6-06.00 (J); 4. Devon Brooks, Henry County, 6-04.00
Class AAA: 1. David Harris, Tattnall County, 6-06.00; 2. Deontae Jackson, Ringgold. 6-04.00; 3. Adam Ingram, Fannin County, J6-04.00; 4. Christian Keeling, Laney, J6-04.00
Class AA: 1. Jordan Mack, Wesleyan, 6-06.00; 2. Jalen Hodges, Wesleyan, 6-06.00 (J); 3. Elliot Moses, Early County, 6-04.00; 4. Dontavis Hunt, Jefferson County, 6-04.00 (J)
Class A-Private: 1. Harrison Mansell, Fellowship Christian, 6-04.00; 2. Brandon Selders, Calvary Day, 6-00.00; 3. Richard Jubinor, Athens Christian, 6-00.00; 4. Jordan Jakes, ELCA, 6-00.00 (J)
Class A-Public: 1. Renault Griffin, Greenville, 6-08.00; 2. Kevin Mills, Treutlen, 6-04.00; 3. Tamorrian Terry, Turner County, 6-02.00; 4. Malik Williams, Portal, 6-00.00
Pole Vault
Class AAAAAA: 1. Koby Cormier, West Forsyth, 14-00.00; 2. Alex Bassett, Mill Creek, 14-00.00 (J); 3. Mason Lord, Lambert, 14-00.00 (J); 4. Austin Woods, Hillgrove, 13-06.00
Class AAAAA: 1. Michael Runyan, Starr's Mill, 14-06.00; 2. Ben Runyan, Starr's Mill, 14-00.00; 3. Thomas Jolly, Woodland-Cartersville, 14-00.00  (J); 4. Kyle Barnes, Dalton, 13-00.00
Class AAAA: 1. Scott Simpson, Woodward Academy, 14-06.00; 2. Joe Street, Carrollton, 14-00.00; 3. Peyton Caudle, Upson-Lee, 13-06.00; 4. Brandon Fagon, Madison County, 13-06.00
Class AAA: 1. Jack Cahillane, Westminster, 15-00.00; 2. Mitt Conerly, Central-Carroll, 14-06.00; 3. Kayne Berryhill, Banks County, 13-06.00; 4. Jared Brown, Jefferson, 13-00.00
Class AA: 1. Chandler Eckler, Fitzgerald, 14-00.00; 2. Will Simmons, Bleckley County, 13-06.00; 3. Dalton Keener, Rabun County, 13-00.00, 4. James Brubeck, Riverside Military, 13-00.00 (J)
Class A-Private: 1. Josh Miller, First Presbyterian, 14-06.00, 2. Sam Zoldock, Mt. Pisgah, 14-00.00; 3. Stockton McGuire, Landmark Christian, 14-00.00 (J); 4. Zane Wolf, Athens Christian, 13-06.00
Class A-Public: 1. Greyson Burke, Commerce, 11-00.00; 2. Jay Aker, Commerce, 9-06.00; 3. Bryce Hill, 8-06.00; 4. Sam Accord, Mt. Zion-Carroll, 8-00.00
Long jump
Class AAAAAA: 1. Jeremiah Bridges, Hillgrove, 24-02.50; 2. Sam Jackson, McEachern, 24-01.00; 3. Edmond Graham, Mill Creek, 24-01.00 (J); 4. Tyson Spears, Roswell, 23-08.50
Class AAAAA: 1. Denzel Harper, Stephenson, 23-04.00; 2. Jaysen Robinson, North Springs, 22-10.00; 3. Jarvis James, Woodland-Cartersville, 22-08.00; 4. Rudy Valentine, Grovetown, 22-06.75
Class AAAA: 1. Marcus Cade, Thomason, 23-01.75; 2. Ratayvius Jackson, Eastside, 22-11.00; 3. Jacquez Sloan, Grady, 22-08.75; 4. Seth Holloway, Fayette County, 22-05.00
Class AAA: 1. Darrell Baker, Hephzibah, 23-07.50; 2. Mecole Hardman, Elbert County, 22-08.00; 3. Qwazon Alkhaliq, Jackson-Atlanta, 22-07.50; 4. Jaiquan Earls, North Clayton, 22-02.50
Class AA: 1. Javian Williams, Early County, 23-08.00; 2. Carter Shell, Temple, 22-01.75; 3. Alex Rowe, Greater Atlanta Christian, 22-00.25; 4. Shon Jones, Vidalia, 21-10.25
Class A-Private: 1. Kevon Hudson, Prince Avenue, 24-01.25; 2. Demetris Robinson, Savannah Christian, 23.04.50; 3. Zaf-r Abdul-Salaam, W.D. Mohammed, 22-02.00; 4. Justin Menard, ELCA, 21-00.75
Class A-Public: 1. Malik Linder, Montgomery County, 23-01.50; 2. Robert Cornelius, Twiggs County, 22-06.25; 3. Rashad Jordan, Drew Charter, 21-08.25; 4. Benjamin Okafor, Elite Scholars, 21-07.25
Triple Jump
Class AAAAAA: 1. Jeremiah Holloman, Newton, 49-05.50; 2. Cedric Williams, McEachern, 47-10.00; 3. John Anthony, Chattahoochee, 46-00.00; 4. Paris Williams, Centennial, 44-10.00
Class AAAAA: 1. Rogerous Swain, Cedar Shoals, 47-03.00; 2. Drae Butts, Jones County, 47-02.00; 3. Tariq Bradford, Southwest DeKalb, 46-10.75; 4. Dontavious Patrick, Mays, 46-06.00
Class AAAA: 1. Ratayvius Jackson, Eastside, 46-03.75; 2. Tyler Jones, Arabia Mountain, 45-10.75; 3. Dwayne Watkins, Woodward Academy, 45-02.00; 4. Timotheus Slade, Mt. Zion-Jonesboro, 44-04.75
Class AAA: 1. Qwazon Akhaliq, Jackson-Atlana, 48-06.56; 2. Carlos Ferguson, Central-Macon, 46.02.25; 3. Mecole Hardman, Elbert County, 46-00.50; 4. David Miller, Tattnall County, 44-09.75
Class AA: 1. Javian Williams, Early County, 49-04.50; 2. Shon Jones, Vidalia, 47-00.25; 3. Xavier Bailey, Coosa, 45-02.50; 4. Carter Shell, Temple, 45-01.75
Class A-Private: 1. Quintez Cephus, Stratford Academy, 45-01.75; 2. Caleb Cobb, Landmark Christian, 44-10.50; 3. Kaleb Bryant, Athens Academy, 44-07.25; 4. Nicolas Toomer, Landmark Christian, 44-04.50
Class A-Public: 1. Ladarus Lundy, Hancock Central, 44-00.25; 2. Ontatia Wilson, Turner County, 43-10.00; 3. Benjamin Okafor, Elite Scholar, 43-09.75; 4. Teondrick Shorter, Hancock Central, 42-06.50
Shot put
Class AAAAAA: 1. 1saiah Rogers, Campbell, 67-10.00; 2. Samuel Wright, Archer, 64-02.50; 3. Ryan Camp, Archer, 56-07.00; 4. Dwayne Tiller, Cherokee, 54-10.00
Class AAAAA: 1. Ryan Spiecha, Starr's Mill, 58-05.50; 2. Jeremiah Abby, Carver-Atlanta, 56-07.00; 3. Quan Grady, Coffee, 54-06.75; 4. Keith Knight, East Paulding, 52-07.25
Class AAAA: 1. Madias Loper, Whitewater, 53-04.25; 2. Akelies Leroy, Monroe-Albany, 52-09.00; 3. Bobby Tilman, Columbia, 52.04.50; 4. Hunter Griffin, Whitewater, 51-09.00
Class AAA: 1. Tyler Blalock, Cedartown, 59-00.00; 2. Johnny Thomas, Cedar Grove, 53-00.50; 3. Trey Teasley, Hart County, 50-10.50; 4. Noah Robinson, Haralson County, 49-07.75
Class AA: 1. Devin Cochran, Greater Atlanta Christian, 53-03.50; C.J. Wright, Screven County, 51.07.00; Devin Johnson, Vidalia, 51-02.50; 4. Randy Wade, Early County, 49-06.75
Class A-Private: 1. Robby Watson, First Presbyterian, 52-07.50, 2. Ahmir Lee, Mt. Vernon, 51-11.00, 3. Drew Anderson, Landmark Christian, 51.04-50; 4. Reed Kroeber, Fellowship Christian, 50-08.00
Class A-Public: 1. Adrian Vquera, Commerce, 46-06.50; 2. Richard Farley, Mt. Zion-Carroll, 44.02.00; 3. Michael Dasher, Charlton County, 43-08.00; 4. Jacquez Kennebrew, Lincoln County, 42-07.00
Discus
Class AAAAAA: 1. Ryan Camp, Archer, 194-00; 2. Isaiah Rogers, Campbell, 167-11; 3. Quin Lyles Woods, Milton, 157-06; 4. Gabriel Nabers, Lowndes County, 155-03
Class AAAAA: 1. Ervin Ward, Ware County, 166-05; 2. Tanner Holcomb, South Paulding, 160-04; 3. Ryan Spelcha, Starr's Mill, 159-06; 4. Marquis Davis, Heritage-Conyers, 155-05
Class AAAA: 1. Akelies Leroy, Monroe-Albany, 165-01; 2. Jeremiah Pierce, Carrollton, 164-08; 3. Michael Willingham, Arabia Mountain, 158-04; 4. Eric Seay, Monroe-Albany, 152-02
Class AAA: 1. Donte Wilson, Jefferson, 153-00; 2. Kearis Jackson, Peach County, 151-03; 3. Jayson Cantrell, Adairsville, 137-10; 4. Johnny Thomas, Cedar Grove, 136-08
Class AA: 1. Charlie Woerner, Rabun County, 158-02; 2. Hunter Sanek, Temple, 150-08; 3. Nathaniel Oliver, Macon County, 150-02; 4. Darrius Hampton, Fitzgerald, 148-02
Class A-Private: 1. Drew Anderson, Landmark Christian, 165-00; 2. Robby Watson, First Presbyterian, 164-04; 3. Reed Kroeber, Fellowship Christian, 143-03; 4. Addison Brown, Athens Christian, 142-09
Class A-Public: 1. Antonio Brown, Mt. Zion-Carroll, 129-05; 2. Daniel Anderson, Mt. Zion-Carroll, 126-01; 3. Jacuri Williams, Treutlen, 124-07; 4. Adrian Vaquera, Commerce, 122-00