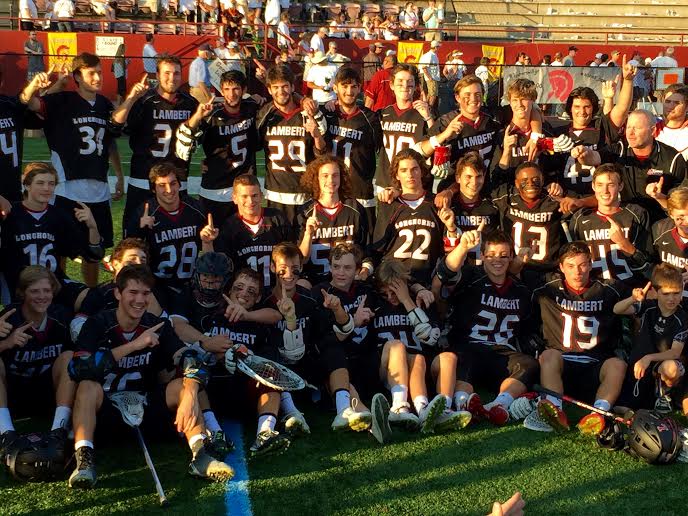 The Lambert (21-0) boys completed the school's second perfect season and captured its second state crown (2012) with a 6-3 victory over host Lassiter (18-3) in the boys Class AAAAAA championship.
The Longhorns established their defensive dominance early against Lassiter after having to rally past Etowah in the semifinals. Lambert held Etowah to just one goal in the second half after overcoming a 6-4 halftime deficit for its 10-7 win.
"The semis helped us out a lot," said Lambert head coach Josh Sagel. "That was the first time we were down all season at the half. We learned a lot about ourselves and realized that we can't take any time off. Not that we took Etowah likely, it's just sometimes you get in a win streak and it's tough to keep the pedal to the metal."
Lambert had the pedal to the metal from the opening faceoff and Hayden Barnes found the back of the net just 46 seconds into the game to give the Longhorns their first lead of the game. Grant Plauger assisted Hunter Clem to make it a 2-0 game and Matt O'Rourk scored before Lassiter could make it 3-1 at the end of the first.
The defense tightened up in the second quarter until O'Rourk scored the period's only goal and put Lambert up 4-1 at the half.
"Our defense is a cohesive unit on and off the field," explained Sagel. "They hang out with each other, they eat lunch together, they do pretty much everything together. That bond is tough to break."
Lambert also held Lassiter scoreless in the third quarter and Conrad McEvoy scored another Longhorn goal to build the lead to 5-1.
Walker Wing assisted O'Rourk for the hat-trick in the fourth quarter to make it 6-1 before Lassiter added a pair of late goals during a desperate blitz of aggressive offense. The six goals were the fewest scored in a game by Lambert all season, but the Longhorns gave up just 2.89 goals per game in the final nine games of their perfect season.
"These things don't happen often and we're very blessed to have had two of those in our history," said Sagel on the perfect season. "Do we expect that every year? Heck no. Not with Lassiter and all of Region 2. There are so many tough teams."
Class AAAAAA
GIRLS
Walton 9, Milton 8
Visiting Walton stunned Milton 9-8 in the girls Class AAAAAA title game to win its first state title and end the Eagles' run of six straight. The familiar rivals have played in the last three championships, but Milton's reign reaches back much further. Milton had won 10 of the 11 state titles the GHSA has handed out in the highest classification prior to Saturday and had not lost to an instate opponent since its loss to Chattahoochee in the 2009 finals.
Riley Ewing got Walton off to a fast start after netting a pair of goals in the first half and giving the Raiders a 6-4 edge at intermission. Walton pushed the lead to 8-5 in the second half, before Milton netted back-to-back goals to pull within one.
Walton took a 9-7 lead with four minutes but Milton answered with 2:04 on the clock to cut it to 9-8. The final two minutes were an excruciating and tense game of keep away against Milton's all-out attack.
Ewing finished with two goals, and teammates Hunter Corvin and Erin McBride also added two goals apiece.
Milton traveled to Walton on March 10 and left with a 14-9 victory. The nine goals by Walton in March and on Saturday were the most allowed by Milton against any Georgia school this season.
Class A-AAAAA
GIRLS
Blessed Trinity 15, Kell 13
 Kell was denied a three-peat as Blessed Trinity stunned the Longhorns after trailing by five goals to claim their first ever state title and complete an undefeated season. Kell led 10-6 at the half before momentum turned. The Longhorns were without their two First Team All-State defenders in senior Riley Proshek (Kennesaw State) and junior Ann Ryan Lanz, who received two yellow cards in the semifinals causing the GHSA to rule them ineligible for the state championship.
"With eight minutes to go, they [Blessed Trinity] just started winning a lot of the 50/50 balls and they controlled the draw and started making plays offensively," explained Kell head coach Todd Utt. "We were struggling trying to slow them down and offensively whenever we got the ball, we made some mistakes. We tried to force things and maybe panicked a little bit I guess and the wheels just kind of fell off."
Kell held a 13-8 lead with 12:05 to play before the Titans made their move. "I tip my hat to them for sure, they played a great game."
Blessed Trinity head coach Liz McFarland couldn't have been prouder of her team after the come from behind win. "It truly was a team effort tonight. Everyone dug deep. They have always believed they have what it takes to be a state champion."
Believe it or not, trailing by five goals late was a daunting task that the Titans were ready for. "We have practiced the scenario of being down several goals and knew what to do in this situation. It came down to stamina, endurance, stick skills and confidence, not to mention resiliency and a belief of never, ever giving up."
In the loss Jennifer Buckley netted a team-high four goals and added two assists. Talen Francis assisted on five goals and scored on of her own. Katherine Gross, Izzy Palermo, Payge Pusatere and Anna Luckie all chipped in two scores.
Class A-AAAAA
BOYS
Allatoona 9, Westminster 7
Allatoona jumped out to a quick 3-0 lead and never relented, even when Westminster pushed ahead in the second half. The Bucs captured their first state title in lacrosse 9-7 in a thrilling game which saw four-time state champion Westminster push Allatoona to the brink before falling short of repeating as state champs. Danny Tesler's goal off a face-off with 1:04 left put the game on ice.
The Buccaneers took an early 3-0 lead on goals from Trevor Stuart, Carson Sorrells and Ben Galloway before Jack Patton netted the first of his four goals for the Wildcats. After Stuart tacked on another goal to make it 4-1, Westminster tagged on four unanswered goals to move ahead 5-4 in the third quarter. Cope Fitzharris hit John Farley before the half to trim the lead to 4-2.
Logan Devereaux found the back of the net and Henry Parker assisted Patton to tie the game. Devereaux fed Patton to take Westminster's only lead of the game. From there the Buccaneers steadied the ship, getting goals from Austin Zumbado and Galloway in the fourth quarter to extend the lead to 8-6.  Patton connected with Fitzharris to bring the Wildcats to within one at 8-7, but Tesler's late goal was the deciding blow.