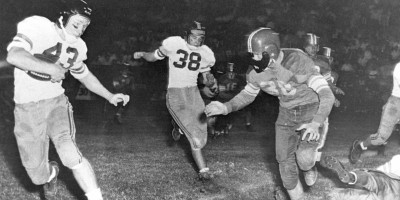 Photo courtesy of the Moultrie Observer
From the Lanier-Macon Poets (the first team to win a GHSA title) to the Grayson Rams (the most recent team to win in the highest class), the storied histories of 28 high school teams will be recognized after the second and third games on both Friday and Saturday at the GHSA State Football Championships at Mercedes-Benz Stadium in Atlanta.
The teams chosen represent dominant and notable programs of each decade from the 1940s to today.
In the 1940s, Lanier-Macon, which combined in 1969 with Miller High School to create the current Central-Macon, won two titles, the first in 1947 when the GHSA held their first state championship. The next season the GHSA expanded to four classifications
In the 1950s, Morgan County, Hawkinsville and Grady combined for eight state championships. Morgan County added titles in 1955, '56, '58 and '59. Charlie Brake coached the team to the 1955 title, and Bill Corry won the next three in that decade. Grady became one of the first City of Atlanta schools to win a state championship when it took the '53 title under Erskine Russell, who went on to become a celebrated defensive coordinator at the University of Georgia and head coach at Georgia Southern. Hawkinsville repeated as champion in '53 and '54 with another title in '59 with Bobby Gentry at the helm. Hawkinsville went a perfect 24-0 in '53 and '54.
In the 1960s, the teams being honored won a combined 16 state titles, with Valdosta leading the way with seven. Wright Bazemore's Wildcats opened the decade with three straight championships from 1960-62 and added titles in '65, '66, '68 and '69. George Maloof's St. Pius X Golden Lions won state in 1968 with a 12-1 record, becoming the first private school to win a title. Avondale became the first DeKalb County school to win an outright title with its win in '63. Washington-Wilkes took titles in '60 and '63 and back-to-back titles in 1966-67, all under head coach Charlie Davidson. Warren County won back-to-back titles under head coach Ray Lamb in 1965-66 and added another in '68 with Hale Burnette at the helm. Roswell became the first Fulton County team to win a state title when it completed an undefeated season in '68.
The 1970s honorees produced eight state titles among the five schools including the Southwest (Atlanta) team that won a title in 1973, the first after integration for a majority African-American school in 1973. The Wolves went undefeated that season and defeated East Rome (14-7), Habersham Central (42-0) and Americus (21-7) in the playoffs. Thomasville, under head coach Jim Hughes, won back-to-back titles in '73 and '74. Clarke Central won state in '77 and '79 with undefeated records, and Lakeside, under legendary head coach Wayman Creel, also won titles in '70 and '72 without losing a game.
West Rome and Lincoln County each won four state titles in the 1980s, with West Rome's coming in four consecutive years but with three different coaches. Mike Hodges led the Chieftains in 1982-83, Rodney Walker won the '84 title and Charlie Winslette was at the helm for the '85 title, an undefeated season. Lincoln County won titles from 1985-87 and another in '89.
The 1990s programs combined for six state titles, including Brookwood, under Dave Hunter, getting the first win by a Gwinnett County school in 1996 over Valdosta. Thomas County Central took state in 1992-94, '96 and '97 (undefeated) under Ed Pilcher's leadership.
The 2000s programs combined for 18 titles among the five teams. Buford won six championships in that decade, in 2001-03 under Dexter Wood and 2007-09 under Jess Simpson. Parkview opened the new millennium with three state titles in 2000-02. Jeff Herron led Camden County to titles in '03, '08 and '09, and Randy McPherson led Lowndes to titles in '04 (undefeated), '05 and '07. Rich McWhorter's Charlton County Indians won three straight titles from 2004-06, going 42-2-1 in those seasons.
In the present decade, Norcross, Colquitt County, Eagle's Landing Christian, Grayson and Allatoona have combined to win 10 state titles. Keith Maloof's Norcross Blue Devils won back-t-back titles in 2012 (undefeated) and 2013. Colquitt County repeated as champions in '14 and '15 under Rush Propst's leadership. Eagle's Landing Christian took titles in '12, '15 and '16. Grayson won in '11 under Mickey Conn and '16 under Herron. Allatoona, which was founded in '08, won a state championship in '15 to mark the first win for a Cobb County school.
Schools being honored
1940s – Lanier-Macon
1950s – Grady, Morgan County, Hawkinsville
1960s – Valdosta, Avondale, Warren County, Washington-Wilkes, St. Pius X, Roswell
1970s – Thomasville, Lakeside, Clarke Central, Southwest (Atlanta)
1980s – West Rome, Lincoln County
1990s – Brookwood, Thomas County Central
2000s – Parkview, Camden County, Buford, Lowndes, Charlton County
2010s – Norcross, Colquitt County, Eagle's Landing Christian, Grayson, Allatoona