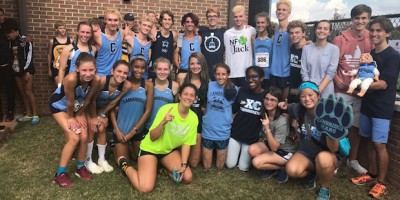 Cambridge cross country swept Class AAAAAA.
The GHSA cross country championships were held at Carrollton High School for all classes on Friday and Saturday. Full race results can be found by visiting Perfect Timing Group.
Class AAAAAAA: Championship favorite Milton's Sam Bowers (15:58.99) won the individual title and helped Milton win its first state title. Teammate Nicholas Yanek (16:04.35) finished just over five seconds behind him to place second, while teammate Dru Milton (16:37.21) finished eighth. East Coweta's Kyle Harkabus (16:20.69) finished just over 16 seconds behind Yanek to place third. Tyler Fox (16:23.53) and Lee Keil (16:45.20), of second-place Lambert, finished fifth and ninth, respectively. For the girls, Elizabeth Funderburk (18:29.12) of Colquitt County won the individual title. Team champion Marietta had Ellie Hall (19:46.09) and Betsy Gordon (20:13.17) finish fourth and seventh, respectively. Placing second was Mary Kathryn Knott (19:28.16) of Peachtree Ridge. Kennesaw Mountain's Elizabeth Rice (19:37.17) placed third just over nine seconds behind Knott.
Class AAAAAA: Cambridge swept the classification and won its first-ever state cross country titles, as its boys recorded a time of 1:26:24.18 and its girls a time of 1:44:25.38. On the boys side, Jack Filan was the Bears' highest finisher at sixth place (16:47.95), and Chris Anderson finished eighth (16:59.95). Adrian Hernandez won the individual title with a time of 16:26.40, eight seconds in front of second-place Koi Williams of Alexander. The Pope and Richmond Hill boys finished second and third, respectively. The Cambridge girls also took the title without a runner in the top five, with Delaney Goodell the team's top finisher at seventh (20:23.93). Cambridge's Lily Elston, Troyce Grant and Chloe Phelps finished 10th, 11th and 12th, respectively. Makena Gates (18:58.32) of second-place Creekview won the individual title by more than 30 seconds over runner-up Skylar English of Dacula.
Class AAAAA: McIntosh swept the classification with the boys (1:26:21.01) and the girls (1:40:15.53) besting the second-place teams by between one and two minutes. Nick Nyman of Starr's Mill (16:09.20) won the boys title, while McIntosh's Zach Jaeger (16:25.49) and Vladi Zander-Velloso (16:53.85) finished third and fifth, respectively. Starr's Mill, McIntosh's Fayette County rival, finished second on the boys side, and defending champion Clarkston finished third. Erin Leonard (18:43.74) of Jones County repeated as girls winner, while team champion McIntosh got a runner-up finish from Megan Uszynski (19:31.53). McIntosh also got strong performances from Kayla Rose (7th), Hannah Moore (8th) and Zoe Smith (10th). Defending champion Woodland-Cartersville finished second, and Starr's Mill was third.
Class AAAA: Marist finished just 14 seconds ahead of No. 2 St. Pius to win the 12th state title for the boys, and the Marist girls bested second-place Oconee County by over a minute to win their 19th trophy. The Marist boys finished with a team average of 17:13.36 and a total time of 1:26:06.79 with St. Pius finishing with a team time of 1:26:20.98. The 1-2 finish of Knox Pittman (16:32.86) and William O'Rielly (16:42.86) helped the War Eagles win the title. Jordan Perez (5th, 16:51.20) and Jack Voss (6th, 16:54.97) were the top finishers for St. Pius. The Marist girls had four top-10 finishers with Kathleen Maley (19:29.90) and Josie Wirtz (19:36.17) finishing second and fifth, respectively. Oconee County's Nicole Pachuta (19:26.63) won the girls individual title, and teammate Caroline McArthur (19:36.07) finished fourth.
Class AAA: Westminster swept the championships, marking the first time since 2011 that both teams won titles outright (in 2013, the girls team shared a title with Wesleyan). For the boys, it marked the 25th state title and first since 2013. The Wildcats finished with a team time of 1:26:48.24, which bested No. 2 Dawson County by a minute and a half. Will Wallace (16:32.66) was the only Wildcat to place in the top five, but two teammates, Peter Huff (17:11.46) and Zach Roe (17:16.08), placed in the top 10. Devon Crow of North Hall (16:26.34) won the individual title. On the girls side, Westminster won its 30th title with a team time of 1:42:35.71 and a 20:31.15 average. The Lady Wildcats were led by Naima Turbes (20:12.53), Delaney Graham (20:13.36) and Bronte Bachetta (20:21.95) who finished second, third and fourth, respectively. The Westminster girls finished six minutes ahead of No. 2 Lovett. Grace Clements of Bremen (19:44.68) won the individual title.
Class AA: The Banks County boys won their first state championship, and the Banks County girls finished second. The Banks County boys were led by top-10 finishers Griffin Stephens (17:30.78), Jimmy Cochran (17:30.82) Hunter Cochran (17:53.90) and Seth Ledford (17:57.37) and had a team time of 1:29:32.92 for an average of 17:54.59. Garrett Rogers of third-place Bleckley County (17:16.36) won the individual title. For the girls, Bleckley County won its second state championship in a row with a team time of 1:50:29.98 for an average of 22.06.00, besting the second-placed Banks County squad by nearly a minute. Bleckley County was led by Austin Perez, who placed first overall with a time of 21:09.52, and Macy Moe, who finished second just 22 seconds behind Moe.
Class A-Public: Georgia Military's Aaron Kirkland, who took the individual championship with a time of 17:47.28, led his team to back-to-back state championships with a team average of 1:36:39.83. It marked the fourth-ever title for Georgia Military, which finished three minutes ahead of second-place Gordon Lee (1:39:43.24). Teammates Jacob Kauzlarich (6th, 19:09.98), Ethan Yopp (12th, 19:38.07) and Taylor Sherwood (13th, 19:49.40) were the top performers for Georgia Military. On the girls side, Telfair County won its first-ever state championship with a time of 2:00:38.43, besting second-place Gordon Lee by less than a minute. Gordon Lee's Gracie O'Neal won the individual title with a time of 20:23.83. Telfair was led by Shayla Cook (2nd, 22:23.90), Arneshia Hardee (5th, 23:03.12) and Paige White (12th, 23:57.46).
Class A-Private: Griffin McCauley (17:02.42) won the individual title by besting second-place Devin Wade (17:04.84) of Whitefield Academy by just over two seconds. Two-time defending champion Landmark Christian placed second with third-place Zackary Truitt (17:09.97), while teammates Kameron Jackson (17:42.85) and Jack Drury (17:49.70) finished eighth and 10th, respectively. Paideia won the boys team title. For the girls, first-place Mary Kellison Thorne (19:33.76) helped Landmark Christian win its fourth title in a row, while teammates Erin Fegans (20:08.42), Sarah Foreman (20:10.32) and Lindsey Biggar (20:58.21) all placed in the top 10. Atlanta International's Reagan Mahoney (19:45.60) placed second, finishing just under 13 seconds before third-place Sophia West (19:58.16) of Paideia.
GHSA Cross Country State Championship Individual Top 5 Results
At Carrollton High School
5K Run
Class AAAAAAA Boys
1. Sam Bowers, Milton, 15:58.99; 2. Nicholas Yanek, Milton, 16:04.35; 3. Kyle Harkabus, East Coweta, 16:20.69; 4. Chase Condra, Peachtree Ridge, 16:21.63; 5. Tyler Fox, Lambert, 16:23.53
Class AAAAAAA Girls
1. Elizabeth Funderburk, Colquitt County, 18:29.12; 2. Mary Kathryn Knott, Peachtree Ridge, 19:28.16; 3. Elizabeth Rice, Kennesaw Mountain, 19:37.17; 4. Ellie Hall, Marietta, 19:46.09; 5. Anna Burnett, Woodstock, 19:55.35
Class AAAAAA Boys
1. Adrian Hernandez, Allatoona, 16:26.40; 2. Koi Williams, Alexander, 16:34.99; 3. Mekhi Williams, Alexander, 16:36.27; 4. Robert Chappell, Alpharetta, 16:36.52; 5. Jalen Murray, Richmond Hill, 16:38.83
Class AAAAAA Girls
1 Makena Gates, Creekview, 18:58.32; 2. Skylar English, Dacula HS, 19:30.70; 3. Brenda Ayuk, Alexander, 19:42.18; 4. Nyah Hernandez, Creekview; 5. Kira Stanley, Harrison, 20:14.30
Class AAAAA Boys
1. Nick Nyman, Starr's Mill, 16:09.20; 2. Audrick Pyrroneau, Hiram, 16:19.78; 3. Zach Jaeger, McIntosh, 16:25.49; 4. Domonic Macias, Union Grove, 16:46.22; 5. Vladi Zander-Velloso, McIntosh, 16:53.85
Class AAAAA Girls
1. Erin Leonard, Jones County, 18:43.74; 2. Megan Uszynski, McIntosh, 19:31.53; 3. Erika Plummer, Flowery Branch, 19:36.57; 4. Haley Rose, Decatur, 19:44.23; 5. Carli Clymer, Woodland-Cartersville, 19:50.15
Class AAAA Boys
1. Knox Pittman, Marist, 16:32.26; 2. William O'Rielly, Marist, 16:42.86; 3. Justin Wachtel, Mary Persons, 16:45.91; 4. Harrison Morris, Oconee County, 16:45.99; 5. Jordan Perez, St. Pius, 16:51.20
Class AAAA Girls
1. Nicole Pachuta, Oconee County, 19:26.63; 2. Kathleen Maley, Marist, 19:29.90; 3. Morgan Vaden, St. Pius, 19:30.78; 4. Caroline McArthur, Oconee County, 19:36.07; 5. Josie Wirtz, Marist, 19:36.17
Class AAA Boys
1. Devon Crow, North Hall, 16:26.34; 2. Will Wallace, Westminster, 16:32.66; 3. Shane Shelafoe East Jackson, 16:38.32; 4. Jack Douglass, Pace Academy, 16:44.75; 5. Lance Underwood, Union County 16:52.47
Class AAA Girls
1. Grace Clements, Bremen, 19:44.68; 2. Naima Turbes, Westminster, 20:12.53; 3. Delaney Graham, Westminster, 20:13.36; 4. Bronte Bachetta, Westminster, 20:21.95; 5. Sue Morales, East Jackson, 20:36.13
Class AA Boys
1. Garrett Rogers, Bleckley County, 17:16.36; 2. Ricardo Santana, Toombs County, 17:23.89; 3. Griffin Stephens, Banks County, 17:30.78; 4. Jimmy Cochran, Banks County, 17:30.82; 5. Guy Gober, Rabun County, 17:41.85
Class AA Girls
1. Austin Perez, Bleckley County, 21:09.52; 2. Macy Moe, Bleckley County, 21:31.95; 3. Katelyn Alvarez Screven County, 21:47.92; 4. Hannah Dodd, Berrien, 21:52.20; 5. Alina Jablonski, Monticello, 21:58.76
Class A-Public Boys
1. Aaron Kirkland, Georgia Military, 17:47.28; 2. Jasper Wilson, Gordon Lee,18:29.65; 3. Leo Lopez, Greene County, 18:43.89; 4. Ian Goodwin, Gordon Lee, 18:57.06; 5. Grant Cook, Telfair County, 19:05.35
Class A-Public Girls
1. Gracie O'Neal, Gordon Lee, 20:23.83; 2. Shayla Cook, Telfair County, 22:23.90; 3. Maya Wynn, Furlow Charter, 22:24.17; 4. Katelyn Taylor, Ace Charter, 22:50.71; 5. Arneshia Hardee, Telfair County, 23:03.12
Class A-Private Boys
1. Griffin McCauley, Paideia, 17:02.42; 2. Devin Wade, Whitefield Academy, 17:04.84; 3. Zackary Truitt, Landmark Christian, 17:09.97; 4. Graham Blanks, Athens Academy, 17:13.81; 5. Alex van Schoor, Galloway, 17:32.66
Class A-Private Girls
1. Mary Kellison Thorne, Landmark Christian, 19:33.76; 2. Reagan Mahoney, Atlanta International, 19:45.60; 3. Sophia West, Paideia, 19:58.16; 4. Jackie Addy, Holy Innocents', 20:03.54; 5. Anna Marian Block, Athens Academy, 20:07.56