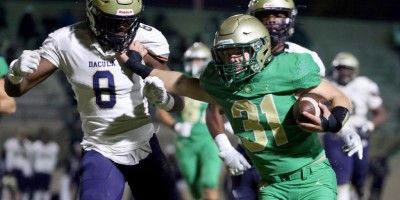 Region 8's top-seeded Collins Hill coasted to a 42-7 win over visiting Alpharetta in the opening round of the playoffs after surging to an early lead behind quarterback Sam Horn's three first-quarter touchdown passes.
The Eagles opened with a four-play, 80-yard drive ending in Horn's 42-yard strike to fellow junior Travis Hunter, and following a three-and-out from Alpharetta, the pair connected again on 4th-and-goal for a 14-0 lead less than five minutes into the game. Horn, who finished the quarter 7-of-11 for 146 yards, found freshman Clint Gilbert late in the first for a 21-0 edge before Alpharetta finally got on the board with a 92-yard drive extended by a defensive pass interference call and capped with sophomore running back Jake Gil's 6-yard run. The Raider defense came up with a takeaway after the ball slipped out of Horn's hand late in the second, but neither offense got anything going on the final drives of the half and the 21-7 score stood at the break.
Horn capitalized on another three-and-out forced by the Collins Hill defense with a 16-yard touchdown pass to senior receiver Sean Norris, then was picked off on the next Eagles drive by DeAngelo Reed. The Raiders were plagued by false start penalties all night, however, and their seventh such call saw the ensuing Alpharetta drive end in another punt. Hunter (7 receptions, 102 yards, 3 TD) took a screen pass from Horn to the end zone at the 1:52 mark in the third, and the back-breaker came on Horn's 46-yarder to Norris for the pair's second touchdown — and Horn's sixth of the night — that put Collins Hill ahead 42-7 early in the final frame.
The postseason win was the first since 2015 for the Eagles, who will host Denmark next week following the Danes' 63-0 rout of Discovery.
See the scoreboard here.
See the Friday Night Wrap by Todd Holcomb here.
Class 7A
Grayson 43, Tift County 0
Nationally-ranked Grayson took care of visiting Tift County in a 43-0 shutout to advance to the second round, where the Rams will host Newnan. Quarterback Jake Garcia finished the night with three passing touchdowns and another on the ground, with all but his 15-yarder to Jamal Haynes coming in the first half en route to a 22-0 lead at the break. The final points of the night came courtesy of a blocked punt returned for a touchdown in the fourth quarter.
Harrison 26, Newnan 24
The Harrison Hoyas will advance to the second round after a win over the Newnan Cougars that came down to the wire. Newnan scored first with a touchdown by Michael Maginnis III, and the Cougars were up 10-7 at halftime. With just under two minutes to play, Newnan made it a 24-20 game with a touchdown by Bryson Moss. On the following possession, Newnan's Joshua Harris then intercepted a Harrison pass, seemingly icing the game. Harrison was able to force a fumble and recover, however, before a touchdown by Marcus Bleazard with fifteen seconds left gave the Hoyas the win.
Colquitt County 49, Brookwood 3
The Colquitt County Packers seized control of their round-one matchup with visiting Brookwood early on, taking a 35-3 first-half lead following three straight rushing scores by Charlie Pace (26, 33, 44 yards) and both an 84-yard pick-six and 19-yard touchdown reception from Ontavious Carolina. Orion Bonner hauled in a 45-yard TD pass early in the third, and Lemeke Brockington brought the score to its final tally with a 67-yard trip to the end zone later in the frame. Colquitt County will host the Walton Raiders next week, who defeated McEachern 49-9.
East Coweta 37, Marietta 28
Trey Bowles rushed for three touchdowns and Jayden Bolton rushed for two scores for Region 2′s top-seeded East Coweta in the Indians' home win over Marietta. East Coweta trailed 21-16 at halftime to the defending 7A champions but took a 30-21 lead on Bowles' third touchdown with 11:49 remaining in the fourth quarter. Marietta drew to within two points (30-28) on Tyler Hughes' fourth touchdown pass of the game — a 25-yard strike to Zuri Johnson — but East Coweta's Christian Cook took the ensuing kickoff to the Marietta 2-yard line to set up Bolton's 2-yard TD run with 6:05 remaining for the game's final points. Bowles rushed for a 50-yard touchdown in the first quarter, and his 3-yard score in the third gave East Coweta a 23-21 lead. Bolton's first TD came on a 20-yard run with 38 seconds remaining in the first half. Beau Beldon gave East Coweta a 9-7 lead in the first quarter with a 35-yard field goal.
Parkview 24, Camden County 17 (OT)
Region 4 No. 2 Parkview got 273 yards and three touchdowns from Tennessee-commit Cody Brown on 42 carries, including the game-winner in overtime, to hold off Region 1 No. 3 Camden County at home. Brown's 3-yard touchdown in the first possession of overtime put Parkview ahead 24-17. On Camden County's drive, quarterback Josh Brown's pass to the end zone on 4th-and-6 was broken up to end the game. Cody Brown scored his first touchdown on a 7-yard run on 4th-and-2 with 4:34 remaining in the first half and got his second at the 11:15 mark of the third quarter on a 14-yard run to give the Panthers a 17-0 lead, but Camden County's Jamie Felix scored on a 20-yard touchdown run to make it 17-7 with 1:42 remaining in the third and tied the game at 17-17 with 1:18 remaining in regulation on a 2-yard run. Felix set up the game-tying touchdown with a 47-yard run on 4th-and-3 to the Parkview 2-yard line. Felix finished with 167 yards on 25 carries.
Archer 21, Gainesville 14
The Archer Tigers got a go-ahead touchdown on quarterback Vashaun Stockmann's 30-yard pass to DJ Moore and a big stop on defense to secure the 21-14 round-one win. Gainesville got on the board in the first quarter (the PAT was no good) and held a 6-0 lead until Wilgens Larme recovered a Red Elephants punt that was blocked by Caleb Wooden and returned it to the end zone in the third. Stockmann then ran it in from 60 yards out later in the frame for a 14-6 Archer advantage. Gainesville knotted the game with just over three minutes to play on a touchdown and successful 2-point conversion before the Tigers drove 65 yards for the score. Archer will travel to Milton next week following the Eagles' 45-14 win over Peachtree Ridge.
West Forsyth 39, Meadowcreek 14
Wolverines scored three offensive touchdowns in the first half in addition to a pick-six from Hudson Posey and a pair of safeties to lead 32-7 at the break. West Forsyth QB Keegan Stover connected on touchdown passes to T.J. Jennings and Cooper Johnson, and Ryder Stewart scored his first of two touchdowns on a trick play in the first half. Stewart added a rushing touchdown in the fourth quarter as well. The Wolverines defense had three sacks in the game, including one by Posey after his interception return. West Forsyth will host North Gwinnett in the second round of the playoffs next week.
Denmark 63, Discovery 0
Denmark won its first playoff game in program history behind an outstanding performance from quarterback Aaron McLaughlin. McLaughlin threw five touchdown passes and scored on the ground as well. Three of Mclaughlin's touchdown passes came in the first quarter — one to Lake Thoman and two to Azari Brown. Rushing scores by Amon Williams and McLaughlin in the second quarter made it a 35-0 contest at halftime. McLaughlin would go on to connect with Brown for a second touchdown and also found Teddy Davenport in the end zone before Williams added two more touchdowns in the fourth quarter. Denmark will play Collins Hill next week.
Norcross 47, South Forsyth 20
Mason Kaplan threw five touchdown passes as Region 7 No. 1 Norcross defeated Region 6 No. 4 South Forsyth at home. Kaplan threw touchdowns of 70 yards and 19 yards to Trey Goodman and a touchdown of 59 yards to D'Andre Golden in the first half to help give the Blue Devils a 27-6 lead at the break, and he found Michael Porter for a 60-yard touchdown and Lawson Luckie for a 4-yard score in the third quarter to put the game out of reach at 41-13 after South Forsyth had pulled to within 14 points early in the quarter. Porter also had a 5-yard touchdown run in the first quarter, and Jahni Clarke capped the scoring with a 16-yard touchdown run in the fourth.
Milton 45, Peachtree Ridge 14
Quarterback Devin Farrell threw a touchdown and rushed for two scores and running back Jordan McDonald added a pair of touchdown runs in Region 5 No. 1 Milton's home win over Region 8 No. 4 Peachtree Ridge. Farrell had a 21-yard touchdown pass to Daniel Black in the second quarter and rushed for scores in the second and third quarters, and McDonald had touchdown runs of 4 and 5 yards in the second and third quarters, respectively. Milton got its first points on a 7-yard fumble return for a touchdown by Jack Nickel in the first quarter, and Jason Aussin made a 40-yard field goal to cap the scoring in the fourth.
Class 6A
Langston Hughes 27, Northside-Warner Robins 0
Buford 48, Douglas County 0
Region 8 No. 1 Buford scored 31 points in the second quarter in its home win over Region 5 No. 4 Douglas County. Buford, the 2019 5A champion, got 68 yards rushing and touchdown runs of 33 and 10 yards from Victor Venn on five carries. The Wolves also got 62 yards rushing and a touchdown run of 5 yards from Gabe Ervin Jr. on 10 carries and a 14-yard touchdown run from C.J. Clinkscales. Two Buford quarterbacks accounted for touchdowns, as Dylan Wittke (2-of-3 passing, 96 yards) threw a 58-yard TD pass to Isaiah Bond and Ashton Daniels scored on a 1-yard run. Alex Mata made field goals of 35 and 26 yards.
River Ridge 35, Kennesaw Mountain 34 (OT)
After River Ridge RB Amehre Morrison scored a rushing touchdown on the team's first play in overtime. Kennesaw Mountain responded with a touchdown of its own — a 13-yard pass from QB Cayman Prangley to WR Jaylen Hill — but was unsuccessful in its 2-point conversion attempt on a trick play. Morrison scored three touchdowns for the Knights in total, while WR Andrew Bingham and TE Riley Caines each added scores of their own in the game. Prangley had a rushing touchdown and three passing touchdowns on the night, two of which went to Hill and the other to TE Evan Duke. Running back TJ Jenkins also scored for the Mustangs. The River Ridge win sets up a showdown with Rome in the second round of the playoffs next weekend.
Cambridge 36, Kell 14
Region 7 No. 3 Cambridge won its first-ever playoff game by defeating Region 6 No. 2 Kell on the road. Cambridge got three touchdowns from running back Phillip-Michael Collins, on runs of 24, 5 and 2 yards. The Bears took a 14-0 halftime lead after quarterback Zach Harris threw second-quarter touchdowns to Ian Chaffin and Hayden Gardella. Collins' 2-yard TD run at the 10:13 mark of the third quarter gave the Bears a 20-0 lead, but Kell scored touchdowns at 5:05 and 2:52 of the third quarter to pull within 20-14. Cambridge answered with Collins' 24-yard touchdown just over a minute later, however, and in the fourth quarter, Collins' 5-yard TD and a safety sealed the win. Luke Ritter and Luke Kramer had interceptions for the Bears.
Carrollton 55, Winder-Barrow 7
Carrollton delivered a first-half offensive onslaught and a strong defensive effort to defeat Winder-Barrow, giving Trojans head coach Sean Calhoun his 50th win with the program. All of Carrollton's points came in the first half, with two touchdowns from Keshawn Ridley, scores by Bryce Hicks and Christian Lett, and touchdown passes from James McCauley to Ace Williamson and Donovan Brundidge. The Trojans also got scores on defense; Juan Nieves III blocked a Winder-Barrow punt and then proceeded to take it to the end zone, and David Johns had a pick-six. The Bulldogs were able to avoid the shutout with a touchdown in the fourth quarter.
Westlake 42, Houston County 10
Westlake opened up a 28-0 halftime lead over the visiting Bears. Quarterback RJ Johnson threw two touchdown passes to Leo Blackburn and connected with Nate Wiggins for a touchdown. Wiggins also rushed for a Lions' touchdown. Demarko Williams added an interception return for a touchdown and Corzavius Smart's touchdown run put Westlake up 42-10 in the first minute of the final frame.
Brunswick 41, Alcovy 6
Brunswick burst to a 41-0 lead before Alcovy spoiled the shutout with MJ Stroud's touchdown run with 3:34 left in the game. KJ Lee's touchdown pass to Tyrease Jones in the first quarter gave the Pirates a 7-0 lead. Chuckobe Hill capped a 99-yard scoring drive with a 15-yard touchdown run to push it to 13-0, Ree Simmons scored on a 20-yard carry and then Hill returned to the end zone from five yards out before the half to push the lead to 27-0. Lee added another passing touchdown on the first play of the fourth quarter when he found J'Maun Weldon on a 30-yard strike.
Dacula 49, Alexander 24
Dacula Falcons stars Kaleb Edwards, who's committed to Georgia Tech next year, and Kyle Efford scored three touchdowns apiece in Dacula's playoff opener Friday night. E'mond Pittman scored the other Falcons touchdown. Alexander led 3-0 early but wasn't able to get any closer than 28-17 in the second half. Dacula plays Allatoona next week.
Lee County 49, Tucker 17
Lee County exploded for 41 points in the second quarter to grow a 49-3 halftime lead. Caleb McDowell rushed for four Trojans touchdowns and had a 60-yard punt return touchdown in the first half. Teammate Chauncey Magwood added a 17-yard touchdown run and a 20-yard touchdown pass to David Goodwin.
Allatoona 24, Johns Creek 0 
A stout defensive performance that included three interceptions and a trio of touchdowns from Allatoona QB Elan Hall helped the Buccaneers advance to a second-round matchup with Dacula next week. Hall's 28-yard touchdown pass to WR Troy Glenn in the opening period put the Buccaneers on the board first. Hall then added a touchdown on a QB sneak in the closing seconds of the first quarter. The first of Brett Blomquist's two interceptions allowed Allatoona to hold its 14-0 lead at halftime. Hall connected with his slot WR Bryce Herring for a 68-yard touchdown pass early in the fourth quarter before Caleb Moore's interception put the Bucs offense in position to add a 38-yard field goal to seal the victory.
Class 5A
Starr's Mill 63, Mundy's Mill 6
Star's Mill held a 35-6 lead after just the first quarter with rushing scores by Greigh Joseph, Brandon Mathis, Devin Barnett, Will Yarbrough, and a touchdown pass from Yarbrough to Josh Phifer. Corey Barnes scored for Mundy's Mill before the Panthers went on a 28-0 run that included Barnett's second score of the evening, another Yarbrough touchdown pass to Phifer, and touchdowns by Jameson Inagawa and Anderson Cardoza. Cole Bishop had an interception for the Panthers in the third quarter. Starr's Mill will play against Coffee next week.
Rome 35, Habersham Central 14
Rome's EJ Lackey escaped for a 68-yard touchdown on the first play from scrimmage to give the Wolves a 7-0 lead. Habersham Central evened it up with a Josh Pickett 12-yard touchdown run, but Rome quarterback Reece Fountain regained the lead with a 59-yard touchdown pass to DK Daniel. Lackey added a 2-yard rushing score in the second quarter to push the lead to 21-7. After a scoreless third quarter, Pickett rushed for an 80-yard touchdown with 8:18 left to cut it to 21-14, but Found answered with a touchdown pass to Martel Hight and Lackey iced the game with his third touchdown run to make it 35-14.
Calhoun 46, Lithia Springs 21
No. 7 ranked Calhoun outscored Lithia Springs 17-0 in the second half to close out the road victory. Jerrian Hames ran in two touchdowns and Cole Speer added a rushing score to give Calhoun an early 20-7 lead. Christian Lewis connected with Carson Griffin for a touchdown and Sergio Sanchez knocked in two field goals to put Calhoun up 32-21 before Dylan Faulkner iced the game with a pair of second-half touchdown passes.
Blessed Trinity 49, Chapel Hill 14
Justice Haynes rushed for three first-half touchdowns to help Blessed Trinity overwhelm visiting Chapel Hill. The Titans led 21-0 in the second quarter before finally giving up a touchdown for the first time in their last four games. Komari Fyre put the Panthers on the scoreboard with a 7-yard touchdown run, but Blessed Trinity had no trouble answering. Scores by Haynes and Englan Williams extended the home team's advantage to 35-7 at halftime, and touchdown passes by JC French and Brendan Hunt gave the Titans a 49-7 lead going in the fourth quarter. Frye eventually gave Chapel Hill one last bright spot on its season with a 60-yard scoring strike to Kam McLamb.
Cartersville 56, Jackson 6
Suffocating defense and the strong play of Carlos Del-Rio Wilson and Devonte Ross carried the Cartersville Hurricanes to a dominating win over the Jackson Jaguars. Del-Rio Wilson threw touchdown passes to Ross,  Kyler Johnson and Collin Fletcher and also took it to the end zone himself in the third quarter. Ross scored three touchdowns, one of which came off a punt return as well as another on a pass from Stratton Tripp. Cartersville was up 42-0 at the break, and Jackson's only touchdown came in the third quarter courtesy of Raveon Moore. Quante' Jennings and Malachi Jefferies also had touchdowns for the Hurricanes. Cartersville will face off against St. Pius next week.
St. Pius X 31, Loganville 6
Dennis O'Shea accounted for all four of his team's touchdowns as St. Pius X cruised past visiting Loganville. The Red Devils hung around early until O'Shea and the Golden Lions got rolling with eight minutes remaining in the second quarter. O'Shea rushed for a pair of second-quarter touchdowns en route to a 17-0 halftime lead. In the third quarter, he tossed scoring strikes to Carson Harlan and Paul Quigley. Loganville finally got on the scoreboard with two minutes remaining in the game thanks to a touchdown run by Tanner Greene. The Golden Lions also got a field goal by Ryan Kirschner that got the scoring started in the first quarter.
Class 3A
Cedar Grove 28, Monroe Area 12
Monroe Area's Mason Byron led a valiant redemption effort following his fumble on the opening drive that was returned for a touchdown, but the Canes couldn't get much else going on offense in their 28-12 loss to visiting Cedar Grove. After the Saints took a 14-0 lead less than five minutes into the game, Byron came up with an interception to set up his own touchdown run on the ensuing Canes drive. Cedar Grove scored at the end of the first for a 21-6 lead, and Byron found the end zone again after the Canes defense recovered a muffed Cedar Grove punt midway through the second. Monroe Area's Jeremiah Anderson was intercepted on a promising fourth-quarter drive before Cedar Grove tacked on another touchdown in the final minute.
Oconee County 31, Westminster 7
Jacob Wright threw three touchdown passes to lead Oconee County past visiting Westminster. It was a scoreless tie until the middle of the second quarter when the Warriors started to pull away. They led 14-0 at halftime and 21-0 in the third quarter before Westminster got on the scoreboard with a touchdown run by Quinton Ezzard. Wright twice connected with Jake Johnson on scoring strikes, including one from 52 yards out. The first touchdown pass was a 38-yarder to Darius Johnson Jr.
Greater Atlanta Christian 37, Franklin County 7
Will Hardy rushed for touchdowns of 32 and 24 yards to lead Greater Atlanta Christian past visiting Franklin County. The Spartans led 10-0 after one quarter, 17-0 at halftime, and 37-0 going into the fourth quarter. Their starting defense pitched a shutout before Franklin County got on the scoreboard late. Will Gary and Cardell Robinson also had touchdown runs for Greater Atlanta Christian, while Deymon Fleming tossed a 16-yard scoring strike to Brooks Miller.
Cherokee Bluff 35, LaFayette 7
Three Jayquan Smith touchdowns helped Cherokee Bluff secure its first playoff win in school history on Friday night. The Bears' first score of the game — a 12-yard touchdown run by Smith to conclude a 90-yard drive — wasn't on the board until the final minutes of the first half, but the second half was a different story. Smith took a screen pass from Sebastian Irons 32 yards for a touchdown on Cherokee Bluff's first possession of the third quarter, and Irons later connected with TE Eric Gohman for a 76-yard score. Smith added a 5-yard touchdown run after the Cherokee Bluff defense came up with an interception in the final frame. The defense then added a score of its own on an Eli Little fumble return touchdown late in the game to seal the Bears victory. Cherokee Bluff plays Carver-Atlanta in the second round of the playoffs next weekend.
Class A Private
Darlington 28, Mt. Pisgah 21
Darlington intercepted Mt. Pisgah in the end zone with a minute left to close out a road victory. The Tigers opened up an early 14-0 lead with a Patrick Shelley 11-yard touchdown run and a Harris Allen 4-yard rushing touchdown. Mt. Pisgah's Coleman Smith answered with the first of his three rushing touchdowns with 5:33 left in the half to make it 14-7. Shelley added his second touchdown run and a touchdown pass to Thomas Speed that pushed the lead to 28-14 before Smith's third score cut Darlington's lead to 28-21 with 8:55 left.
Prince Avenue Christian 63, Hebron Christian 28
Prince Avenue Christian quarterback Brock Vandagriff threw for four touchdowns and also rushed in two scores to lead the Wolverines. Landon Owens also had a big night with three rushing scores and a 47-yard touchdown reception.
Wesleyan 34, Athens Christian 28
Wesleyan trailed the entire game before taking its first lead with 2:02 remaining and ultimately overcoming visiting Athens Christian with a 34-28 round-one victory. The Wolves trailed 21-7 in the second quarter and were still behind 28-20 midway through the fourth quarter, but Griffin Caldwell kept his team in the game. A Caldwell touchdown and two field goals by Brooks Sturgeon cut Wesleyan's deficit to 21-20 at halftime. Caldwell eventually scored the game-winner with 2:02 left after Athens Christian turned the ball over on downs on its own 35-yard line. The Wolves' defensive effort was led by Drew Ball, who returned a fumble for a touchdown and also came up with an interception that led to a Sturgeon field goal as time expired in the first half.
Fellowship Christian 49, Mount Paran Christian 7 
Fellowship Christian's Murphy Reeves scored three touchdowns in a convincing win over Mount Paran Christian. The Paladins were up 35-0 at the break after two of Reeves' touchdowns and scoring contributions from Jayven Hall, Lawson Haigler and Eli Hildebrandt. In addition to Reeves' final touchdown in the third, Garrett Wagner scored for Fellowship Christian in the fourth. Micah Lott scored Mount Paran's only touchdown in the final frame.
Athens Academy 49, Mt. Vernon Presbyterian 42 (OT)
No. 4 ranked Athens Academy survived an overtime thriller over visiting Mt. Vernon. Senior Palmer Bush gave the Spartans a 49-42 lead with a 6-yard touchdown run and teammate Ethan Connelly secured the victory with a game-clinching interception.
Class A Public
Commerce 52, Manchester 20 
No. 4 ranked Commerce jumped out to a 24-0 lead in the second quarter and held off visiting Manchester. Quarterback Tre Huff accounted for a rushing score and a 14-yard touchdown pass to Shawn Cunningham that put the Tigers up 45-20 with 4:20 left in the fourth quarter. Dreylan Martin posted two rushing scores and Commerce teammates Michael Sherman and Elijah Burns also rushed for touchdowns. Commerce also got a 44-yard field goal from Eryck Diaz and a fumble recovery touchdown on a Manchester punt attempt that gave the Tigers their 52-20 lead.
Gordon Lee 56, Georgia Military 0
Host Gordon Lee jumped to a 28-0 lead in the first quarter and took a 56-0 lead into a running clock in the final quarter. Blake Groce, Cade Peterson and Brody Cobb rushed for touchdowns in the first quarter and Nate Dunfee scored on an interception return to make it 28-0. Bo Rudy added touchdown runs of 3 and 43 yards, and Peterson found the end zone on two more occasions to push the lead to 56-0.
Irwin County 41, Jenkins County 7
Region 2 No. 1 Irwin County defeated Region 3 No. 4 Jenkins County, with Indians quarterback Cody Soliday finishing the night 12-of-16 passing for 166 yards, three touchdowns and one interception. Soliday's touchdowns were 37 yards to Gabe Benyard, 22 yards to Garland Benyard and 10 yards to Kam Ward. Garland Benyard also had a 9-yard fumble return for a touchdown and a 59-yard touchdown rush, and Gabe Benyard had a 2-yard TD run for Irwin County, which led 28-0 at halftime.