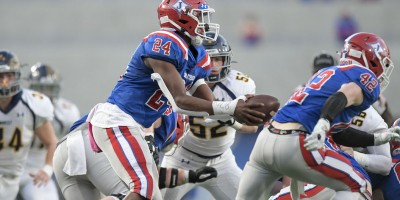 The GHSA released the new classifications for the 2022-23 and 2023-24 school year and the reclassification count included the newly introduced 3 percent out of zone multiplier for the first time. As a result, there were multiple programs that jumped up multiple classifications and in Class 2A-7A there will be more 90 programs entering a new classification next year.
In Class 7A, there are 49 schools and 13 will be new to the classification. The most significant newcomers were a direct result of the new multiplier and that includes St. Pius from 5A, Woodward Academy from 5A. The 11 schools moving from 6A up to 7A are Wheeler, Rockdale County, Osborne, Central Gwinnett, Carrollton, Kennesaw Mountain, Westlake, Dacula, Richmond Hill, Buford, Valdosta and East Paulding.
Class 6A will also look significantly different with 57 total schools and 21 newcomers. A total of 10 schools are moving down from Class 7A: North Forsyth, Tift County, Newnan, Gainesville, Hillgrove, Milton, Alpharetta, Woodstock, Roswell and Dunwoody. Additionally, eight programs are jumping up from Class 5A: Blessed Trinity, Jonesboro, Forest Park, Chapel Hill, Mundy's Mill, Veterans, Apalchee and Cartersville. The multiplier also sent Thomas County Central and Marist up from Class 4A and KIPP Atlanta all the way up from Class 2A. KIPP Atlanta's significant jump was the result of a 1,425 total enrollment that with a 622 out of zone tally brought their weighted enrollment to 2,047. Marist has a 1,381 total enrollment with a 581 out of zone total that pushed them up to a 1,962 total enrollment.
Class 5A features 57 total schools with 16 newcomers. There are 10 programs joining the classification down from Class 6A: Winder-Barrow, Kell, Heritage-Conyers, Chattahoochee, Dalton, Cambridge, Centennial, Tucker, Statesboro and Bradwell Institute. Five schools moved up from Class 4A: Flowery Branch, Jefferson, Perry, Jenkins and Benedictine and Greater Atlanta Christian moved up all the way from Class 3A.
Class 4A will also look different with 56 total schools and 18 newcomers. Eight schools are coming down from Class 5A: Johnson-Gainesville, Clarkston, Stockbridge, Griffin Southwest DeKalb, Woodland-Stockbridge, Wayne County and Stone Mountain. Nine schools moved up from Class 3A: Westminster, Central-Macon, North Hall, West Hall, Johnson-Savannah, Cherokee Bluff, Burke County, Cross Creek and Sonoraville. Also, Lovett moved into Class 4A from Class 2A.
There are 14 newcomers in Class 3A and a total of 56 schools. Eight schools make the move down from Class 4A: Carver-Columbus, Dougherty, Monroe, Columbus, Arabia Mountain, Spencer, Jordan and Kendrick. There are also six schools that jumped up from Class 2A: Thomasville, Bremen, Vidalia, Therrell, Westside-Augusta and Columbia.
In Class 2A, there are 54 total schools, including Barrow Arts and Sciences and Dalton Academy that are new to the GHSA. There are also nine newcomers arriving from other classifications. Columbus is dropping down from Class 4A and Thomson, Rockmart, Redan, Brantley County, Savannah Arts and Savannah are entering from Class 3A. Additionally, Social Circle and Bryan County jumped up from Class A Public.
The remaining 143 schools are listed in Class A and that will be split up into a Private and Public. There are also still appeals that can be made and that could also change the standings. For example, if an appeal is won by a team in Class 6A that moves down to Class 5A, then that would send a new team up to Class 6A.
To access all of the GHSA reclassification assignments CLICK HERE