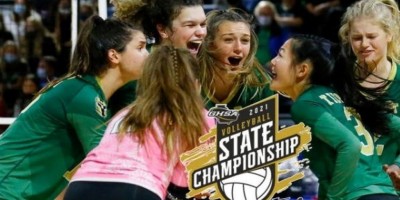 By: Craig Sager II
A loaded field of state finalists will vie for the 2021-22 Volleyball State Championships Saturday at LakePoint Sports Complex's Championship Central. In Class 7A, Walton and Alpharetta will square off in a battle of the Raiders in a rematch of last year's finals. Alpharetta took that meeting 3-1 and won its first-ever championship while denying Walton a sixth-straight title and 15th all-time crown. Walton carries a 26-6 overall record into the championships and arrives battle-tested after a schedule that included top programs from seven different states. Included in Walton's national tour was a 2-0 road win over Alpharetta back on Aug. 20. Junior outside hitter Mary Neal recorded 12 of Walton's 25 kills in the victory and is leading Walton with 382 kills on the year. Alpharetta sits at 29-9 heading into its attempted title defense and is coming off a dramatic five-set thriller over North Forsyth in the semifinals. The Raiders were down 2-1 and scored a 26-24 win in the fourth set before a 15-11 victory in the decisive fifth set. Alpharetta's roster features 6-foot-2 sophomore Logan Wiley—who leads the team with 469 kills on the season.
Defending state champion Buford will take on Sequoyah in the Class 6A finals. The Wolves are aiming for a fourth state title since 2015, while Sequoyah looks for its first state title since 2014. The two programs met previously this season back on Oct. 5 and Sequoyah scored a 2-1 victory. Sequoyah is 51-3 this season and two of those losses came to Pope, which Buford moved past in the semifinals in a five-set battle. Sequoyah is coming off its own five-set marathon against Lassiter in the semifinals.
In Class 5A, Greenbrier is one match away from its first-ever state title and will be paired up with two-time state champion St. Pius (2013, 2018). Greenbrier is 36-2 this season and has not lost a single match within the state. St. Pius also has a tremendous resume with a 51-1 overall record and a 36-match win-streak. St. Pius features senior libero Emma Farrell, who leads the Golden Lions with 512 digs. Greenbrier is also loaded with senior talent—including 6-foot-2 middle hitter Eddie Shultz and outside hitter Layla Bland.
Defending Class 4A state champion Marist will square off with Flowery Branch in the Falcons' attempt to win their first-ever crown. Marist is 18-15 this season, but has not lost a single match within Class 4A. Flowery Branch earned the No. 2 seed out of Area 8 and had to travel to Northwest Whitfield in the semifinals where the Falcons scored a 3-1 victory. Ashlyn Browning, Bri Moore and Emma Whitman have been pivotal in Flowery Branch's run to the finals and they will be squaring off with a Marist team that features libero and reigning 2020 GHSA Class 4A Player of the Year Hadlee Ackerman.
Area 5 rivals Sandy Creek and Greater Atlanta Christian will meet for the third time this season in the Class 3A championship. The Spartans took both meetings in the regular season and will look to complete the sweep in order to win the program's first-ever title. Sandy Creek's last state title came in 2012 and the Patriots will look to break that championship drought against a formidable and familiar foe. Greater Atlanta Christian sophomore Gracie Rose racked up 35 kills in the Spartans two wins over Sandy Creek this season. Sandy Creek also has a Class of 2024 standout in middle blocker Aubrey Wilson. Standing at 6-foot-2, Wilson posted a season-high 10 kills in Sandy Creek's most recent meeting with the Spartans on Oct. 14.
The Class 2A/A Public final will showcase four-time defending state champion Pace Academy and first-ever championship hopefuls Gordon Lee. These two teams met back on Aug. 14 and Pace Academy scored a 2-0 victory. Since that match, Gordon Lee and Pace Academy have both faced top competition and have swept their way through the postseason without dropping a single set. Sophomore outside hitter Ellie Siskin leads Pace Academy with 306 kills this year and senior outside hitter Brooklyn Hudson is leading Gordon Lee with her team-high 382 kills.
Class A Private is packed with depth and tremendous programs and it will be Mt. Paran and Athens Academy battling for this year's crown. Mt. Paran previously earned a state title in 2018 and Athens Academy will be looking for its first championship since 2002. Athens Academy is 42-2 on the year with its only losses coming to Class 3A's Sandy Creek and Oconee County. Mt. Paran carries a 35-7 record and 12-match win streak into the finals. Claire Jordan (15), Kara Dunn (14) and Sarah Schwartz (11) combined for 40 of the team's 54 kills in Mt. Paran's 2-1 win over ELCA in the semifinals. As for Athens Academy, the Spartans have not dropped a set through the first four rounds of the playoffs.
Follow the link to the volleyball brackets here.