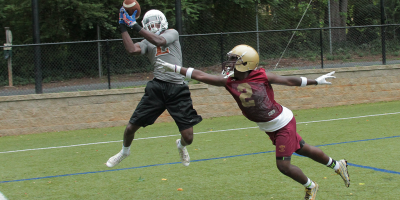 The Georgia High School Association Board of Trustees held a virtual meeting on Thursday to announce its guidelines for allowing summer activities to begin. Executive Director Dr. Robin Hines opened the meeting by discussing the process behind the forming of the guidelines and credited Governor Brian Kemp's office for working closely with them over the past months in addition to the expert input provided by University of Georgia Senior Associate Athletic Director of Sports Medicine Dr. Ron Courson.
Hines began the meeting with a June 1 date in mind for the starting date and included a statement about the decision. After feedback and discussion from the other board members, however, the board shifted to a June 8 starting date. By adding the additional week, the board felt that it would provide a safer and more equal opportunity for its member schools to prepare.
"The plan is restrictive and provides for conditioning only," read the statement. "As the data related to COVID-19 continues to improve, restrictions may be reduced after input from our health care professionals and guidance from our Governor. Please make every effort to follow the recommendations and restrictions included in the guidance provided. As you return to conditioning, keep in mind that the majority of your athletes have 'deconditioned' the past two months and need to work into what would be normal for this time of year. Reduce the work and gradually increase the workouts with time.
"Finally, ensure that your school and system leadership are aware of this guidance and have the opportunity to provide input into your plan to move forward with conditioning and for preparing and maintaining your facilities. Keep in mind that member schools may be more restricting than the guidance but may not be less restrictive. There has never been a time more critical for athletic departments, school administration and system level administrators to work together.
"Thank you for all you do for your athletes and please follow the guidance appropriately and keep everyone safe."
Before the board settled on June 8, the GHSA detailed a list of 17 bulleted guidelines for all of its member schools to adhere to when they begin to resume activities:
All summer work it voluntary.

Schools/School Systems may be more restrictive than the GHSA but not less.

Workouts are conditioning only, no balls or sport specific equipment.

Member schools should prepare an Infection Disease Prevention Plan prior to staff and athletes returning to conditioning.

It is recommended that staff and athletes are screened prior to each workout.

Signage should be posted on site with the following:
- Do you or have you had a fever in the last week?
- Have you been diagnosed with COVID-19?
- Have you been in contact with anyone diagnosed with COVID-19?
- Have you traveled to a "hot spot" for COVID-19?
Groups of 20, including coaches, for workouts per sport at any given time at the campus/facility.

Groups should be the same individuals (including coaches) for each session to limit risk of exposure. Students or coaches CANNOT change groups for the duration of this guidance.

No use of locker rooms or shower facilities. Students should report to the facility dressed to condition and shower at home.

Weight equipment should be cleaned prior to each workout and sanitized between use by each student.

Hand sanitizer should be plentiful and readily available.

Each student should have their own personal water bottle. No use of water fountains or "water cows" is allowed.

Side spots only in weight room, safety bars are preferred.

Social distancing should be adhered to always and masks/face covering are recommended for the weight room.

At least 15 minutes should be scheduled between groups to allow for disinfecting the facility.

There is no competition allowed between schools.

No visitors are allowed at conditioning sessions.
The GHSA's guide to reopening noted that the recommendations and restrictions are fluid and subject to change and that safety must be the priority. To show how fluid these guidelines are moving forward, Hines noted that just this week the Governor raised the limit of gatherings from 10 individuals to 20 and that the number could very well increase again before the June 8 date, which would prompt the GHSA to adjust accordingly.