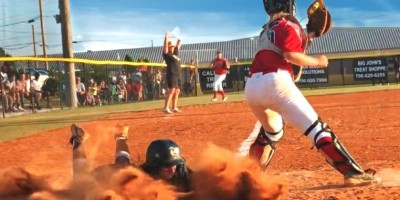 Calhoun Softball Twitter
The threat of weather pushed many of the softball games scheduled for Wednesday and Thursday to Tuesday. In response to the storm, the GHSA has allowed teams to play first-round games this week or next week as long as the first and second-round games are completed by Saturday, Oct. 20. We will continue our bracket updates throughout the week, and each night next week, to keep up-to-date with each classification's games.
Some highlights from the softball playoffs include Bainbridge advancing in the Class AAAAA bracket as it relied on a solid pitching performance in Game 1 (1-0) and an overwhelming first inning in Game 2 (7-2) to sweep Ola. In Game 1, sophomore pitcher Lexie Delbrey struck out 18 batters to keep the 1-0 lead intact. In Game 2, Bainbridge was up 5-0 before Ola got its first out. The Lady Bearcats opened the inning with a home run to center field from Desirae Beachem. Mabry Grace Briggs and McKynleigh Harrell followed with back-to-back doubles and then Abby Gardner cleaned the bases with a home run. Makayla Hamilton's double in the fifth inning scored Bainbridge's sixth run and, in the sixth inning, Briggs connected with a solo home run. Delbrey struck out 11 batters in five innings Gardner got the close.
In Class A-Public, the Academy for Classical Education defeated Miller County in three game. ACE took the first game 7-6 before Miller County won Game 2 (9-3). ACE stormed back with a 10-0 victory in Game 3 to advance.
In football action, Jenkins and Johnson-Savannah played a make-up game from Sept. 14 which was postponed due to weather. Jenkins made the most of the wait and took a 52-0 victory after taking a 22-0 lead after the first quarter. Southeast Bulloch, which beat Jenkins last week 9-8 in a crucial 3-AAA matchup, defeated Savannah 40-0 to move to 7-0 and 5-0 in region play.
See the rest of the softball and volleyball scores below.
Football
Jenkins 52, Johnson-Savannah 0
Southeast Bulloch 40, Savannah 0
Softball
Academy For Classical Education 10, Miller County 0
Academy For Classical Education 7, Miller County 6
Appling County 13, Islands 5
Archer 2, Forsyth Central 0
Archer 6, Forsyth Central 2
Bainbridge 1, Ola 0
Bainbridge 7, Ola 2
Banks County 8, Bremen 2
Berrien 13, Jefferson 5
Berrien 17, Jefferson 0
Bleckley County 10, Metter 1
Bleckley County 14, Metter 4
Bowdon 12, Johnson County 3
Bowdon 14, Johnson County 0
Bremen 5, Banks County 4
Brookwood 1, Mountain View 0
Brookwood 2, Mountain View 1
Calhoun 11, Dawson County 3
Calhoun 8, Dawson County 0
Carrollton 13, Decatur 5
Carrollton 6, Decatur 4
Chamblee 10, Clarke Central 0
Chamblee 17, Clarke Central 4
Charlton County 12, Mt. Zion, Carroll 1
Chattooga 15, Therrell 0
Chattooga 20, Therrell 0
Collins Hill 13, Norcross 1
Collins Hill 8, Norcross 1
Cook 15, Jackson 0
Cook 8, Jackson 0
Crisp County 13, Central-Macon 0
Crisp County 17, Central-Macon 2
Dade County 12, Washington 0
Dade County 19, Washington 0
Dalton 10, Alpharetta 1
Dalton 13, Alpharetta 1
East Coweta 10, North Cobb 0
East Coweta 16, North Cobb 0
Eastside 16, Columbus 9
Eastside 3, Columbus 2
Effingham County 5, Lakeside-Evans 2
Effingham County 5, Lakeside-Evans 3
Grayson 3, West Forsyth 1
Grayson 4, West Forsyth 2
Greenbrier 12, Brunswick 0
Greenbrier 13, Brunswick 0
Hampton 22, Hardaway 0
Hampton 9, Hardaway 1
Harlem 11, Thomasville 2
Harlem 5, Thomasville 2
Harris County 3, Jones County 2
Harris County 7, Jones County 1
Harrison 11, Dunwoody 0
Harrison 3, Dunwoody 0
Hebron Christian 11, Mt. Pisgah Christian 3
Hebron Christian 16, Mt. Pisgah Christian 3
Heritage-Catoosa 11, Chestatee 0
Heritage-Catoosa 16, Chestatee 0
Heritage-Conyers 12, Glynn Academy 2
Heritage-Conyers 3, Glynn Academy 2
Hillgrove 14, Westlake 0
Hillgrove 21, Westlake 0
Houston County 15, Lovejoy 0
Howard 5, Burke County 3
Howard 7, Burke County 1
Jeff Davis 16, Washington County 0
LaGrange 10, Oconee County 2
Landmark Christian 12, Walker 2
Landmark Christian 6, Walker 0
Lanier County 13, Wheeler County 3
Lanier County 7, Wheeler County 1
Lassiter 2, Peachtree Ridge 0
Lassiter 8, Peachtree Ridge 0
Lee County 17, Stephenson 0
Lee County 19, Stephenson 2
Locust Grove 10, Veterans 6
Locust Grove 12, Veterans 1
Loganville 10, Miller Grove 0
Loganville 14, Miller Grove 1
Long County 9, Southeast Bulloch 0
Madison County 14, Cedartown 1
Madison County 8, Cedartown 0
Marist 12, Ridgeland 0
Marist 9, Ridgeland 3
Mill Creek 17, Lakeside-DeKalb 0
Mill Creek 18, Lakeside-DeKalb 0
Miller County 9, Academy For Classical Education 3
Morgan County 15, Lovett 7
Morgan County 4, Lovett 2
Mt. Paran Christian 12, Darlington 3
Mt. Paran Christian 13, Darlington 4
North Forsyth 14, Shiloh 1
North Forsyth 8, Shiloh 0
North Gwinnett 5, Parkview 1
North Paulding 8, Campbell 0
North Paulding 9, Campbell 0
Northgate 4, Winder-Barrow 2
Northgate 6, Winder-Barrow 3
Northside-Columbus 12, Woodward Academy 0
Northside-Columbus 15, Woodward Academy 1
Oconee County 13, LaGrange 2
Parkview 12, North Gwinnett 0
Pepperell 12, South Atlanta 0
Pepperell 19, South Atlanta 0
Pierce County 15, Windsor Forest 3
Pierce County 18, Windsor Forest 0
Rockmart 20, Douglass 0
Rockmart 23, Douglass 0
Social Circle 12, Callaway 1
Social Circle 9, Callaway 5
Sonoraville 2, North Hall 0
Sonoraville 2, North Hall 0
South Forsyth 10, Newton 2
South Forsyth 13, Newton 0
Stephens County 5, Central-Carroll 2
Thomas County Central 9, Union Grove 8
Union County 6, Heard County 4
Union Grove 7, Thomas County Central 6
Villa Rica 13, Riverwood 0
Villa Rica 9, Riverwood 0
Washington-Wilkes 4, Baconton Charter 2
Washington-Wilkes 8, Baconton Charter 3
West Laurens 17, Baldwin 2
West Laurens 18, Baldwin 1
Volleyball
Apalachee 3, Athens Academy 0
Blessed Trinity 2, White County 0
Buford 2, Johnson-Gainesville 0
Columbus 2, Shaw 0
Greenforest 0, Mt. Pisgah Christian 0
Hardaway 2, Americus-Sumter 0
Harlem 2, Butler 0
Harrison 2, Sprayberry 0
Jefferson 2, Jackson County 1
Landmark Christian 2, SW Atlanta Christian 0
Mt. de Sales 3, Upson-Lee 0
Mt. Pisgah Christian 2, King's Ridge 0
Norcross 3, Berkmar 0
North Cobb Christian 2, Christian Heritage 0
North Cobb Christian 2, Darlington 0
North Oconee 3, Oconee County 1
Northside-Columbus 2, Hardaway 0
Pope 2, North Atlanta 0
Prince Avenue 3, East Jackson 1
Riverwood 3, Westlake 0
Roswell 3, Cherokee 2
Savannah Christian 3, Savannah Country Day 0
Shaw 2, Americus-Sumter 0
Shaw 2, Carver-Columbus 0
South Cobb at Allatoona, late
St. Pius X 3, Madison County 0
Walker 2, North Cobb Christian 0
Walker 2, Whitefield Academy 0
Winder-Barrow 2, Jackson County 0
Winder-Barrow 2, Jefferson 0