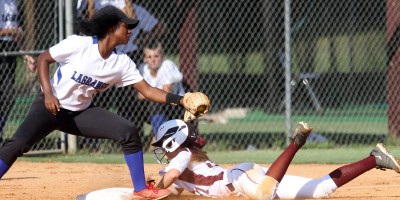 Several teams swept to advance to the championship bracket in their respective classes in the second-round of the GHSA softball playoffs on Wednesday. Other teams will meet again tomorrow for a decisive Game 3.
In Class AAAAA, Villa Rica advanced with a sweep of the higher-seeded Chamblee. Villa Rica, the No. 3 seed from Region 7, defeated Chamblee, the No. 1 seed from Region 5, 9-0 in Game 1 and 13-0 in Game 2.
Hampton, the No. 1 seed from Region 4, survived a scare to advance to the Class AAAA championship bracket after losing Game 1 against Howard, the Region 2 No. 3 seed, 1-0. A mere error in Game 1 allowed the go-ahead run as neither team could find a rhythm at the plate. Hampton's 6-4 victory in the second game on Tuesday forced a Game 3 on Wednesday which it won, 8-0. In another AAAA series, Eastside relied on a three-run seventh inning to take a 5-2 victory in Game 2 after losing 2-1 in the first game. Heritage defeated Central-Carroll in a closely-contested Game 1, 2-1, before outclassing Central 12-0 in a 4-inning Game 2.
In the Class AA bracket, Heard County advanced on Tuesday evening with a sweep of Dade County. Heard won the first game 14-5 and took the second game 8-0. Monticello also swept the competition to advance to the championship bracket. Monticello moved passed Pepperell 8-4 in Game 1 and 3-0 in Game 2.
In the Class A-Public bracket, Mount Zion won the first game in the best-of-three series over Telfair County, 2-1. Telfair did not wither away under the pressure of a do-or-die game and forced a Game 3 by winning Game 2, 4-1. Game 3 will be played Thursday.
See the rest of the scores below.
Allatoona 3, Apalachee 1
Allatoona 4, Apalachee 3
Archer 2, Brookwood 1
Banks County 6, Rockmart 4
Banks County 7, Rockmart 6
Bowdon 2, Georgia Military 0
Brantley County 5, Crisp County 3
Brantley County 7, Crisp County 3
Brookwood 2, Archer 0
Buford 13, Woodland-Cartersville 0
Carrollton 3, Loganville 1
Chattooga 3, Social Circle 0
Cherokee 5, Colquitt County 0
Coffee 1, Heritage-Conyers 0
Cook 10, Pierce County 6
Dalton 4, Northgate 1
Dalton 8, Northgate 0
Dodge County 2, Brooks County 1
Dodge County 9, Brooks County 1
Eagles Landing Christian 12, Wesleyan 2
Eastside 5, Perry 2
Echols County 4, Marion County 3
Evans 3, Lee County 2
First Presbyterian 6, Hebron Christian 3
First Presbyterian 7, Hebron Christian 1
George Walton Academy 13, Brookstone 2
Georgia Military 4, Bowdon 3
Gordon Lee 5, Academy For Classical Education 3
Gordon Lee 9, Academy For Classical Education 0
Greenbrier 10, Northside-Warner Robins 0
Greenbrier 3, Northside-Warner Robins 1
Hampton 6, Howard 4
Hampton 8, Howard 0
Harlem 10, Bleckley County 7
Harlem 8, Bleckley County 0
Harrison 5, Alexander 4
Harrison 7, Alexander 4
Heard County 14, Dade County 5
Heard County 8, Dade County 0
Heritage-Catoosa 12, Central-Carroll 0
Heritage-Catoosa 2, Central-Carroll 1
Heritage-Conyers 5, Coffee 2
Hillgrove 2, Woodstock 1
Hillgrove 4, Woodstock 3
Holy Innocents' 2, Prince Avenue 1
Houston County 13, Effingham County 6
Houston County 7, Effingham County 3
Howard 1, Hampton 0
Jeff Davis 10, Berrien 3
Jeff Davis 6, Berrien 1
Jefferson 11, Ringgold 0
Jefferson 3, Ringgold 2
LaFayette 1, Chapel Hill 0
LaFayette 8, Chapel Hill 7
Lanier County 10, Commerce 8
Lanier County 5, Commerce 1
Lassiter 1, North Paulding 0
Lassiter 9, North Paulding 1
Lee County 5, Evans 3
Lowndes 2, Etowah 1
Madison County 2, Flowery Branch 0
Madison County 7, Flowery Branch 2
Marion County 7, Echols County 5
Marist 7, Oconee County 2
Monticello 3, Pepperell 0
Monticello 8, Pepperell 4
Mt. Paran Christian 4, Calvary Day 1
Mt. Paran Christian 9, Calvary Day 3
Mt. Zion, Carroll 2, Telfair County 1
Oconee County 6, Marist 2
Perry 2, Eastside 1
Pope 6, Dacula 0
Pope 6, Dacula 1
Prince Avenue 3, Holy Innocents' 1
Schley County 11, Hawkinsville 5
Schley County 14, Hawkinsville 4
Social Circle 2, Chattooga 0
South Effingham 5, Harris County 2
South Effingham 9, Harris County 3
Stratford Academy 8, Landmark Christian 2
Stratford Academy 9, Landmark Christian 1
Tattnall Square 11, Christian Heritage 3
Tattnall Square 8, Christian Heritage 6
Telfair County 4, Mt. Zion, Carroll 1
Thomas County Central 11, Ware County 3
Thomas County Central 2, Ware County 1
Villa Rica 8, Chamblee 3
Villa Rica 8, Chamblee 6
Walnut Grove 10, East Paulding 0
Walnut Grove 8, East Paulding 1
Worth County 10, Long County 1
Worth County 13, Long County 1