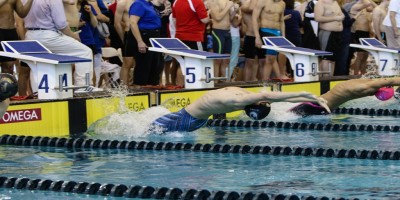 The 2019 GHSA Swimming and Diving State Championship returns to Georgia Tech's Recreation Center Aquatic Center from Thursday to Saturday. With scoring divisions in each meet, 7A and 6A are in the 7A-6A session and 3A-1A and 5A-4A in the 5A-1A session. The top three male and female teams and individuals in their respective divisions will be awarded medals and team trophies following their showings during the competition.
All diving events will take place on Thursday, starting with the 5A-1A diving warm-ups at 7 a.m. with boys diving first. Come Friday, all swimming prelims will be conducted with boys swimming in the west pool while the girls swim in the east pool. All finals will be swum in one 10 lane course. After practice at 9:30 a.m. on Saturday, the 5A-1A finals will be held out through 11 a.m. to 3:15 p.m. The remaining finals between class 7A and 6A will be swum from 5:30 p.m. to 9:30 p.m.
Class AAAAAAA
The Brookwood Broncos came away with the boys and girls team titles in the state's highest classification following last year's meet, giving the boys team their third consecutive title and the school's twelfth first-place finish in 17 years. The Lassiter boys managed to put up 204.5 points, enough to earn them the second-place finish but not enough to surpass Brookwood's 404 total points. Returning to the Broncos' 2018 first-place 200-yard medley relay team will be junior Grant Clark and senior Aidan Stoffle as the group looks to repeat their success of last year's race where they bested Lassiter by less than half a second with a time of 1:33.27. The Lady Broncos racked up 363 points, propelling them ahead of an always threatening Lambert team that won four consecutive titles from 2013-2016.
Class AAAAAA
The Dalton boys walked away with their third swimming state title in school history last year, scoring a total of 397 points, which was 86 points ahead of second-place Johns Creek. Senior Jonathan Shaheen, who placed first in the 50-yard freestyle last year (21.26), returns to the pool alongside junior Ross Valdez who claimed first in the 500-yard freestyle in 2018 (4:30.34) to make this Dalton team a good bet to find repeated success. The Pope girls' stellar 2018 performance gave the program its first girls title and second swimming title in school history with a score of 349 over second place Johns Creek with 338. Returning to the Greyhounds for another solid outing will be Senior Mady Bragg who placed first in last year's 200-yard freestyle (1:51.03) and 100-yard butterfly (55.89).
Class AAAAA-AAAA
The 2018 title in AAAAA-AAAA went to the St. Pius boys, who outscored second-place Woodward Academy by 38 points for the schools second title in a row and third in school history. Though the squad only placed first in two events in part to a stellar performance by Georgia commit Ian Grum, they placed second in the 200-yard medley relay, 50-yard freestyle, 500-yard freestyle and third in the 100-yard freestyle and 200-yard freestyle relay making them competitive across the events. The Blessed Trinity girls swam their way to the school's first ever state title following a 332-point performance. Returning to the team to help defend their first-place position is junior Rachel Saxon, who placed first in last year's 100-yard backstroke (55.98). She'll be joined by Amelia Cooper, Kayla DiPrima and Grace Findlay in the 400-yard freestyle relay, the only team event the group placed first in during last year's competition.
Class AAA-A
Westminster won state titles in both the boys and girls meets in 2018 and have a good chance at repeating for consecutive sweeps. The boys 543 total points put them 274 points ahead of second-place Calhoun, while the girls bested second-place Greater Atlanta Christian by 136 points. Returning to help the girls will be senior Eliza Normark, whose 23.61 time in last year's 50-yard freestyle was enough to snag her the gold. She'll be joined by Gigi Johnson, defending 500-yard freestyle champ Samantha Bertschi and Annie Jardina as the team tries to defend their first-place finish in the 400-yard freestyle relay. If both teams defend their title, it will give Westminster its 48th and 49th title in school history.