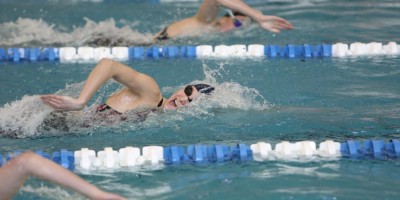 The preliminary rounds for this years GHSA State Swimming Championships took place today at the Georgia Tech Aquatic Center, featuring the state's top talent before tomorrow's finals.
In Class AAAAAAA-AAAAAA, the Dalton boys took first place in the 200-yard medley relay with a time of 1:32.7, followed by Brookwood with a time of 1:34.33 and Johns Creek with 1:34.88. For the girls, Cambridge's team of Sophie Brison, Jayla Brown, Abigail Grottle and Claire Kerber placed first with a time of 1:45.9, besting second place Lambert by 1.35 seconds. In the 200-yard freestyle, Dalton's Roman Valdez led all swimmers with a time of 1:39.3. Milton's Cooper Cook (1:40.09) placed second while Centennial's Sebastian Sergile (1:40.77) came in third.
The Brookwood team of Hanna Burke, Lily Burke, Katelyn Morris and Reagan Sweeney claimed first in the 400-yard freestyle relay with a time of 3:31.74. Finishing just behind them was Cambridge (3:32.82) with Lassiter (3:34.4) taking third.
In the Class AAAAA-A division, the Starr's Mill (1:36.4), Westminster (1:36.59) and Mount Vernon Presbyterian (1:37.96) boys made up the top-three finishes in a tightly raced 200-yard medley relay. Both Starr's Mill and Westminster girls teams also placed top three in the 200-yard medley relay with times of 1:50.01 and 1:50.55, respectively. Oconee County's Ryan Wylie showed up big during the 200-yard free, besting second place Mitchell Norton from Mount Paran Christian's time of 1:42.77 by a mere .24. In the girls 200-yard free, North Oconee's Karen Zhao finished ahead of all swimmers with a time of 1:51.24 while Wesleyan's Hanna Wasmuth (1:51.79) and Holy Innocents' Abby Pilkenton (1:52.01) rounded out the top-three.
In the 50-yard free, Westminster was well represented by Connor Hinkes (20.27) and Ava Kennedy (23.74). Hinkes claimed first, besting Mount Vernon Presbyterian's John Beamon (20.84) who claimed second place, while Kennedy narrowly out-swam Westminster's Annie Jardina (23.84) to earn the first-place finish.
Oconee County's Ryan Wylie showcased his speed again in the 500-yard free, scoring a first-place time of 4:37.83. Finishing behind Wylie were St. Pius' Henry Halloran (4:40.79) and GAC's Trey Carter (4:41.68). For the girls, another Westminster swimmer in Samantha Bertschi had a strong showing by finishing first in the 500-yard free. Her time of 5:05.31 narrowly defeated Clarke Central's Lucy Yeomans (5:05.74), setting up what will surely be a close race in the finals.
Following tonight's preliminary rounds, the finals will take place tomorrow starting at 11 a.m. with the Class AAAAA-A races while the Class AAAAAAA-AAAAAA races start at 6 p.m.