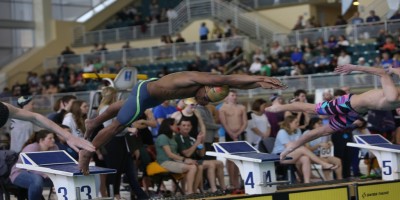 The 2020 GHSA Swimming and Diving State Championships began today at the Georgia Tech Recreation Center Aquatic Center with all diving events for this year's competition.
For the boys, Colquitt County was well represented in Class AAAAAAA with the Packer's divers claiming all three medals. Carson Tyler improved on his third-place finish in 2019 by winning the gold medal with a score of 710.95. Placing second and third were teammates Hunter Kebler (564.65) and Timothy Fagan (561.9). In Class AAAAAA, Harrison's Alex Scott bested his 2019 second-place finish by claiming the gold medal following a 503.9-point performance. Placing second was Centennial's Ben Engel (431.05) while Eli Lubell (415.1) from Pope finished third.
Oconee County's Allen Mann bested his 2019 third-place finish by placing first in Class AAAAA-AAAA with a score of 641.15. Behind him was Brandon Rice (529.9) from Riverwood, who also placed second during last year's meet. Rounding out the top-place finishes was Marist's Will Tharpe who earned his third-place finish following a 453.9-point performance. In Class AAA-A, Spencer Pearson from Holy Innocents' defended his spot at the top by claiming his second consecutive gold medal with 530.1 points. Westminster's Alex York finished second with 497.8 points, while Wesleyan's Jacob Price (493.25) placed third for the second year in a row.
For the girls, Kennesaw Mountain's Kyler Dixon successfully defended her Class AAAAAAA title following a first-place score of 515.35 to take home the gold. Placing second was Tift County's Emma Bryan (508.1) while Etowah's Kassandra Gutierrez placed third for a consecutive year with a score of 488.35. In Class AAAAAA, Allatoona's Hannah Stumpf defended her spot at the top, and bested her 2019 first-place score by 40.6 to claim gold with a score of 611.2. Placing second was Dunwoody's Lauren Davis (529.65) who also claimed the silver medal in 2019. Anna Behrman from Harrison placed third with a score of 202.95.
St. Pius' Julia Herring earned a score of 593.25, outscoring the next closest opponent by more 68 points to take the first-place finish in Class AAAAA-AAAA. In second was Oconee County's Caroline Stamps (524.75), and in third was Lauren Henderson (459.5) from Marist. In Class AAA-A, Pace Academy's Elizabeth Kaye claimed the gold medal for a second consecutive year following a 595.15-point outing. In second was Westminster's Caroline Blankenbecler (489) with Thomasville's Abigale White (483.2) making her second top-three performance in the state championships with a third-place finish.
Class AAAAAAA
Boys: 1. Carson Tyler, Colquitt County (710.95) 2. Hunter Kebler, Colquitt County (564.65) 3. Timothy Fagan, Colquitt County (561.9)
Girls: 1. Kyler Dixon, Kennesaw Mountain (515.35) 2. Emma Bryan, Tift County (508.1) 3. Kassandra Gutierrez, Etowah (488.35)
Class AAAAAA
Boys: 1. Alex Scott, Harrison (503.9) 2. Ben Engel, Centennial (431.05) 3. Eli Lubell, Pope (415.1)
Girls: 1. Hannah Stumpf, Allatoona (611.2) 2. Lauren Davis, Dunwoody (529.65) 3. Anna Behrman, Harrison (202.95)
Class AAAAA-AAAA
Boys: 1. Allen Mann, Oconee County (641.15) 2. Brandon Rice, Riverwood (529.9) 3. Will Tharpe, Marist (453.9)
Girls: 1. Julia Herring, St. Pius X (593.25) 2. Caroline Stamps, Oconee County (524.75) 3. Lauren Henderson, Marist (459.5)
Class AAA-A
Boys: 1. Spencer Pearson, Holy Innocents' (530.1) 2. Alex York, Westminster (497.8) 3. Jacob Price, Wesleyan (493.25)
Girls: 1. Elizabeth Kaye, Pace Academy (595.15) 2. Caroline Blankenbecler, Westminster (489) 3. Abigale White, Thomasville (483.2)