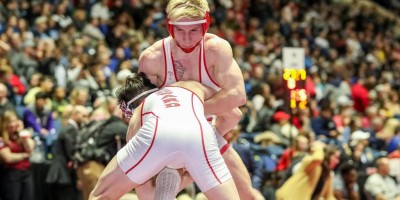 In the highest classification, Camden County will attempt to complete its seventh-consecutive title sweep. The Wildcats qualified wrestlers in all 14 weight classes to undertake this feat and are fresh off an absolutely dominant performance in their run to this year's Class 7A Dual Championship. Camden County outscored West Forsyth 63-12 in the finals after dispatching Lowndes 69-3 and Archer 65-3.  There are several other Class 7A programs that qualified enough wrestlers to challenge Camden County's bid for its seventh-straight traditional title. West Forsyth qualified 11 wrestlers, Mountain View qualified 12, McEachern qualified 13 and Brookwood, Archer and Newnan each qualified 14.
Class 6A's dual saw Buford outscore Creekview 46-17 in the finals. The victory gives Buford an opportunity to sweep titles for the third time since 2017. This is Buford's first year competing in Class 6A and there will be plenty of experienced programs stacking the field. North Atlanta qualified wrestlers in all 14 weight classes and Valdosta will have 13 wrestlers. Additionally, Alexander, Richmond Hill, Coffee, Creekview and Lee County qualified a dozen wrestlers and Pope will have wrestlers competing in 10 weight classes.
Class 5A was also significantly restructured in the latest reclassification cycle and the depth of contenders makes this classification one of the most intriguing fields to watch this weekend. Woodland-Stockbridge emerged victorious in the duals with its 47-24 win over Cass and will have 14 wrestlers heading to Macon where they will look to claim a third-straight traditional championship after racking up back-to-back titles. Woodward Academy has won the last two 4A traditional titles and will also have 14 wrestlers competing. This could set up a battle between reigning champions as Woodland and Woodward now occupy the same classification. Also, Coffee and Southwest DeKalb qualified 13 wrestlers and Ola, Ware County, Villa Rica and St. Pius each qualified a dozen wrestlers.
Jefferson will aim for its 19th traditional state title since 2001 and headlines the Class 4A field after competing in Class 3A the previous two seasons. The Dragons used wins over North Oconee (36-30), Central-Carroll (62-13) and Flowery Branch (61-15) to capture this year's dual state title and will have 13 wresters competing in the traditional tournament. Heritage-Catoosa and Perry qualified wrestlers in all 14 weight classes, West Laurens qualified 13 and the Class 4A field will also feature Marist—which qualified 12 wrestlers.
In Class 3A, North Hall defeated Gilmer 37-27 to win the dual title. The victory gave the Trojans their third all-time dual state title, however, the program is still searching for its first-ever traditional title. North Hall will have 12 wrestlers competing this weekend looking to deliver the Trojans' first-ever championship sweep of titles. The Class 3A field is loaded with other contenders—including Gilmer—which qualified a full 14 wrestlers. Pike County will also have 14 wrestlers. Adairsville and Rockmart have 13 wrestlers representing them in this year's tournament and Sonoraville has 12 wrestlers—providing the Phoenix with enough depth to challenge the field.
Oglethorpe County defeated Dade County in the Class 2A duals to win the school's first-ever wrestling championship. Now, the Patriots will have a full 14 wrestlers heading to Macon with the goal of completing the historic championship sweep. Fannin County also qualified wrestlers in all 14 weight classes and there will be plenty of competition in Class 2A, with Banks County, Lovett and Elbert County positioned to have wrestlers in 13 weight classes. Additionally, Putnam County, Lamar County and Toombs County will each have a dozen wrestlers taking on the tournament field.
Like Oglethorpe County, Mt. Pisgah made history in the duals by capturing its first-ever wrestling state title. The Patriots scored a 48-27 win over Commerce in the dual finals and Commerce made it to the finals after a thrilling 32-31 win over Trion. Commerce, Trion and Social Circle will have wrestlers in all 14 weight classes. Mt. Pisgah qualified 13 wrestlers and Screven County will have 12 wrestlers represented in the field.