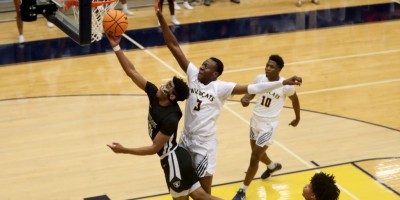 Boys: In Class 7A, No. 4 McEachern scored a 66-65 win over No. 3 Pebblebrook, but it did not shift the polls due to Pebblebrook's previous 75-69 win back on Jan. 15. Richmond Hill was served a 40-38 defeat by Glynn Academy and fell from No. 6 to No. 8 in the Class 6A poll.
In Class 5A, Forest Park dropped four-straight losses and was replaced in the Class 5A poll by Cass, which debuts at No. 10.  Class 4A saw Miller Grove ascend to No. 4 behind Spencer, Baldwin and No. 3 ranked Monroe.
LaFayette improved from No. 10 to No. 7 in the Class 3A poll and Monroe Area replaced Carver-Atlanta. In Class 2A, Laney replaced Model and returned to the poll at No. 10. St. Francis moved up to No. 9 in Class A Private and Manchester fell one slot to No. 10 in Class A Public following back-to-back one-point losses (51-50 to Chattahoochee County, 58-57 to Greenville).
Class 7A
1. Milton
2. Grayson
3. Pebblebrook
4. McEachern
5. Berkmar
6. Cherokee
7. South Forsyth
8. Parkview
9. North Gwinnett
10. Norcross
Class 6A
1. Wheeler
2. Kell
3. Chattahoochee
4. Evans
5. Lanier
6. Shiloh
7. Centennial
8. Richmond Hill
9. Douglas County
10. Westlake
Class 5A
1. St. Pius
2. Eagle's Landing
3. Tri-Cities
4. Veterans
5. Woodward Academy
6. Lithonia
7. Jonesboro
8. Dutchtown
9. Clarke Central
10. Cass
Class 4A
1. Spencer
2. Baldwin
3. Monroe
4. Miller Grove
5. Stephenson
6. Westover
7. Luella
8. Jefferson
9. Bainbridge
10. Cedar Shoals
Class 3A
1. Sandy Creek
2. Hart County
3. Windsor Forest
4. Johnson-Savannah
5. Salem
6. Cross Creek
7. LaFayette
8. Americus-Sumter
9. White County
10. Monroe Area
Class 2A
1. Pace Academy
2. Swainsboro
3. Columbia
4. Washington County
5. Lovett
6. Thomasville
7. Chattooga
8. Columbia
9. Westside-Augusta
10. Laney
Class A Private
1. Providence Christian
2. Galloway
3. St. Anne Pacelli
4. Greenforest Christian
5. Mt. Pisgah
6. Trinity Christian
7. Christian Heritage 8. First Presbyterian Day
9. St. Francis
10. Holy Innocents'
Class A Public
1. Drew Charter
2. Dublin
3. Bowdon
4. Hancock Central
5. Irwin County
6. Towns County
7. Chattahoochee County
8. Lanier County
9. Warren County
10. Manchester
Girls: Collins Hill tops Class 7A ahead of Campbell, Cherokee, McEachern and Marietta in the top 5. West Forsyth comes in at No. 6 ahead of Norcross, Tift County, North Forsyth and North Paulding to round out the top 10.
Buford tops Class 6A ahead of Westlake, Carrollton, Lovejoy and Langston Hughes. In Class 5A, Woodward Academy is the team to beat with Forest Park, Cass, Jackson-Atlanta and St. Pius X chasing. Luella tops Class 4A and is leading Spalding, Baldwin, Jefferson and Marist in the top 5. Upson-Lee is the top team in Class 3A with Lumpkin County, Sonoraville, Cross Creek and Coahulla Creek chasing.
Elbert County leads Class 2A ahead of Early County, Rabun County, East Laurens and Lamar County. Hebron Christian leads Class A Private with Mount Paran Christian, Holy Innocents', St. Francis and Greenforest chasing.  Lake Oconee leads Class A Public and Greenville, Clinch County, Dublin and Georgia Military are in pursuit.
Class 7A
1. Collins Hill
2. Campbell
3. Cherokee
4. McEachern
5. Marietta
6. West Forsyth
7. Norcross
8. Tift County
9. North Forsyth
10. North Paulding
Class 6A
1. Buford
2. Westlake
3. Carrollton
4. Lovejoy
5. Langston Hughes
6. Kell
7. Statesboro
8. Sprayberry
9. River Ridge
10. Rockdale County
Class 5A
1. Woodward Academy
2. Forest Park
3. Cass
4. Jackson-Atlanta
5. St. Pius X
6. Southwest DeKalb
7. Warner Robins
8. Hiram
9. New Manchester
10. Loganville
Class 4A
1. Luella
2. Spalding
3. Baldwin
4. Jefferson
5. Marist
6. Arabia Mountain
7. Troup
8. Carver-Columbus
9. Cairo
10. Mount Zion-Jonesboro
Class 3A
1. Upson-Lee
2. Lumpkin County
3. Sonoraville
4. Cross Creek
5. Coahulla Creek
6. Johnson-Savannah
7. Westminster
8. Beach
9. Americus-Sumter
10. Burke County
Class 2A
1. Elbert County
2. Early County
3. Rabun County
4. East Laurens
5. Lamar County
6. Woodville-Tompkins
7. Fannin County
8. Washington County
9. Butler
10. Heard County
Class A Private
1. Hebron Christian
2. Mount Paran
3. Holy Innocents'
4. St. Francis
5. Greenforest
6. Galloway
7. Calvary Day
8. Eagle's Landing Christian
9. Wesleyan
10. Trinity Christian
Class A Public
1. Lake Oconee Academy
2. Greenville
3. Clinch County
4. Dublin
5. Georgia Military
6. Trion
7. Armuchee
8. Calhoun County
9. Wilcox County
10. Turner County