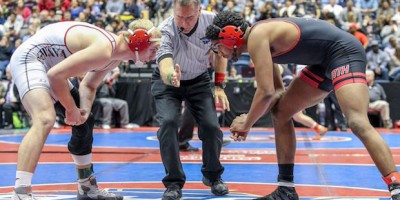 The second day of the GHSA Traditional Wrestling State Championships commenced at the Macon Centreplex at 10 a.m. on Thursday with Classes A-AAA going through the round of 12 and the quarterfinals of the winner's bracket. Classes AAAA-AAAAAAA also advanced through the quarterfinals of the winner's bracket and the second round of wrestle backs. The Girls Traditional Wrestling State Championships got underway with the Round of 16, the first round of wrestle backs and the winner's bracket quarterfinals.
In the girls tournament, Hiram's KJ Haney defeated South Gwinnett's Rebecca Buchanan to earn a berth in the semifinals of the 225-pound winner's bracket where she will face Southeast Whitfield wrestler Teonna Bonds. On the other side of the winner's bracket, Veterans wrestler Markayla Stewart beat Peachtree Ridge's Lauren Ashley Miller 8-1. Stewart will face Northgate wrestler Mia Fisher in the semifinals. In the 175-pound class, Hiram's Stacey Pgouda will face West Forsyth's Hailey Patrick in the semifinals. On the other side of the bracket, Veterans wrestler Emilie Rohme will face Alexander's Dream Santiago for a berth in the championship match. In the 166-pound bracket, Hiram's Heaven Byrd defeated Bowden's Meleah Steinard and will face Northgate's Madeline Mans on one side of the bracket. Mans earned the semifinal berth with a victory over Decatur's Sam Simonette in the quarterfinals. Cartersville's Paige Nelson will face Newton County's India Page on the other side of the bracket for a shot at the championship match.
For the boys, Camden County holds a commanding lead in the Class AAAAAAA team competition with 110.5 points. Mountain View is in second place with 63 points. Collins Hill is third with 59.5 points. Brookwood amassed 56 points for fourth place and Forsyth Central sits at fifth place with 54 points.
In Class AAAAAA, Valdosta (83.5 points) leads second-placed Pope (74.5 points) by nine points. Alexander is third behind Pope by just one point after a 73.5-point performance. Creekview has 66.5 points for fourth place and Richmond Hill is fifth with 64 points.
Woodland-Cartersville and Buford are playing for first and second in Class AAAAA and are just 1.5 points apart in the team competition. Woodland leads with 88 points, Buford matched 86.5 points. Veterans, in third place, gained 69 points. Ware County is fourth with 58 points and Ola holds the fifth spot with 54 points.
West Laurens leads Class AAAA's team competition with 75.5 points which places it 8.4 points ahead of Woodward Academy's 67-point performance. Central-Carroll gained 61 points to place it third ahead of Blessed Trinity with 56 points. Gilmer is fifth after a 53-point Thursday showing.
Jefferson's wrestling dynasty could add another chapter as the Dragons are leading in Class AAA, albeit a slim lead. Jefferson gained 70.5 points to lead North Hall (67 points) by 3.5 points. Sonoraville is in at third with 63 points. Jackson County (42 points) and Pike County (39 points) are fourth and fifth, respectively.
Social Circle is on top of Class AA following a 70-point effort. It leads Elbert County (67.5 points) by 2.5 points. Third-placed Toombs County gained 54 points and leads Oglethorpe County (42 points) and Rockmart (38 points).
In Class A, Commerce leads with 75 points, ahead of Darlington with 62 points. Turner County is third with 47 points, Irwin County is fourth with 29 points and George Walton trails at fifth with 28.5 points.