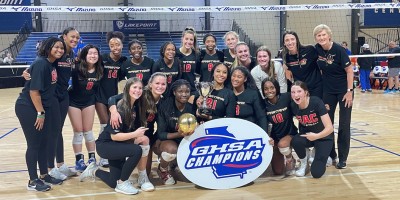 The GHSA Volleyball State Championships returned to the Lakepoint Sports Complex Champions Center on Saturday for Day 2 of the finals and crowned the Class 4A-7A state champions. In the Class 5A finals, Greater Atlanta Christian faced off with Area 6 rival Chattahoochee for the fourth time this season—and third time in the last month—and rallied back after dropping the first set to close out a thrilling and gritty 3-1 victory (21-25, 26-24, 26-24, 25-18).
"I'm still just thinking back to how we came away with it," said Spartans head coach Rachel VanderPol. "We were down the first set and dropped it and then were trailing 12-21 in the second set and then once we got that one we continued trying to build momentum."
The Spartans won their first-ever state title last season in Class 3A and secured back-to-back crowns out of a Class 5A gauntlet of premier programs. Coach VanderPol challenged her team by scheduling the state's top brass throughout the year and this paid off, not only the championship, but also in the Spartans' 3-2 semifinal win over a decorated McIntosh program that was looking for its fifth state title since 2017 this season.
Chattahoochee's defense challenged Greater Atlanta Christian throughout the match and the Cougars used the ability to double team weapons like the Spartans' kills leader Gracie Rose. Libero Maddie Burrough was pivotal in feeding Rose to keep the Cougars occupied and the Spartans' depth at the net came through with Janie-Kate Stinchcomb, Naya Ohuabunwa, Kennedy Seymour and junior Kailey Maine adding significant contributions. After weathering a nine-point deficit and rallying to take the second set, the Spartans were faced with a 24-20 uphill climb in the third set and they came away with another 26-24 win. Then in the fourth set, coach VanderPol told her team to think back to the dominant fourth set they had against McIntosh last Saturday and they closed out the title with a 25-18 victory. Rose finished with a team-high 15 kills and 12 digs, Burrough finished with three aces and 44 assists. Ohuabunwa racked up a team-high five blocks and 10 kills, Seymour finished with 11 kills and Lily Owenby had 11 digs to lead Greater Atlanta Christian.
Class 4A
 Pace Academy 3, Lovett 0
Pace Academy capped a 42-1 season with a 3-0 sweep (25-11, 25-23, 25-20) over Area 5 rival Lovett to clinch the program's sixth-straight state title. The Knights started this incredible championship streak in Class 3A with crowns in 2017-19 and then took the Class 2A/A Public title the past two seasons before entering Class 4A. Pace's 42-1 record includes a 2-0 win over Lovett back on Sept. 13 and a 2-1 win over the Lions on Sept. 24.
Head coach Catherine Monroe was pleased with the team's depth and how her underclassmen stepped up in the key moment.
"Our junior Ellie Siskin has been outstanding," said Monroe. "I think she has only had one error in the past four matches, but I also have to give a lot of credit to our underclassmen and freshmen. Gabby Emch, Olivia Siskin and Jolie Litvet went beyond expectations. We have a lot of depth and play with a lot of confidence. We did not necessarily play our best today, but they stepped up and I'm just proud for our team."
Lovett's roster features Emma Duffield—a 6-foot-1 junior that earned Class AA/A-Public Player of the Year in 2021 as a sophomore. The Lions heavily attempted to rely on Duffield, but the Knights' depth and experience ultimately prevailed and they defeated Lovett for the third time this season.
Class 7A
Buford 3, Lambert 2
Buford closed out a back-and-forth five-set marathon with a 19-17 victory in the decisive fifth set to win its third-straight state title. The top-ranked Wolves previously beat Lambert 2-0 (25-21, 27-25) when the teams met on Aug. 20 and carried a 17-game win-streak into their championship rematch with the Longhorns. Lambert bounced back from that defeat and strung together a 19-match win-prior to Saturday's loss.
Lambert overcame a 13-8 deficit in the opening set and climbed back to score a 25-22 victory. Buford responded with a 25-18 victory in the second set and cruised to a 25-15 victory in the third to take a 2-1 lead. Lambert kept its championship hopes alive and closed out a 25-23 win in the fourth set before Buford triumphed in the fifth. Lambert had match point in the fifth set and thought they had clinched the victory, but the head official overruled a line judge and Buford closed out the tiebreaker.
Class 6A
Pope 3, Sequoyah 2
Sequoyah opened up a 2-0 lead after closing out 25-21 wins in the first two sets, but No. 1 ranked Pope staved off the Chiefs with a 25-20 win in the third set and forced a tie-breaker after running away with a 25-16 win in the fourth. In the decisive fifth set, Pope opened up a 7-5 lead and went up 12-9 before closing out the 15-11 victory. When the teams met back on Aug. 25, Pope was able to win in four sets and the Greyhounds had swept the past four rounds of opponents before rallying in Saturday's five-set Marathon.
As for the Chiefs, they battled past Alexander, Alpharetta, St. Pius X and North Forsyth to reach the finals and were seeking their first state title since 2014. Pope previously won its fourth all-time championship in 2018.