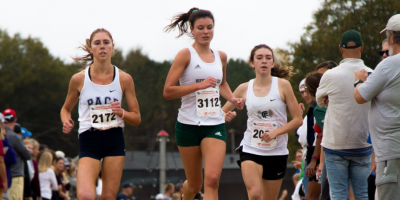 By: Najeh Wilkins
One of the longest state championship winning streaks in the history of the girls side of the event came to an end Saturday at the GHSA Cross Country State Championships in Carrollton on the final day of competition.
The Pace Academy girls finished atop Class 4A, thus ending Westminster's streak of nine consecutive titles while capturing the team's 14th state championship. The Knights won the 2A championship the past two seasons while Westminster has controlled Class 3A each year since 2014 with a shared 2A title in 2013.
Both programs reclassified to Class 4A this season as defending champions. Caroline Hood, Zahara Bernal, and Harriet Blaha finished in the top 5 to help Pace Academy secure the championship.
In Class 4A boys, Westminster won the program's 30th state title and sixth-consecutive championship after Esfan Daya and Joseph Jacquot finished in the top 4 in the individual competition. Alex Arrambide won the individual competition for East Forsyth.
On the boys side of Class 2A, Athens Academy won its second title in school history and first since 2012. Jackson Scruggs finished second in the individual competition behind Model's Simon Schabort. On the girls side, Savannah Arts Academy won its first state title led by Margaret Wade, who finished first in the individual competition with a 19:27:12 run time.
In Class 3A boys, Oconee County was dominant and finished 64 points ahead of the closest opponent, marking the third title in school history. Aaron Broderick won the individual championship for Oconee County. For the girls, Wesleyan won its third straight title, and eighth in team history after three of its runners finished in the top 10.
In Class 5A, Decatur swept the event, winning state championships on the boys and girls side of the class. The boys won the program's third in the last four years. For the girls, it marked the first-ever title for Decatur. Diego Santiago won the boys individual competition for Chattahoochee. For the girls, Decatur's own Gabriella Malerba won the individual competition.
In Class 6A, the North Atlanta boys won the team's first state title, led by Sumner Kirsch and Truman Thompson, who finished in the top seven in the individual competition. Marist runner Tommy Latham won the Class 6A individual competition. For the girls, Marist won the team's 23rd championship and third straight title. St. Pius X runner Hannah Schemmel won the individual competition.
See the class-by-class results from Saturday below or follow the link to MileSplitGA.
Class 2A Boys Individual 
1. Simon Schabort, Model, 16:16.51; 2.Jackson Scruggs, Athens Academy, 17:22.16; 3. Pepper Davis, Banks County, 17:28.90
Class 2A Boys Team 
1. Athens Academy, 70; 2. Model, 119; 3.Jeff Davis, 133
Class 2A Girls Individual 
1.Margaret Wade, Savannah Art, 19:27:12;  2. Shari Brown, Landmark Christian, 19:46:88; 3. Maya Davis, Athens Academy, 19:55:90
Class 2A Girls Team 
1.Savannah Arts Academy, 41; 2. Athens Academy, 62; 3. Landmark Christian, 97
Class 3A Boys Individual 
1.Aaron Broderick, Oconee County, 16:36.87; 2. Cooper Timberman, Oconee County, 16:51.75; 3. John Ryan, Savannah Country, 17:09.04
Class 3A Boys Team 
1.Oconee County, 51; 2. Wesleyan, 115; 3. Pike County, 146
Class 3A Girls Individual 
1.Nealeigh Broadwell, White County, 20:35.23; 2. Bekah Wise, Pickens County, 20:42.58; 3. Gabby Ware, Columbus, 20:50.38
Class 3A Girls Team 
1.Wesleyan, 48; 2. Oconee County, 99; 3. Mary Persons, 106
Class 4A Boys Individual 
1.Alex Arrambide, East Forsyth, 16:03.82; 2. Joe Sapone, Holy Innocents, 16:22.10; 3. Esfan Daya, Westminster, 16:30.90
Class 4A Boys Team 
1.Westminster, 54; 2. Starrs Mill, 66; 3. Clarkston, 138
Class 4A Girls Individual 
1.Palmer Walstad, Westminster, 19:08.39; 2. Caroline Hood, Pace Academy, 19:36.29; 3. Clodagh O'Bryant, North Hall, 19:54.17
Class 4A Girls Team 
1.Pace Academy, 34; 2. North Hall, 50 3. Starrs Mill, 74
Class 6A Boys Individual
1.Tommy Latham, Marist, 15:58.17;  2. Dru Moore, Etowah, 16:22.31; 3.Andrew Balogh, Etowah, 16:22.92
Class 6A Boys Team 
1.North Atlanta, 98; 2. Pope, 106; 3. Roswell, 136
Class 6A Girls Individual 
1.Hannah Schemmel, St. Pius X, 19:12.92; 2. Claire Shelton, Dunwoody, 19:13.50; 3. Ruby Little, Marist, 19:32.92
Class 6A Girls Team 
1.Marist, 67; 2. St.Pius, 81; 3.Blessed Trinity, 95
Class 5A Boys Individual 
1.Diego Santiago, Chattahoochee, 16:49.26; 2. Jake Westing, Decatur, 17:02.13; 3. Beck Wolf-Hardy, Clarke Central, 17:04.10
Class 5A Boys Team 
1.Decatur, 93; 2. Clarke Central, 98; 3. Chattahoochee, 146
Class 5A Girls Individual 
1.Gabriella Malerba, Decatur, 20:29.38; 2. Grace Danser, Maynard H.J, 20:36.78; 3. Lottie Chappell, North Springs, 20:38.86
Class 5A Girls Team
1.Decatur, 29; 2. Midtown, 111; 3. McIntosh, 121