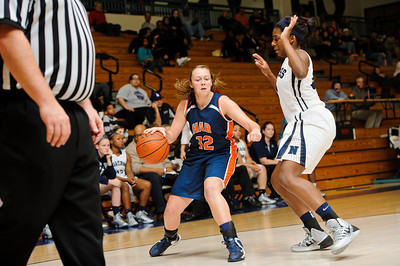 Photo by Ty Freeman
In Class AAAAAA, No. 2 Archer tabbed a 51-42 region win over Parkview and sent the Panthers out of the top three to No. 6. Undefeated North Forsyth moves into the top 4 and earned a hard-fought 54-53 win over Centennial on Tuesday.
In Class AAAAA, Southwest DeKalb remains No. 1 and topped North Atlanta 74-34 on Tuesday. Gainesville dropped out of the top 10 after a 49-46 loss to East Hall and a 58-38 loss to Salem. Osborne replaces the Red Elephants in the poll and debuts at No. 10.
In Class AAAA, Mary Persons suffered its second loss of the season (38-34 to Veterans) and slides to No. 10. Chestatee enters the top 5 after an impressive five-game winning streak that includes victories over Sprayberry, East Paulding, Lumpkin County, Monroe Area and Madison County.
Franklin County debuts at No. 9 in Class AAA after topping previously No. 6 ranked North Oconee 57-41. The Titans dropped four spots to No. 10 after the loss. Armuchee and Rabun County debuted in the Class AA poll and sent Taylor County and Calhoun out of the top 10. Armuchee earned its No. 7 ranking with a 55-39 win over Calhoun and the Indians cruised to a 62-28 win over Bremen on Tuesday. Rabun County comes in at No. 10 with its 11-6 record.
In Class A, Calvary Day debuts at No. 9 and has a very strong resume with wins over Wesleyan, Pace Academy, Claxton and South Effingham. Previous No. 9 Eagle's Landing Christian drops out of the top 10 with a 50-47 loss to Pace Academy.
AAAAAA
1. McEachern
2. Archer
3. Douglas County
4. North Forsyth
5. Parkview
6. Mountain View
7. Hillgrove
8. Norcross
9. Westlake
10. Hughes
AAAAA
1. Southwest-DeKalb
2. Tucker
3. Salem
4. Effingham County
5. Stephenson
6. Forest Park
7. Drew
8. Hiram
9. Sequoyah
10. Osborne
AAAA
1. Redan
2. Cross Creek
3. Columbia
4. Columbus
5. Chestatee
6. Fayette County
7. Marist
8. Carrollton
9. Monroe-Albany
10. Mary Persons
AAA
1. Washington County
2. Buford
3. St. Pius X
4. Morgan County
5. Beach
6. Dodge County
7. Southwest-Macon
8. Tattnall County
9. Franklin County
10. North Oconee
AA
1. Kendrick
2. Wesleyan
3. Laney
4. Pelham
5. Greater Atlanta Christian
6. Bleckley County
7. Putnam County
8. Armuchee
9. Pepperell
10. Rabun County
A
1. Holy Innocents'
2. St. Francis
3. Southwest Atlanta Christian
4. George Walton Academy
5. Randolph-Clay
6. Gordon Lee
7. Paideia
8. Darlington
9. Calvary Day
10. Claxton