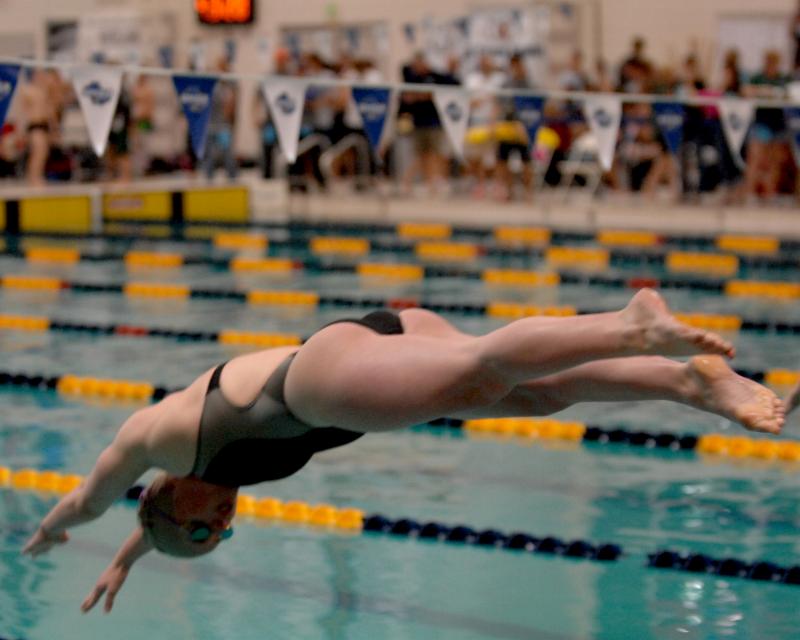 Photo by Sonny Kennedy
Alpharetta swam to a combined team victory in last Saturday's Fulton County Championships at Emory University. The Raider boys led the way by compiling 471 points, at least 161 more than any rival. Alpharetta's girls finished third behind Johns Creek and Northview to help the overall team effort. Individual victors for the Raiders included Max Lee in the 50-yard freestyle, Patrick Cusick in the 100 butterfly (by four one-hundredths of a second ahead of Chattahoochee's Mick Litherland) and Morgan Lyons in the girls 100 backstroke.
Johns Creek's girls dominated their way to 499 points, leading the Gladiators to a second-place overall performance that saw them finish just 18.5 points back of Alpharetta. The Gladiators got wins from Emily Ranzau in the 200 freestyle and 500 freestyle, Evie Bragg in the 200 individual medley and 100 breaststroke, Kaitlin Kitchens in the 50 freestyle and 100 freestyle and Caroline Price in one-meter diving.
Region rivals Lovett and Wesleyan both saw action. Lovett traveled to the University of Georgia's Ramsey Center for the Clarke-Oconee Invitational last Saturday. The Lions finished third overall in a field of 24 teams behind a third-place showing by their boys. Freshman Andrew Ferrell snagged fourth place in the 100 backstroke and sixth in the 500 freestyle for Lovett, while Jay Bland came in fifth in the 50 freestyle. Wesleyan had an entertaining affair at home against Collins Hill last Friday. The Lady Wolves won 232-216 and Collins Hill got the best of the boys meet 260-193.5.
Pace Academy hosted an extremely competitive tri-meet against Riverwood and Paideia last Wednesday. On the boys side, Riverwood prevailed with 178 points to Pace's 172 and Paideia's 134. The Raiders and Knights swapped spots at the top in the girls competition, with Pace's 196 points besting Riverwood's 146 and Paideia's 109. For the Riverwood boys, Mark Grenader triumphed in the 100 freestyle and Alex Kaye secured top individual honors in the 500 freestyle. Gwynnie LaMastra earned victories for the first-place girls in individual medley and breaststroke events plus on relay teams in the 200 medley and 200 freestyle.
Teams throughout the state are now making a push toward the state championships, rapidly approaching on the early February schedule. Pace is paying a visit to the Dalton Invitational this Saturday, while the Riverwood Invitational is taking place on Saturday at the Marist Aquatic Center. Dual meets next Tuesday will feature Woodward at Westminster and Lassiter at Marist.