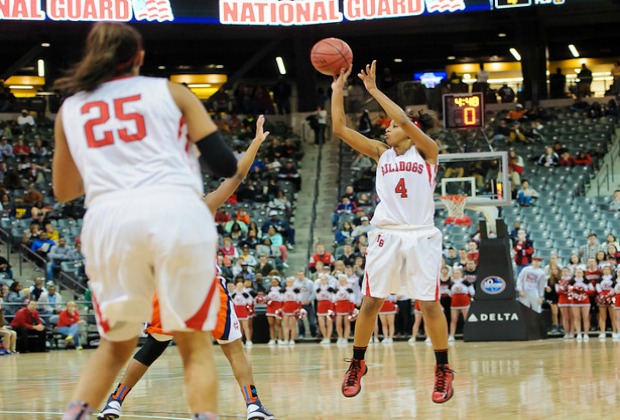 Photo by Ty Freeman
Parkview took over No. 2 in Class AA after a 55-52 win over Archer. The loss marked the first in-state loss of the season for Archer and the Tigers fall just one place to No. 3. No. 9 Hughes dropped out of the poll with its 56-49 loss to Douglas County. Brunswick debuts at No. 10 and Douglas County moved up to No. 9.
In Class AAAAA, Effingham County fell out of the top 5 and dropped to No. 10 with its 50-43 to South Effingham. The Mustangs' win debuts South Effingham at No. 8 in Class AAAA. Also in Class AAAA, Chestatee drops five spots to No. 10 after a 56-52 loss to Pickens County.
In Class AAA, Morgan County fell to No. 2 Buford 57-49 and slid a couple spots to No. 6 in this week's poll. In Class AA, Bleckley County lost 53-52 to Class AAA No. 5 Dodge County and will remain at No. 7. Gordon Lee was waxed by No. 2 Southwest Atlanta Christian in Class A, but bounced back with a 56-26 win over Dade County and move down from the top 5 to No. 7.
Class AAAAAA
1. McEachern
2. Parkview
3. Archer
4. Mountain View
5. Hillgrove
6. North Forsyth
7. Norcross
8. Westlake
9. Hughes
10. Brunswick
Class AAAAA
1. Southwest-DeKalb
2. Salem
3. Tucker
4. Forest Park
5. Drew
6. Stephenson
7. Hiram
8. Sequoyah
9. Osborne
10. Effingham County
Class AAAA
1. Redan
2. Cross Creek
3. Columbia
4. Columbus
5. Fayette County
6. Carrollton
7. Mary Persons
8. South Effingham
9. Monroe-Albany
10. Chestatee
Class AAA
1. Washington County
2. Buford
3. St. Pius X
4. Tattnall County
5. Dodge County
6. Morgan County
7. Southwest-Macon
8. Beach
9. Franklin County
10. North Oconee
Class AA
1. Kendrick
2. Wesleyan
3. Laney
4. Pelham
5. Greater Atlanta Christian
6. Armuchee
7. Bleckley County
8. Putnam County
9. Pepperell
10. Calhoun
Class A
1. Holy Innocents'
2. Southwest Atlanta Christian
3. St. Francis
4. George Walton Academy
5. Randolph-Clay
6. Calvary Day
7. Gordon Lee
8. Claxton
9. Paideia
10. Darlington