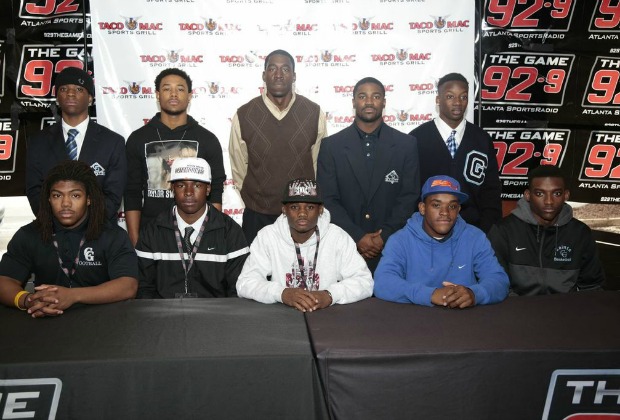 Devon Allen
We are counting down to National Signing Day 2014 by putting the spotlight on 25 of Metro Atlanta's top prospects as they choose their college destinations. These athletes will be recognized for their outstanding varsity careers throughout Score Atlanta's record breaking coverage of the Peach State's signees. #NSDFrenzy
Bryson Allen-Williams is a 6-foot-1, 225-pound outside linebacker from Cedar Grove High School that is ranked as the No. 6 outside linebacker in the country by 247sports and the No. 7 overall prospect in the state of Georgia. Allen-Williams capped off a wild week and tug-of-war between South Carolina and the University of Georgia by announcing his commitment to South Carolina and his intent to sign with the Gamecocks on National Signing Day.
Allen-Williams was pegged as a top prospect heading into his senior season after an incredible 16-sack junior season, but it was not until his appearance in the U.S. Army All-American Bowl in January that the DeKalb County product lit the fuse on one of the most competitive recruiting battles this year. An in-home visit by UGA head coach Mark Richt caused the linebacker to take a pause before making his decision, but ultimately he stuck with South Carolina. Out of respect for both schools, Allen-Williams announced on Monday that he would head to Columbia, S.C. so that both schools could move on and focus on the final days before National Signing Day and that UGA could look elsewhere.
The strength of Allen-Williams' game is his ability to fight off blockers and fly to the football. These skillsets could make him an immediate special teams contributor when he arrives in Columbia and ultimately an all-conference linebacker that can cover the pass, stuff the run and add a dangerous pass rush dynamic to the defense.
1. Nick Chubb
2. Lorenzo Carter
3. Nick Ruffin
4. Bryson Allen-Williams
5. Dante Sawyer
6. Cortez McDowell
7. Korie Rogers
8. Wesley Green
9. Mike Rogers
10. Orlando Brown
11. Detric Dukes
12. Nate Brown
13. Andrew Williams
14. Kendarius Webster
15. Allen Artis
16. Demarquis Gates
17. Kevin Mouhon
18. Elisha Shaw
19. Treyvon Paulk
20. Myles Autry
21. Taariq Shabazz
22. Kendall Baker
23. C.J. Leggett
24. Grant Haley
25. Evan Berry
(CLICK HERE For a list of all the signees in the state)