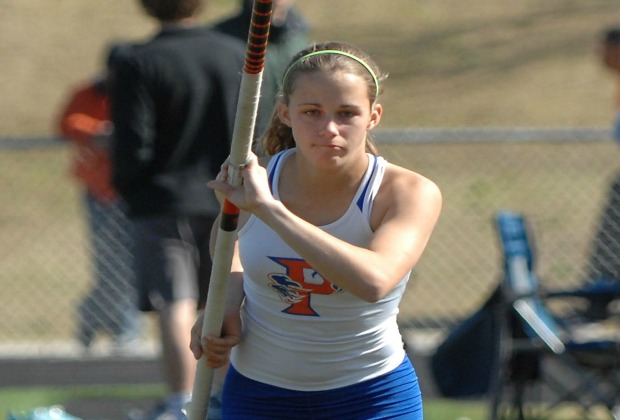 Sonny Kennedy
The first day of the GHSA girls track and field championships saw individual champions crowned in a variety of events yesterday as several programs have proven strong so far.
In Class A-Private, Prince Avenue Christian's Anna Machovec won the discus and shot put events to help Prince Avenue get off to a hot start. Savannah Christian's Summer Hendley won the long jump and high jump events while Holy Innocents' Alexandra Juneau won the pole vault. Maddie Felts of Galloway won the triple jump event to wrap up Session 1. Lindy Long of Landmark Christian won the 3200-meter run in Session 2.
In Class A-Public, Gordon Lee took four of six events in the first session as Katelyn Lee and Anna Pettigrew each won a pair of events.
Shakedra Robinson of Jeff Davis won the Class AA triple jump and high jump while GAC's Kayin Mujahid won the discus throw. Caroline Reed's second-place finish in the 3200-meter run, combined with Katie Frerking's third-place finish in the high jump, helped Wesleyan lead Class AA by one point after the first day. GAC and Westminster sit tied for second place.
Gordon Central claimed a pair of Class AAA individual events in Session 1 before White County's Jenna Gearing won the 3200-meter run in Session 2.
In other individual events from Thursday's Session 2, Marist's Morgan Ilse won the AAAA 3200-meter run while Dunwoody's Alex Cameron won the AAAAA 1600-meter run. Johns Creek's Allie Buchalski beat out Milton's Annie Kelly and Norcross' Katherine Yost for the AAAAAA 1600-meter crown.