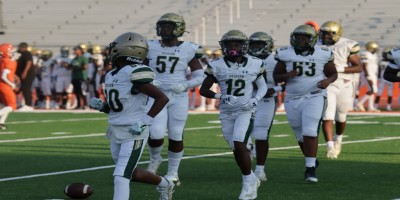 Photo Courtesy Of Najeh Wilkins
Grayson football continues its strong freshman season and improves to 4-0 after a 20-8 victory on the road against Parkview. The Rams started out the game fast forcing a turnover on Parkview's opening possession and giving the ball back to their offense. Grayson would face multiple fourth downs on the drive but converted all of them. QB David Smith and WR London Goggans would come up with the clutch catch on 4th and long and help put the Rams on the board dragging his two feet as he nearly went out of bounds.
"My favorite thing about these guys is that they play hard. They believe in the Grayson way and that is playing hard and playing physical," said head coach Jeremiah Motley. "That is what we do and we just win. That is exactly what we want to do."
The second touchdown for Grayson would come on a 65+ yard scamper from Joel Bradford. Bradford went on to have two runs of 60+ yards and two touchdowns in the game and showed his elite ability to get to the second level of the defense. Bradford also racked up several tackles on the defensive side of the ball.
The Rams forced a total of three turnovers (a fumble and two interceptions). One was a beautiful sight that saw defensive back Elijah Patterson go up and snag the one-handed interception. It was so great that it left his teammates in awe.
The Rams stifled the Panthers offense until the fourth quarter where they got their lone score of the game. Parkview scored after WR Kevin Caldwell caught a pass over the middle and broke multiple tackles on his way to the endzone. Caldwell showed his elite burst after the catch and separated from the defenders turning a short route into an electrifying play.
Parkview made things interesting trailing by just a score with 2:05 left in the game, but on the ensuing possession Bradford would put it away with his aforementioned 60+ yard run. Grayson got great contributions from a multitude of players and flashed the potential of what this roster and team could be at the varsity level in a few years.
"God is good to give us this talent. I am thankful to God for these young men," said Motley. "Coach Bryant does a great job and I feel like our whole staff does a good job getting these guys ready to play because we want to plug and play these guys next year. Some of these guys are going to play varsity so we expect big things."
This group certainly plays with a lot of camaraderie and familiarity and could be an intriguing team to cover in the next few years. They are talented, fast, and physical and embody the Grayson Way. That could be a scary sight for opponents.