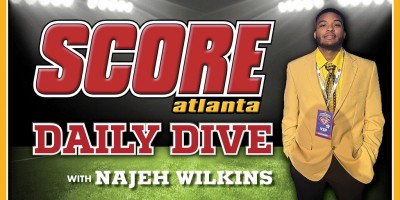 No.8 Douglas County vs No.2 Langston Hughes is one of the best top 10 matchups to watch on Friday night. You have defending state champion Hughes on one end and a potential state champion contender in Douglas County on other end that is loaded with young talent. Hughes has already been tested this season in a grueling non-region schedule that included a matchup with 7A state runner-up Carrollton on ESPN in week 1. Also the Panthers had matchup with out-of-state opponent Butler (NC) in week 3, but Hughes came out  of it 3-1. Head coach Daniel "Boone" Williams talked about how it has shaped his group this season.
"That non-region schedule was one of the best we have played in a while. I think starting out with Carrollton that game was the #14 and #12 teams in the country. That was a state championship environment. I mean that is what you want to see. Our guys responded there and we followed that up with a well-coached McEachern team," said Williams. "Coach Reid does a good job getting those guys prepared. At one point we trailed 9-0 in that game. The boys responded and we rallied back and kind of took over late in the game. We followed that up with Butler, an out of state team that came down here. We didn't have our best game. We had five turnovers and they had none. They played lights out. We ran out of time and couldn't mount a comeback. We lost that game to a well-coached Butler team. Shoutout to the coach. They did a good job of scheming us up and they executed when we didn't play our best. In those non-region games, we went through every phase to get us prepared for the region."
Douglas County is off to a blazing 4-0 start, their best since 2021 when they went 6-0 to start the season under head coach Johnny White. The Tigers are averaging 41 points per game this season and their offense is coming off a 50 point performance in their region opener against Alexander. They are led by senior quarterback and three-year starter Sire Hardaway who has thrown for 1,056 yards and nine touchdowns.
"Sire is a mental giant. He has a total grasp of our offense and this is his third year being a starting quarterback," said head coach Johnny White. "He knows how to get us in the right position like readjusting blocks from the line. He is basically the offensive coordinator on the field for us."
Hughes is led by senior five-star quarterback Prentiss Air Noland who led the Panthers to their first state championship in school history. Noland had a game-winning drive week 1 in the electric atmosphere at Carrollton finding Jovani McGee late in the game and putting his team on top. Coach Williams talked about the difference he's seen in Noland from junior to senior year.
"This is the first time he is a team leader. The last few years he has been the offensive unit leader. Now, he is the entire team's leader. When we are on defense, he is right there on the sideline cheering the defensive guys on," said Williams. "He does a good job of telling them to get him the ball back and they respond to him well. His leadership on the entire team has grown this year because he understands his role. Before that game-winning drive, Prentiss said coach we're going to score. When Air is confident like that, I have no doubt in my mind he will try and find a way to get us in the endzone. When the play was called I heard it. I looked at how they were aligned and I was like okay we have a good chance. When he evaded the pressure and set his feet and let it go, I was pretty confident we were going to catch it. Jovani McGee does not miss."
A matchup to watch for is the dynamic rushing attack of the Panthers against the Douglas County front seven. Dorian Tre Page has rushed for 447 yards and Justus Savage has rushed for 371 yards this season. They've combined for 12 rushing touchdowns and help provide balance to the potent offensive attack. Coach Willams raved about his two backs and just how valuable they are to the offense.
"Most people always talk about thunder and lightning. I honestly think we have two sets of thunder and lightning in each back because both guys can get those hard necessary yards. Both guys can take it the distance too," said Williams. "Tre Page is a track kid, and he is phenomenal in open space. Page may be one of the fastest football players in the country. Savage worked his tail off this offseason to get to that second gear and he is showing it now. He makes some runs that he wouldn't have made last year look easy."
The Tigers have a good defensive rotation and are able to sub guys in and keep the unit fresh throughout the game. They have some elite players on the defensive line including top 2026 recruit Jordan "Breeze" Carter who is second on the team in sacks. Last year, Douglas County was able to force star quarterback Prentiss Air Noland into a few more mistakes than normal. Noland threw half of his total interceptions in the season against them. Their front seven will be pivotal in helping Douglas County secure the victory. If they can create pressure and limit the rushing attack, they could have a chance to come away with a victory. It certainly won't be easy with the stout offensive line Hughes has.
Another intriguing matchup in this game will be the Douglas County playmakers vs a very talented Hughes secondary. Aaron Gregory is a top 3 recruit in the state of Georgia according to 247 Sports and James Johnson has over 25+ offers and is a dangerous playmaker in the open field. The duo have combined for 592 yards and six touchdowns this season. The backend for Hughes is led by UCF commit Jakob Gude who is having a big year for the Panthers. Gude is making his presence felt and making plays all over the field.
"He has brought physicality. He understands the game. He does a good job getting hands on receivers in the open field," said Williams. "He does a good job playing the open field. Jacob has grown as a player from his junior year to his senior year. He understands our expectations of him and has responded."
Some under the radar players to watch that could have a big impact are unsung heroes that have been critical to the strong start for both teams. Hughes and Douglas County only have one combined loss between them. Defensive end Alonzo Jackson leads the list for Hughes and cornerback Richard Freeman leads the list for Douglas County.
"DE Alonzo Jackson, DE Quavion Pitts, DT Fred Tigner, RT Caleb Ash, Justus Savage, and Dorian Tre Page are key players. Page has a few offers. I want him to get exposed. All those guys I mentioned have earned the right for me to say come get this kid," said Williams. "I think Jordan Thompson is going to continue to do well. Cam Jackson is one of the meanest offensive linemen that I have had. We have a host of guys that can be recruited."
"Richard Freeman is a three-year starter for us at corner and he is a heck of a football player. He is definitely unsung for us in the secondary," said White. "He's done everything we asked him to do. He's led us in interceptions the last two seasons. We are expecting a big year out of our safety Brandon Payton too."
As far as keys to the game, coach Williams talked about what his team needs to do to come out on top in the region battle.
"We have to play the Langston Hughes brand of football. We want to be fast and disciplined. Like I tell my team all the time, go 1-0 and win every quarter and you will eventually win the game," said Williams. "I am going to tell them that this week when we face Douglas County, a really strong coached team. They will come in ready to play and knock us off. I think they feel real confident about their team and they should. They do a really good job coaching over there, so I will have to get my guys ready to respond and play at a high level."
One of the best games in the state with two excellent programs, coaches, quarterbacks, and rosters. It will be a barn burner and an electric atmosphere in Fairburn, Georgia on Friday night. This is one you don't want to miss.