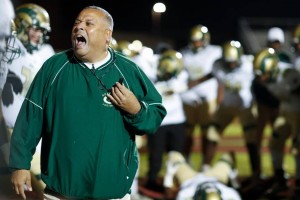 Grayson head coach Christian Hunnicutt yells to his team before a GHSA high school football AAAAAAA second round playoff game on Friday, Nov. 17, 2017, at North Gwinnett High School in Suwanee, Ga. (AJ Reynolds/Special)
Christian Hunnicutt will remain Grayson's head coach following a team boycott that took place on Wednesday, sources confirmed to Score Atlanta and the AJC's Adam Krohn.
Initially, players demanded Hunnicutt's ouster, according to a source. Nearly all of Grayson's players protested Hunnicutt's practice conditions, which involved full-force hitting in shorts, a source said.
Players walked out of practice on Wednesday, which led to a meeting between Hunnicutt and the players. During the meeting, Hunnicutt apologized for the rough practice conditions and promised lighter practices moving forward.
A text message left for Hunnicutt was not immediately returned.
Players were concerned for their health heading into the season, though none were injured as a result of the practices, according to one source.
Practice resumed on Thursday.
Grayson is ranked No. 1 in Class AAAAAAA, the state's highest classification by the AJC. They are also No. 2 in the Southeast of the USA Today High School Sports Super 25 regional rankings.
The Rams finished 10-2 last season, Hunnicutt's first with Grayson. The Rams won the 2016 AAAAAAA state title the year before in Jeff Herron's lone season as coach.
The Rams are set to face Tucker at home on Aug. 25.
Score Atlanta/AJC reporter Seth Ellerbee contributed to this story.