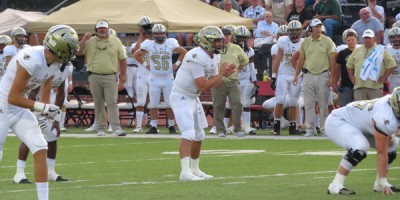 Adam Krohn
ROME – The defending Class AAA champion Calhoun Yellow Jackets scored quick and often following adjustments at halftime to capture a 45-21 win over Ridgeland Thursday night in the MetroPCS Corky Kell Classic at Barron Stadium. Making its debut in the Classic, Calhoun scored five touchdowns and add a field goal starting at 1:34 in the second quarter, while holding the Panthers'  scoreless through the third quarter, to put the game out of reach of any chance of a Ridgeland comeback.
The Yellow Jackets weathered an early deficit, however, after the Panthers took a 7-0 lead on a touchdown pass from Tanner Hill to Jordan Blackwel. Calhoun tied the game on a Jonkell Tolbert run from seven yards out before Ridgeland answered on a 42-yard rushing touchdown by Blackwel. Calhoun tied the game at 14 just before halftime on a 28-yard pass from Gavin Gray to Brannon Spector.
"I think that we had to settle in" said head coach Hal Lamb of his team's sluggish start. "We didn't play very well in the first half. We made some adjustments at the half and I thought we played a lot better in the second half."
Calhoun quarterback Gavin Gray blamed his two interceptions for a majority of the first-half struggles. Along with the adjustments made in the locker room, the Yellow Jackets rallied around injured teammate Eric McKnight, a senior TE/LB, who went down in the first half.
"We really shot ourselves in the foot in the first half and I take responsibility for that," said Gray of his two interceptions. "But when our linebacker Eric McKnight went down with an injury and then at halftime we saw how much pain he was in, we knew we had to rally around him. And we knew we had to play for him, so we all laid it on the line just for Eric"
Then, the flood gates opened.
Zach Fuller started the onslaught with a pair of touchdown runs at the 9:14 and 9:01 minutes of the third quarter to make it a 28-14. Three minutes later, Gray found Luke Moseley on a 36-yard pass to push the lead to 35-14. Edjuardo Fajardo's, who was 6-for-6 on extra points on the evening, pushed the Yellow Jacket lead to 38-14 with a 27-yard field goal with 1:45 left in the third quarter.
"McKnight is one of our leaders," Lamb said. "I think when he went down, our team really rallied around that. I hope he is not hurt bad. We will just have to wait and see but we are excited to get this win."
Gray finished the game 30-of-45 passing for 376-yards and two touchdowns. Moseley had 117 yards receiving with one touchdown. Fuller rushed for 62 yards and two touchdowns. Davis Allen made 5.5 tackles and McKnight had 4.5 tackles before his injury.
Ridgeland's Jordan Blackwel rushed for 142 yards and a touchdown (42 yards) with one receiving touchdown (60 yards). Stephon Walker led Panthers receivers with 41 yards receiving and a touchdown. Hill finished passing for 173 yards and two touchdowns on 11-of-25 passing.