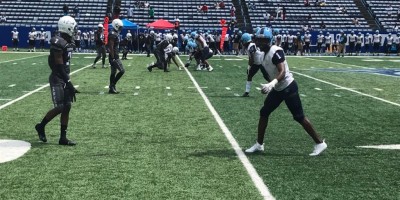 Jordan Dubrof
The second annual Great Atlanta Bash kicked off Saturday with a three-game schedule at Georgia State Stadium
B.E.S.T. Academy 26, North Clayton 0
De'Von Hixson made the most of his appearance in the opening game of the Great Atlanta Bash and in the 26-0 victory over North Clayton, Hixson, a senior quarterback, scored two short touchdown runs and passed to Ni'que Bell for a 20-yard touchdown.
"I think the biggest thing was his maturity," BEST coach Josh Moore said of Hixson. "He stayed composed. He might have gotten shaken a bit, but, when it came down to it, he kept his composure together and played well for sure."
Kevin Zachary scored on an interception return to in the third quarter to put the game away. Bell made an interception in the first quarter to set up Hixson's second touchdown run.
"We pride ourselves on defense," Moore said of his team's interceptions. "We knew they played some bubble screens and we wanted to take that away from them. If they were going to beat us, it was not going to be from doing that."
Hixson had 15 carries for 61 yards and two touchdowns. He was 4-of-91 passing for 63 yards. Bell had 18 carries for 191 yards. BEST made three interceptions in the win from Bell, Zachary and Leroy Waters Jr.
Lovejoy 27, Carver-Atlanta 26
The Lovejoy Wildcats rallied from a 12-0 early deficit and held off Carver-Atlanta in a thrilling one-point victory in the second showdown of this year's Great Atlanta Bash. Lovejoy outgained Carver's offense 341-to-187 in total yards, but Carver's pair of early Jarveous Brown 6-yard rushing scores and explosive return game produced a two special teams touchdowns and kept the Panthers in position to nearly score the upset. Carver's early 12-0 lead began to evaporate late in the first half when Keandre Haines hauled in a 39-yard touchdown pass from Stephin Craig. The Wildcats entered the second half trailing 12-7 and then got the go-ahead touchdown with Craig's 13-yard touchdown pass to Siian Crafton with 6:45 left in the period.
Quintavious Davis returned a punt 73 yards for a Carver touchdown in the opening minute of the fourth quarter and a successful two-point conversion gave the Panthers a 20-13 edge. Craig added a 35-yard touchdown pass to Antonio Jones and a 75-yard touchdown to Quentavius Scandrett to put Lovejoy back up 27-20 with 2:49 to play. Carver's Tobia Fletcher returned the ensuing kickoff 88 yards for a touchdown, but a failed two-point conversion left Carver down 27-26.
Lovejoy's Craig finished the game 13-of-26 passing for 226 yards, four touchdowns and one interception. Scandrett was the leading receiver with a game-high 5 receptions and 120 yards to go with his 75-yard score. Craver's Brown posted a game-high 120 rushing yards off of 20 carries to go with his two rushing touchdowns. Defensively, Lovejoy's Isreal Nwokocha finished the contest with a game-high 8 total tackles, two sacks and 3.5 tackles for loss. Carver's Demetrius Hinton had 4 total tackles and recorded the game's lone interception.
Mays 35, Riverdale 28
Mays scored on its first play from scrimmage with a 68-yard touchdown pass from Quintavius Johnson to Nagari Thophia. Riverdale's Kamari Murphy got the Raiders on the board 51-yard fumble recovery at the 7:41 mark in the opening period to bring it within 7-6 and more explosive plays continued during an eventful opening half. Mays' Triston Morgan found the end zone on a 62-yard touchdown run to put the Raiders up 14-6 heading into the second quarter and teammate Danny only extended the lead with an 87-yard Mays touchdown run with 9:34 left in the half. Riverdale was able to tie up up before the half at 21-21 following a 12-yard Avaun Rucker touchdown pass to Marcus Polite and an Avaun Rucker 6-yard rushing touchdown with just 14 seconds left before the break.
Quintavius Johnson broke the tie with a 23-yard touchdown run late in the third quarter that capped off a seven-play, 63-yard Mays scoring drive. Rucker found Fredrick Collins for a 25-yard touchdown pass with 10:25 left in the game to even it up 28-28. Less than a minute later, Mays answered with a 59-yard touchdown pass from Johnson to Devin Miller that proved to be the game-winning play.
Mays gained 503 total yards of offense to Riverdale's 354—fueled mostly by explosive plays as evidenced by the fact that Riverdale held a 29:53 to 18:07 advantage in time of possession and Mays did take a single snap inside the red zone for the entire game. Defensively, Mays' Amiri Johnson led the way with a game-high 12 solo tackles and two assists.
FOR THE FINAL STATS OF THE 2020 GREAT ATLANTA BASH CLICK HERE
Other News: Tift County has been forced to quarantine after four players and a coach tested positive with COVID-19 over the last week. Tift County was scheduled to play Valdosta this week but cancelled the game when coach Ashley Anders tested positive for the flu and COVID-19. The Blue Devils are scheduled to play Coffee on Sept. 25. The two-week quarantine ends Sept. 23.