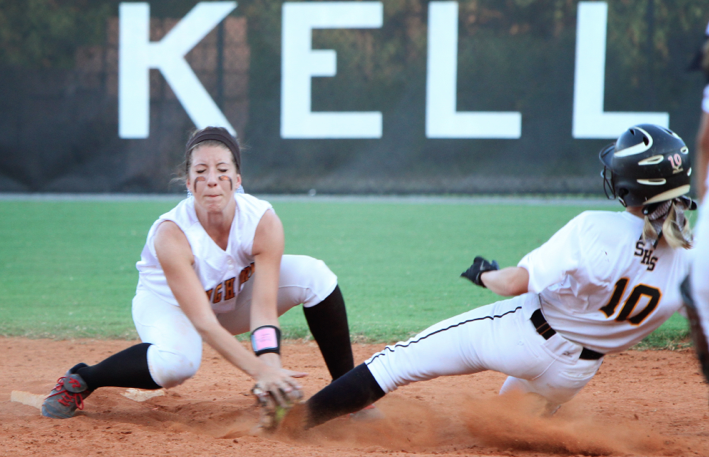 Photo by Deanna Fiveash
Region tournaments took place last week and the state playoffs will begin on Wednesday. Greenbrier, which became No. 1 in Class AAAAA, was the only top-ranked team in real danger of falling in the rankings. The Wolfpack lost to Houston County in the Region 2-AAAAA tournament but bounced back to take the three-game series and the title. In Class AA, where Gordon Lee has a stranglehold on the top spot, the Trojans dropped one game to Armuchee but still won that best-of-three series.
The biggest shakeup came in Class AAA. Calhoun and Ringgold swapped spots at second and third following the Region 6-AAA final. Ringgold won the first game but the Yellow Jackets responded with two routs. Blessed Trinity surged to No. 4 by avenging a loss to Westminster with two straight blowout wins and the Region 4-AAA title. Dodge County used defeats of Tattnall County and Pierce County to reach No. 5. Cedartown moved into the top 10 thanks to a pair of victories over Rockmart.
Alcovy is a newcomer to the Class AAAAAA rankings on the strength of a seven-game winning streak that includes an upset of Archer. Trion's four-game streak has it ranked in Class A-Public for the first time this season.
Class AAAAAA
1. Lassiter
2. Collins Hill
3. Brookwood
4. Lambert
5.Harrison
6. Pope
7. Archer
8. South Forsyth
9. Hillgrove
10. Alcovy
Class AAAAA
1. Greenbrier
2. Northgate
3. Ola
4. South Effingham
5. Cambridge
6. Effingham County
7. Union Grove
8. Woodland-Henry
9. Houston County
10. Creekview
Class AAAA
1. Buford
2. Heritage-Catoosa
3. Walnut Grove
4. Wayne County
5. Marist
6. Madison County
7. Veterans
8. Carrollton
9. Whitewater
10. Perry
Class AAA
1. Central-Carrollton
2. Calhoun
3. Ringgold
4. Blessed Trinity
5. Dodge County
6. Pierce County
7. Westminster
8. Jackson County
9. Cedartown
10. Rockmart
Class AA
1. Gordon Lee
2. Harlem
3. Heard County
4. Wesleyan
5. Armuchee
6. Bacon County
7. Jeff Davis
8. Berrien
9. Social Circle
10. Vidalia
Class A-Private
1. Prince Avenue Christian
2. ELCA
3. Athens Christian
4. Mount Vernon Presbyterian
5. First Presbyterian Day
6. Tattnall Square Academy
7. Brookstone
8. Stratford Academy
9. Calvary Day
10. Strong Rock Christian
Class A-Public
1. Georgia Military
2. Schley County
3. Wilcox County
4. Charlton County
5. Echols County
6. Hawkinsville
7. Treutlen
8. Commerce
9. Telfair County
10. Trion