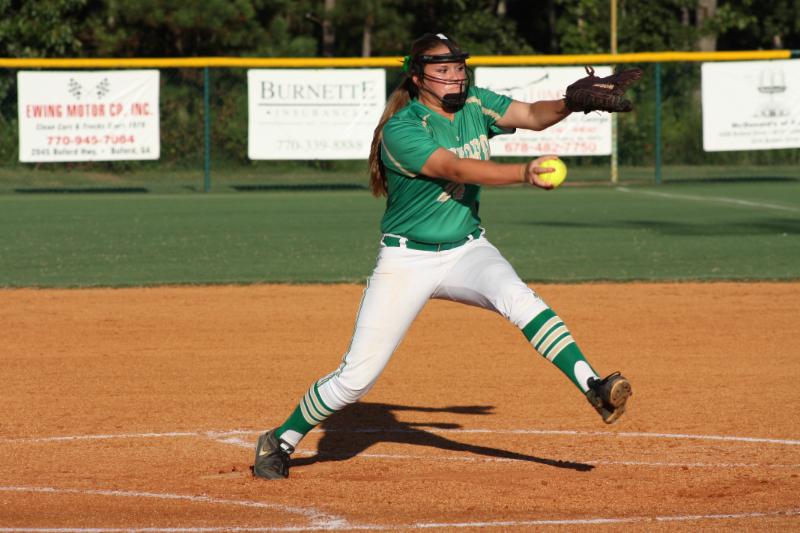 Photo by Jennifer Stavro
Blessed Trinity battled its way to the Region 4-AAA title last week despite dropping the first game of the final series to rival Westminster. The visiting Wildcats pulled out the first contest via a 5-4 decision before the Titans forced a decider on Friday by dominating the second game 9-1. With momentum in hand, Blessed Trinity scored 10 unanswered runs in Game 3 to prevail 10-1 and thus take the last two meetings by a combined score of 19-2.
State tournament action gets underway on Wednesday, with potential third games to be played on Thursday. Blessed Trinity is hosting Laney and could eventually have an intriguing second-round series against Pierce County on its hands. Westminster will entertain visiting Washington County in the opening round.
The Region 8-AAAAAA tournament also ended with a winner-take-all showdown. Brookwood had emerged from the winners' bracket, but Archer advanced out of the losers' bracket and took the first game against the Broncos 2-1 to force a decider in the double-elimination event. Undaunted, Brookwood had an ace in the hole for last Friday's contest. Star pitcher Amanda Ablan took the mound a hurled a complete-game shutout while striking out 10 Archer batters and allowing only three hits in a 2-0 Broncos' victory. Brookwood scored both of its runs in the bottom of the sixth, first on an error and then on a single by Danna Downs.
Wednesday will see Brookwood play two games at home against Mountain View in the first round, while Archer is hosting North Gwinnett. Other opening series in the highest classification include Mill Creek vs. Parkview, Lassiter vs. Northview and Hillgrove vs. South Cobb.
In Region 8-AAAA, Buford just barely avoided a do-or-die date with Madison County by sealing the deal with a thrilling 4-3 win last Thursday. Madison County erased a 3-0 deficit to force extra innings, but Buford's Tessa Daniels came up with heroics just in time. Daniels tagged a Red Raiders runner out at home plate in the top of the eighth then hit a walk-off sacrifice fly in the bottom of the frame, scoring Samantha Thomas. Bria Bush improved to 14-0 on the mound this season for the 29-1 Wolves.
They will host Pickens County in the opening with the possibility of running into either St. Pius or Woodward immediately thereafter. Madison County will begin its state tournament campaign against Northwest Whitfield. Additional Class AAA action includes Carrollton vs. Chamblee and Marist vs. Troup County.