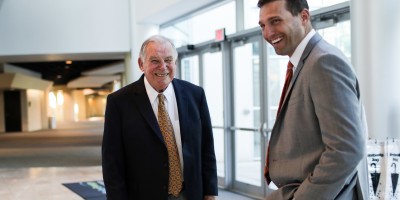 Gwinnett County Public Schools Foundation
I have been in Atlanta now for more than 33 years covering sports, and every once in a while I run up on an event I really enjoy and make sure I don't miss.
The setting Monday night was the Grand Ballroom over at Infinite Energy Arena for the Gwinnett County Sports Hall of Fame. The group was installing its ninth class, and going in was Braves outfielder Jeff Francoeur, who in my mind had the best-ever career for a high school athlete in Georgia. What Frenchy did at Parkview on the football and baseball fields was legendary, and friend and longtime Brookwood football coach Dave Hunter likes to sum him up this way: "In my many years in Georgia, I have never seen an athlete that was the leader Jeff was. He was the pied piper and the rest of the kids followed everything he did. One time when we were playing them, I noticed he crossed his legs and was stretching and all of a sudden everyone on his team was doing the same thing. By the way, he wasn't leading exercises."
Hunter himself is in the Gwinnett Hall and saw Francoeur up close as he led Parkview to baseball and football state championships his junior and senior seasons. But this column is not about Francoeur, but about a feel-good evening to support the Gwinnett County Public Schools Foundation.
More than 550 showed up to honor Francoeur, Peachtree Ridge punter and kicker Drew Butler, Norcross basketball player Joyce Pierce, and softball player Michelle Green and golfer James Mason, both having played at Duluth High.
Interestingly, I had ties to many involved in the evening.
Francoeur, who played 12 seasons in the major leagues, came after my years as the Braves beat writer with the AJC, but we have been following him at Score Atlanta since we first opened our doors in 2004. I actually covered Pierce during her years at Georgia Tech in the 1980s when I followed the Yellow Jackets for the AJC, and I went to high school (Lakeside) with Drew's mother, Cathy, in the 1970s. By the way, Drew's dad is some guy named Kevin Butler who kicked years ago for Georgia.
Also, in my few years on Wall Street at Bear Stearns, my senior partner was Aaron Lupuloff, who is now the Senior Executive Director of the Gwinnett County Public Schools Foundation and spearheaded this event. Trust me, Aaron had plenty of help but his arrival a few years back at the Foundation has been key, giving it a seasoned salesperson who has raised millions for students in what is the biggest county in Georgia. In fact, one out of every 10 children who goes to school in Georgia is being educated in Gwinnett.
To top off the night, the speaker was former Braves manager and recent Baseball Hall of Famer Bobby Cox, who I spent more time with than my wife when I covered the Braves in the 1990s. He told some great stories including several I witnessed, which I will share.
I paraphrase:
We were in Cincinnati at Riverfront Stadium and John Smoltz was on the mound with the Braves winning 7-0. It was the sixth inning and Smoltz gave up a leadoff home run, and in those days when the Reds hit a homer, fireworks would go off over the scoreboard. An actual worker stood on top of the scoreboard and set off the fireworks and then reloaded, waiting for the next long ball. Smoltz then walked a batter and gave up another home run. More fireworks. Then another home run. More fireworks. So, with the game now 7-4, Cox turned to pitching coach Leo Mazzone and told him he was going to go talk to Smoltz and calm him down. But typically, when Cox went out to the mound, he was going to call for the bullpen, so Smoltz met him halfway.
I will let Bobby take it from here.
"So," he said, "I head out to the mound and John hated coming out of games and says to me, 'Are you taking me out? You are not taking me out, no way.'"
So Cox put his arm around Smoltz and the two walked back to the mound. Bobby said, "I said to John while pointing up to the scoreboard, 'See that person on top of the scoreboard? I am just trying to give the poor guy a break.'"
The ballroom broke into laugher. And Cox wasn't finished, as the manager who won 2,504 games in the majors was a big hit. By the way, the Braves won that game over the Reds, but the story fit into a flawless ceremony where no one left their seats and everyone stayed until the end.
Money was raised for a great cause, Francoeur and the four others going into the Hall were lauded for their accomplishments and all the phone calls and texts coming from Lupuloff to promote the event finally stopped.
Yes, everyone got what they wanted, including me, who still needs evenings like this to remind me what a great sports town we live in.