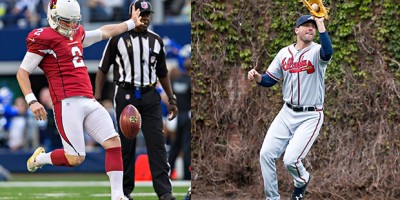 Gwinnett legends Drew Butler and Jeff Francoeur will be inducted Monday night.
The impressive, proud and ever-growing Gwinnett County Sports Hall of Fame will celebrate its ninth class of inductees this Monday at the Infinite Energy Center Grand Ballroom in Duluth.
The celebration will recognize the Hall's five newest members (former MLB outfielder Jeff Francoeur, former NFL and UGA punter Drew Butler, basketball player Joyce Pierce, softball player Michelle Green and golfer James Mason), while directing all proceeds to the Gwinnett County Public Schools Foundation.
"This would be a great event if all we did was honor these athletes and coaches and hear their great stories," said GCPS Foundation president David Seago. "But to be able to also raise funds for the Gwinnett County Public Schools Foundation in support of our teachers and students makes this a special night."
Baseball Hall of Famer Bobby Cox is this year's keynote speaker, following in the footsteps of Dan Quinn last year, and Kirby Smart in 2016.
GWINNETT'S GREATEST
Gwinnett's reputation as a hotbed for gifted athletes has been widely recognized for a while now, but this year's class features one of the most honored prep stars who has ever come through in Jeff Franceour. The 2002 Parkview grad, a coveted hybrid prospect, memorably led the Panthers to state titles in both baseball and football his junior and senior years, before turning down a football scholarship to Clemson to sign with the Atlanta Braves and embark on his professional baseball career.
"It's such an honor to be in the Hall of Fame of the county that you not only grew up in, but still live in," said Franceour. "When you look back, Parkview was probably the school that helped put Gwinnett County on the map. Just from the standpoint of our football team winning 46 games in a row and gaining all that attention, and then in baseball cruising like we did, it really put the area on the map. … Good competition breeds winners, and I think it's only going to continue to get better in Gwinnett and I'm glad I get to be a part of it."
Just year's after Franceour's legendary prep career, Drew Butler was beginning his own high school career at a brand new Gwinnett School, Peachtree Ridge. Butler, a punter on the Lions' football team, was part of the young program's immediate rise to success and share of Class AAAAA's state title in 2006. Following his prep career, Butler became an All-American punter at the University of Georgia and won the Ray Guy Award in 2009 as the top punter in the nation. After graduation, Butler spent four years in the NFL, punting for the Arizona Cardinals and Pittsburgh Steelers.
"I lived out in Arizona for four years and Gwinnett County is definitely a national brand," said Butler. "People know that a lot talent comes from Gwinnett County in all sports, and having played with Cameron Heyward on the Pittsburgh Steelers, a high school teammate of mine, and then with the Cardinals playing with Kevin Minter, who also went to Peachtree Ridge after me, then watching the Cardinals select Grayson graduate Robert Nkemdiche with the first-round pick when I was still on the team — you can understand how special Gwinnett County is and how much of a hotbed the area really is."
Inductee Michelle Green is one of the best softball players to ever come out of the county. She led Duluth High School to a state title with her incredible pitching and hitting before continuing her career at the University of Georgia (2002-05). In Athens, Green became a two-time All-American and was a two-time recipient of SEC Pitcher of the Year. In addition to her softball success, Green also finished her high school career as Duluth's all-time leading scorer in basketball.
Norcross grad Joyce Pierce is one of the most successful players to come out of the Blue Devils basketball program, and her 44 points still stand as the school's single-game record, more than three success-filled decades later. After Norcross, Pierce attended Georgia Tech, where she became a three-time All-ACC selection. She finished her collegiate career in the top five of nine different school record categories, including the single-season scoring record (596 points) and the all-time career record for made free throws (430).
James Mason, a Duluth graduate and member of the Georgia Golf Hall of Fame, has been one of the state's most accomplished golfers for decades. Following his collegiate career at Auburn, where he earned his spot as a walk-on, Mason has been both a teaching professional and successful golfer on the PGA Tour's Champions Tour, competing in more than 200 Champions Tour events and collecting more than $3 million in earnings.
Following the dinner, the evening features a VIP reception that will be emceed by Buck Lanford of Fox 5 TV in Atlanta. Additionally, Gwinnett-based television manufacturer Hisense has stepped up as the title sponsor of a high-tech live auction, which will feature several of its massive high-definition televisions, various memorabilia and ticket packages to upcoming concerts and Atlanta United games.
"At the end of the day, we are looking to raise money for the kids," said GCPS Foundation Senior Executive Director Aaron Lupuloff. "With 140 schools, and approximately 180,000 students, the Gwinnett County School District is the nation's 13th largest. One out of 10 Georgians are educated in Gwinnett County, and that is just a really big number. And in our one-in-10 Georgians, 55 percent of our student population is below the poverty line. So the money is needed, and luckily people here have a big heart."
Tickets to the Gwinnett County Sports Hall of Fame Induction Dinner are currently on sale online.
PREVIOUS CLASSES
Class of 2017
Chad Hall (Football) Wesleyan, Coach Jack Britt (Football) Grayson High School, Kyle Maynard (Wrestling) Colling Hill High School, Tony Akins (Basketball) Berkmar High School, Courtney Pucket Oros (Gymnastics) Providence
Class of 2016
Coach Cliff Ramos (Wrestling) Collins Hill High School, Brittany Rogers-Mayweather (Softball) Dacula, Coach Mike Emery (Athletic Director), Jocelyn Penn (Basketball) Meadowcreek High School, Juan Daniels (Football) Norcross High School
Class of 2015
Coach Tally Johnson (Football) Central Gwinnett High School, Stephen Harris (Track/Field) Norcross High School, Christi Thomas (Basketball) Buford High School, David Pollack (Football) Shiloh High School, Amanda Weir (Swimming) Brookwood High School, Dustin Kawa (Wrestling) Shiloh High School, William (Bull) Cooper (son Bill Cooper pictured) (Football) Grayson High School
Class of 2014
Jackie Drouin (Track/Field) Collins Hill High School, Eric Shateau (Swimming) Parkview High School, Jon Stinchcomb (Football) Parkview High School, Jeff Backus (Football) Norcross High School, Kibwé Johnson (Track/Field) North Gwinnett High School, Coach Hugh (Buck) Buchanan (Baseball) Parkview High School
Class of 2013
Courtney Swaim Trimble (Golf) Duluth High School, Darius Walker (Football) Buford High School, Coach Dave Hunter (Football) Brookwood High School, Louis Williams (Basketball) South Gwinnett High School, Sherill Baker (Basketball) Greater Atlanta Christian School, Josh Wolff (Soccer) Parkview High School
Class of 2012
Scott Hage (Wrestling) Parkview High School, Coach Karl Bostick (Parkview Athletic Director), Susan Brandau Hawkins (All-Around) Parkview High School, Coach Jan Azar (Basketball) Wesleyan, David Greene (Football) South Gwinnett High School, Jason Elam (Insert picture) (Football) Brookwood High School
Class of 2011
Coach Eddie Martin (Basketball) Norcross High School/Buford High School/GAC/Brookwood, Ted Roof (Football) Central Gwinnett High School, George Rogers (Football) Duluth High School, Mary Ellen Blanchard Warta (Swimming)Norcross High School,
Posthumous inductees – Ivey Wingo (Baseball) Norcross High School, Al (Red)Wingo (Baseball)Norcross High School
Class of 2010
Terry Harvey (All-Around) Dacula High School, Ida Neal-Smith (Basketball), Central Gwinnett High School, Matt Stinchcomb (Football) Parkview High School, Ezzard Charles II (Boxing) Lawrenceville High School, Cindy Brogdon (Basketball) Greater Atlanta Christian