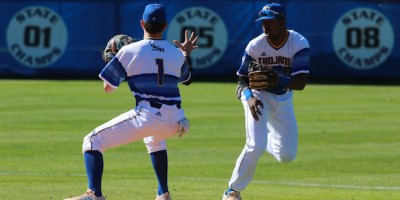 Courtesy of Tattnall Square Academy
As inclement weather wreaks havoc on the baseball playoff schedule this week, there are a handful of teams in Class A — public and private — that aren't fretting over postponements and field maintenance. In Class A-Private, one of the highly ranked teams enjoying a first-round bye is Tattnall Square Academy of Macon, one of the GHSA's newest baseball powerhouses after years of excellence in GISA.
The Trojans, coached by Joey Hiller, have appeared in the state finals in each of the last two seasons, winning it all in their second GHSA campaign of 2016 and finishing runner-up to Savannah Christian last year. Tattnall Square finished the regular season No. 1 in the Score Atlanta/AJC Top 10 with a 25-4 record. But Class A playoff brackets are determined by power ratings, and Savannah Christian (17.80) and Mount Paran (17.43) edged Hiller's team (17.42) for the top two seeds.
"Replace any of our losses with a win, and we're No. 1," Hiller said. He noted that the ratings "probably got it right" by favoring two-loss Savannah Christian and three-loss Mount Paran, even though the Trojans own a 13-3 win over SCPS from early March.
As the third overall seed, however, Tattnall Square has as good of a chance as any team to hoist a title trophy in May, with an experienced team and a slew of players from last season's runner-up run. The team will start its playoffs next Thursday against either Mt. Vernon Presbyterian or Brookstone.
Hiller, who is 524-126 at TSA in his 20th season as head coach, says pitching and fielding have kept his team at the top of the polls this season.
"The story this year with our team has been our pitching," said Hiller. "Our pitching has always been pretty good, but our pitching this year has been a little bit better than in the past."
The Trojans employ a four-man rotation featuring seniors Logan Fink and Luke Laskey and sophomores Brooks Gorman and Dawson Brown. Heading into the playoffs, TSA is sporting a 0.97 team ERA.
"We feel great about four guys in our rotation, and you could see any of those four dominate a baseball game at any time," Hiller said. "We've got some other guys that have seen the mound this year, but those four guys have worked out a little rotation, you know, who is on the mound and who's in relief."
The fielding has been just as stout, as the Trojans have committed just 32 errors in 29 games.
"In high school baseball, if you average one error a game, you're going to be very competitive," Hiller said. "If you throw strikes and don't make errors, you're going to compete in most ball games."
Hiller expected his experienced group to be more explosive on offense during the regular season, but he says his team has a great opportunity to start firing on all cylinders when it counts the most.
"It's been a year where we haven't really hit and scored like we thought we were going to do with this many returning starters," he said. "Hopefully that part of it comes together and we figure it out. And if we can put it all together in the playoffs at one time, it's going to be some good baseball."
Starring for the Trojans in the field is Georgia Tech signee Logan Simmons, a senior shortstop who may be drafted high enough in June that he never reaches The Flats. Simmons has big-game experience in spades; he hit a walk-off home run in Game 1 of the 2016 final series to put the Trojans up 1-0 on Hebron Christian on their way to the title. Junior catcher Trey Ham is committed to Lipscomb, and Fink will be a preferred walk-on at Kennesaw State.
Hiller, who is also the head softball coach and led that team to a state runner-up finish last October, is used to developing next-level talent. Perhaps most well-known is DeAndre Smelter, a 2010 TSA graduate who began his career at Georgia Tech as a fire-balling pitcher but joined the Yellow Jackets football team as a wide receiver after experiencing arm trouble. Smelter is currently on the Indianapolis Colts roster. Pitcher Brandon Spillers, a 2000 grad, went pro after being taken in the sixth round by the Baltimore Orioles. Several players are currently in the college ranks, including Simmons' older brother, Blake, who plays for Georgia Southern.
"And the funny thing is, they always come back," Hiller said of his former players. "They always talk about how Tattnall baseball was just so good, what they learned and what they get to be a part of. It's a good experience. It's always a good experience when you're winning and you're a part of that."
And TSA has been good for a long time. The program won eight GISA titles in 15 years (2000-14) under Hiller and played in one final (2010) and lost. A move to the larger GHSA made sense. Fellow Macon private school First Presbyterian Day did it in 2010, and Stratford Academy and Mt. de Sales, two more local rivals, jumped the same year TSA did.
"I was a big advocate to make the move long before we did, because I felt like, from a baseball and softball standpoint, I knew in those two sports we would continue to be extremely competitive," Hiller said.
The Trojans will look to make it three straight years in the finals, but as the No. 3 state seed, it's possible that TSA could play its first true road playoff series as a member of the GHSA; No. 2 Mount Paran could be looming as a semifinals host. The reward for a finals berth potentially could be a trip down the street to Mercer, a new championship site this spring, but the classifications don't have designated venues yet.
For Hiller, it's all about continuing to improve — even in early May.
"We're in the process right now of continuing to work really hard and get better because we know we're going to have to be better than we are right now to win a state championship," he said. "It's a constant state of improvement until our last ball game."