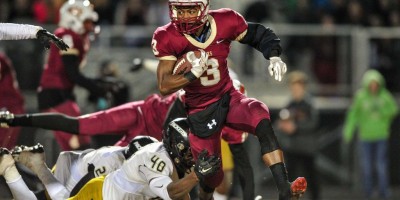 Mill Creek 56, Duluth 0
How the game was won: Mill Creek got four touchdowns in the first quarter and three in the second at Duluth to lead 49-0 at halftime. Mill Creek finished with 378 total yards to Duluth's 70.
Top performers: Rafael Morales rushed nine times for 65 yards and scored on runs of 3 and 4 yards. Anthony Presto rushed seven times for 58 yards and TDs of 3 and 6 yards, while Joe Thomas (17 yds) and C.J. Johnson (7 yds) also had rushing scores. Mill Creek quarterback Cameron Turley was 7-of-14 passing for 101 yards and touchdowns to Ace Williams (37 yds, second play of the game) and Preston Norwood (8 yds). The Hawks' Jonathan Gipson had an interception and the team recovered a fumble. Mill Creek finishes the regular season 10-0.
Norcross 56, Meadowcreek 7
How the game was won: Norcross completed an undefeated regular season thanks in part to scoring the first 35 points of the game against host Meadowcreek. The Blue Devils led 21-0 after the first quarter and 35-0 in the second before taking a 35-7 advantage into halftime. They extended their lead to the final 56-7 margin by the end of the third quarter. Norcross used a balanced offensive attack to dominate, with four passing touchdowns and four more scores on the ground.
Top performers: Blue Devils' quarterback Baron Radcliff threw three touchdowns in the first quarter and racked up more than 100 yards in the air during the first quarter alone. He tossed his scoring strikes to Jared Simpkins, Tamir Jones, and Robert Sims. Jaquez Williams relieved Radcliff in the second half and hooked up with Solomon Moore on a touchdown connection. Montai Ellis rushed for a pair of scores and Necholas Sermons added a 33-yard touchdown run for Norcross.
Parkview 67, Central Gwinnett 43
How the game was won: Parkview pulled away from host Central Gwinnett early in the fourth quarter to survive an absolute shootout in which the two teams combined for 110 points. The Panthers never trailed in the aftermath of a brief 7-0 first-quarter deficit and they led from the 10:55 mark of the second quarter until the end. Central Gwinnett, however, pulled to within 39-36 going into the fourth quarter only to see its opponent reel off 21 points in a span of four minutes and 15 seconds.
Top performers: Quarterback Malik Washington went wild for Parkview, with 344 all-purpose yards and four total touchdowns. Washington rushed for three touchdowns and connected with Justin Long on a 49-yard scoring strike in the second quarter. Christian Malloy added a touchdown run and an ensuing two-point conversion to break the 14-14 tie and give the Panthers a 22-14 edge early in the second quarter. Jarren Williams, a Kentucky commitment, threw five touchdown passes for the Black Knights.
Brookwood 56, Lakeside-DeKalb 20
How the game was won: Brookwood quarterback Angelo DiSpigna gave the host Broncos a 7-0 lead with a 47-yard touchdown pass to Nick Prince. Lakeside answered with a Blake Miccichi touchdown run to tie it at 7-7 and attempted an onside kick that was fielded by Isaiah Rorery for a return touchdown. After a Will Jernigan touchdown to open the second quarter tied it back up at 14-14, Brookwood exploded with three quick scores to take a 35-14 lead into the half. Matthew Hill ran in the first touchdown and then a fumble bounced back into the endzone where the Broncos recovered a minute later. After another Vikings fumble the next possession, Dante Black ran in a Brookwood touchdown. DiSpigna found Matthew Hill for a 65-yard touchdown pass to open the second half and added his second touchdown toss to Prince to grow the lead to 49-14. Black ran in the Broncos' final touchdown.
Top performers: Brookwood quarterback Angelo DiSpigna threw two touchdown passes to Nick Prince and one to Matthew Hill. Dante Black ran in two Brookwood touchdowns.
Archer 37, Shiloh 6
How the game was won: Tyler Ranel returned the game's opening kickoff 92 yards for a touchdown and Archer never looked back in a 31-point victory over visiting Shiloh. The Tigers led 16-6 after one quarter thanks to effectiveness in all three phases, with Ranel's kick return, a rushing touchdown, and a safety via a quarterback sack. They extend their advantage to 30-6 at halftime and to the final 37-6 margin by the end of the third quarter.
Top performers: Archer quarterback Carter Peevy tossed a pair of touchdown passes, one to Brandom Shelnutt and the other into the arms of Braylen Weems to cap off the night's scoring. Andrew Booth returned an interception for a score in the second quarter to give the Tigers' a 23-6 lead. They also got a three-yard touchdown run from Quinton Miller.
Peachtree Ridge 31, Collins Hill 0
North Gwinnett 43, Discovery 7
Grayson 45, South Gwinnett 3
Dacula 43, Winder-Barrow 13
Lanier 10, Gainesville 3
Buford 49, Flowery Branch 13
GAC 42, Dawson County 7
Wesleyan 56, Fulton Leadership 6
Athens Christian 49, Hebron Christian 14
Towns County 19, Providence Christian 14
Photo by Kyle Hess