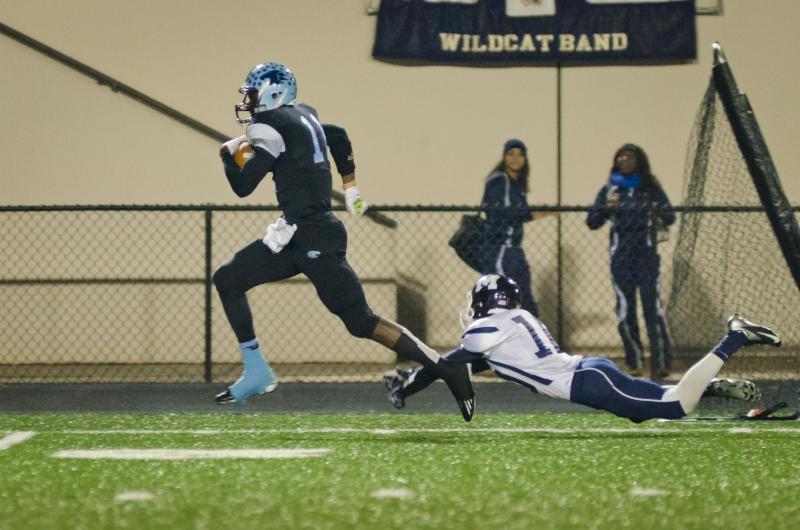 Jason Mussell
-I have been intrigued for the second half of the season at how highly many state-wide polls had Lovejoy ranked. The Wildcats are a solid team, no doubt, but its best win was a one-point victory over Alpharetta, not a bad team, but one that was not ranked all year. And the Wildcats nearly lost to a mediocre East Coweta team, needing a massive fourth-quarter comeback to win.
I put Lovejoy on Upset Alert Friday, and it almost happened. If it weren't for the sheer heroics of WR Preston Williams ("heroics" may be an understatement), Marietta would have won easily. But Williams hauled in four touchdowns passes, including a 47-yard catch as time ran out, to give the Wildcats a miraculous 27-23 win (very similar to Auburn's victory over Georgia Saturday).
With the miraculous win, coach Al Hughes' bunch advanced to the second round where it will take on Region 1-power Lowndes. It is another formidable, but not overwhelming, matchup for Lovejoy, which still does not have that eye-opening performance that most ranked teams have at this point in the season.
-The AAAAAA teams from Gwinnett dominated Friday. Seven of the eight teams advanced to the second round of the playoffs, including all four from Region 7. None was more impressive than Peachtree Ridge, which walloped Region 5-champion Lassiter 59-20. North Gwinnett, Collins Hill and Norcross each rolled, proving they were worthy of their top-five rankings.
Among Region 8 teams, Archer, Dacula and Brookwood advanced making South Gwinnett, which lost to Region 6 champ Alpharetta, the lone loser of the bunch.
Region 7 has stolen the headlines much of the year in Gwinnett, but Region 8 was impressive as well. Unfortunately, Region 7 goes up against the three Region 8 teams in the second round, so we won't get to see how far these seven Gwinnett teams could make it without facing each other.
-Kudos to Richmond Hill, which beat South Georgia-power Thomas County Central 13-7 in a defensive struggle. Of course, the Yellow Jackets didn't have star tailback Adam Choice, a Clemson commit who separated a shoulder in last week's loss to Harris County.
Richmond Hill, along with Region 3, earned a lot of respect with the win. As I write this, the Wildcats are getting 68 percent of the vote in our poll on ScoreATL.com on the most surprising score of the weekend. Coach Lyman Guy has led the Wildcats (10-1) to their best record in program history (according to GHSFHA.org records). The win over a perennial power proves Richmond Hill is not a hollow team in a weak region. The Wildcats lost their only game this year to Ware County, which made the Class AAAAA state final last year.
-Led by Cedar Grove's road upset of Class AAA No. 7 Elbert County, Region 6 swept through the first round. Throughout the regular season, Blessed Trinity, Woodward, Decatur and Cedar Grove beat each other up to the point that it was hard for any of them to stay in the rankings.
At this point, however, it looks as though Region 6 may be the toughest and deepest region in Class AAA. Blessed Trinity found a way to take the region's top seed despite starting the year 1-2, then falling to Decatur in region play. Woodward was solid all year losing just to BT and Class AA No. 1 Lovett. St. Pius X, which narrowly fell last year to Buford in the state final, has lost close games to both BT and Woodward as well as Lovett.
Buford is easily the favorite in Class AAA, but may have trouble with at least one Region 6 team starting with Woodward next week.
-Nick Chubb, the state's top senior running back, saw his high school career come to an end Friday in a 63-10 blowout loss to No. 1 Sandy Creek. Chubb, who will play at Georgia didn't score for the first time all year and was held to 71 yards, well below his average of 261 per game.
Kawon Bryant, the state's second-leading rusher with 2,485 yards coming into Friday, had to leave his team's game with Woodward after just 61 yards on the ground. Bryant sprained his ankle after just 10 carries and missed the rest of the game. Bryant, a junior, will be one of the state's most heralded stars going into next season.