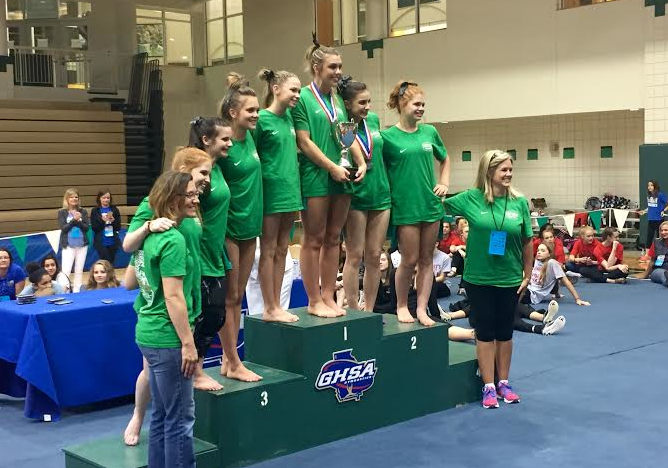 Buford clinched its third consecutive GHSA Gymnastics State title Friday night at Westminster's Turner Gymnasium with a 111.55 team score, edging second place Forsyth Central (107.825). The Wolves have struggled on the beam in each of the three championship-clinching years, but once again recovered from after stumbling on their shakiest event.
"The beam seems to be our nemesis," admitted Buford head coach Amanda Allen. "It was a bummer and they did poorly, but they walked out of there like champions and they wanted it and picked up their game on the floor and vault and got the job done. These girls are fighters."
Buford's Lyndzi Jones, who placed first on the beam with a 9.7 last year, posted a solid third-place 9.40, but the remaining trio came up short of expectations. It took polished routines on the floor by Logan Nugent (9.50), Claudia Goyco (9.60) and Berkley Barrett (9.50) to reestablish Buford's standings. Buford closed the night out on the vault and Goyco stuck a second-place 9.75 before Nugent landed a 9.4 to match Barrett's score. Kelsey Shulman added a confidence-boosting 9.0 to give Buford four high totals.
Individually, Sterlyn Austin of Thomas County Central won the prestigious All-Around title with a mark of 37.625. Elizabeth McMullan of Jefferson posted a 37.475 for second place and Goyco finished third after the Superior Judge rewarded a tie-breaker with West Forsyth's Sienna Schreiber's cumulative 37.250 to Goyco.
Schreiber took an individual title on the beam with a 9.650 and teammate Aundria Crittenden finished second with a 9.450. Schreiber also added a first place finish on the vault with a 9.800. Austin easily won the floor with a near-perfect 9.825 routine. Nugent won a first-place medal on the bar with a 9.550.
TEAM STANDINGS
1. Buford (111.550)
2. Forsyth Central (107.825)
3. Lambert (105.250)
4. Northview (104.625)
5. West Forsyth (104.450)
6. Tift County (103.225)
ALL-AROUND RESULTS
1. Sterlyn Austin (Thomas County Central) 37.625
2. Elizabeth McMullen (Jefferson) 37.475
3. Claudia Goyco (Buford) 37.250
4. Sienna Schreiber (West Forsyth) 37.250
5. Logan Nugent (Buford) 36.800
6. Maddy Sims (South Forsyth) 36.750
7. Khole Parker (Tift County) 36.625
8. Alaina Steinberg (Lambert) 36.100
9. Lauren Gist (Forsyth Central) 36.050
10. MacKenzie Miller (Forsyth Central) 36.00
VAULT RESULTS
1. Sienna Schreiber (West Forsyth) 9.800
2. Claudia Goyco (Buford) 9.750
3. Trinity Sawyer (Northview) 9.700
4. Elizabeth McMullan (Jefferson) 9.550
5. Sterlyn Austin (Thomas County Central) 9.500
6. Khloe Parker (Tift County) 9.500
7. Maddy Sims (South Forsyth) 9.400
8. Katie Beth Cater (Carrollton) 9.400
9. Logan Nugent (Buford) 9.400
10. Alaina Steinberg (Lambert) 9.350
BARS RESULTS
1. Logan Nugent (Buford) 9.550
2. Trinity Sawyer (Northview) 9.35
3. Maddy Sims (South Forsyth) 9.325
4. Khloe Parker (Tift County) 9.325
5. Claudia Goyco (Buford) 9.300
6.Elizabeth McMullan (Jefferson) 9.20
7. Madison Lord (Lambert) 9.125
8. Berkley Barrett (Buford) 9.100
9. Sterlyn Austin (Thomas County Central) 9.100
10. Alaina Steinberg (Lambert) 9.100
BEAM RESULTS
1. Sienna Schreiber (West Forsyth) 9.650
2. Aundria Crittenden (West Forsyth) 9.450
3. Lyndzi Jones (Buford) 9.400
4. Evelyn Huang (Roswell) 9.400
5. Elizabeth McMullan (Jefferson) 9.300
6. MacKenzie Miller (Forsyth Central) 9.250
7. Sterlyn Austin (Thomas County Central) 9.200
8.Alaina Steinberg (Lambert) 8.950
9. Maecie Winter (Forsyth Central) 8.850
10. Bethany Chung (Lambert) 8.800
FLOOR RESULTS
1. Sterlyn Austin (Thomas County Central) 9.825
2. Claudia Goyco (Buford) 9.600
3. Maddy Sims (South Forsyth) 9.500
4. Logan Nugent (Buford) 9.500
5. Berkley Barrett (Buford) 9.500
6. Elizabeth McMullan (Jefferson) 9.425
7. Khloe Parker (Tift County) 9.400
8. Aundria Crittenden (West Forsyth) 9.225
9. Macie Winter (Forsyth Central) 9.225
10. Trinity Sawyer (Northview) 9.125