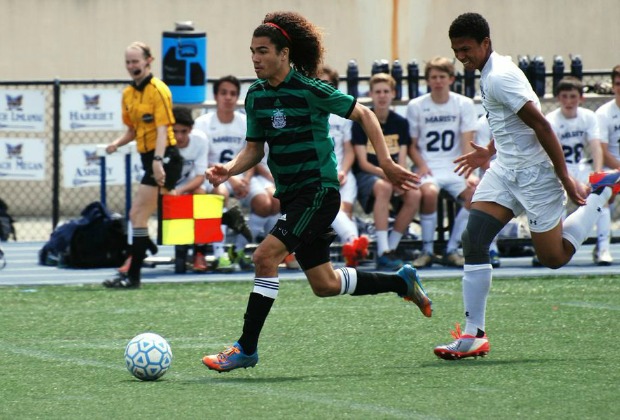 Brookwood moves up to No. 4 in Class AAAAAA following a 2-1 win over hated rival No. 5 Parkview. No. 9 Norcross rights the ship after three straight losses, beating No. 10 Meadowcreek 2-1.
Dalton falls from the ranks of the unbeaten in Class AAAAA and slips to No. 2 after a 3-2 loss to No. 5 Riverwood. McIntosh now takes the throne at 14-1. The Chiefs only loss? 2-1 against Dalton back on March 18 in carpet country. Sequoyah and North Atlanta both fall from the top ten. Replacing them is No. 9 Dunwoody and No. 10 Shaw. The Shaw Raiders earned a 5-1 win over Class A's No. 4 St. Anne-Pacelli. No. 9 Dunwoody defeated No. 8 Clarkston 1-0 on Saturday for the school's first region title in 19 years. Josh Bronstorph has emerged as DeKalb County's most lethal goal scorer, putting in 41 this season and breaking a school-record which was held for over 20 years. Bronstorph, a Georgia Southern commit, didn't play his sophomore and junior seasons due to playing with the United States Soccer Federation's Development Academy instead.
In Class AAAA, No. 1 Johnson-Gainesville drew with Collins Hill, a 5-10-1 team. At the bottom of the poll Veterans falls out after a 1-0 to new No. 10 Mary Persons.
A new number one takes over in AAA as East Hall claims the perch. No. 3 Decatur lost to No. 2 Westminster 2-1, dropping them two spots while the Wildcats jump three positions. Defending state champion West Hall plummets to the land of the unrankeds at 6-5-1. No. 9 North Murray replaces them at 11-1.
No. 1 Wesleyan dispatched of No. 5 GAC 1-0 in Region 6-AA action. On Tuesday Wesleyan does battle with fellow undefeated and region foe No. 2 Pace Academy, who defeated No. 7 Riverside Military 2-0.
Paideia no longer is ranked No. 1 in Class A; that honor belongs to Fellowship Christian after Paideia was beat in the upset of the year, 1-0 against 3-8-1 Galloway School. At the bottom of the top ten, First Presbyterian Day shuffles out while No. 9 Savannah Christian Prep replaces them.
Class AAAAAA
1. Lakeside-DeKalb
2. Chattahoochee
3. Mill Creek
4. Brookwood
5. Parkview
6. Pebblebrook
7. Milton
8. Duluth
9. Norcross
10. Meadowcreek
Class AAAAA
1. McIntosh
2. Dalton
3. Houston County
4. Greenbrier
5. Riverwood
6. Northgate
7. Columbus
8. Clarkston
9. Dunwoody
10. Shaw
Class AAAA
1. Johnson-Gainesville
2. Whitewater
3. Cross Keys
4. Northwest Whitfield
5. Spalding
6. Southeast Whitfield
7. Grady
8. St. Pius
9. Woodward Academy
10. Mary Persons
Class AAA
1. East Hall
2. Westminster
3. Decatur
4. Dawson County
5. Blessed Trinity
6. Oconee County
7. Savannah Arts
8. Islands
9. North Murray
10. Jackson County
Class AA
1. Wesleyan
2. Pace Academy
3. Long County
4. Putnam County
5. Greater Atlanta Christian
6. Fitzgerald
7. Riverside Military
8. Benedictine
9. Bremen
10. Dublin
Class A
1. Fellowship Christian
2. Paideia
3. Whitefield Academy
4. St. Anne-Pacelli
5. Walker
6. Stratford Academy
7. Atlanta International
8. Savannah Country Day
9. Savannah Christian Prep
10. ELCA