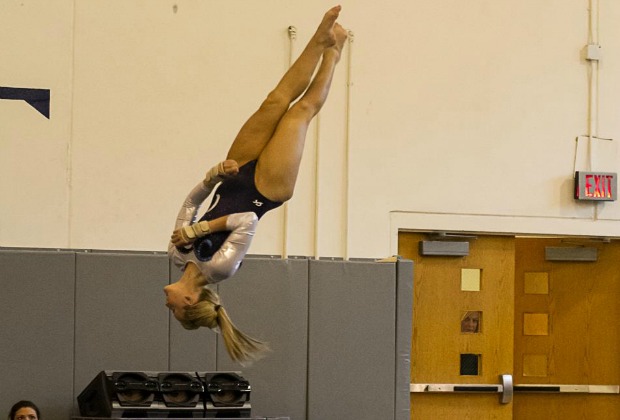 Photo by Jodi Roberts
There are 63 schools participating in gymnastics this year including Ola, which started the sport for the first time last year. The Mustangs competed in the first meet of the 2014 season this past Saturday at Rockdale Gymnastics and sophomore Sierra Mask and junior Haley Harp both qualified for the state meet in floor exercises. A gymnast must score an 8.5 in an event during the season to qualify for state. Mask and Harp each scored an 8.5.
Luella, which also competed in the meet, won in total points with 90.4. In order for a team to qualify for state, it must reach a total of 96 and that is the number everyone will be shooting for this season. Ola finished with 84.25 total points.
Cambridge is another new program taking strides this season. The Bears scored a second place finish at the Sequoyah meet on March 1. The Bears finished first on floor and vault, second on the beam and third on the bars. Rileigh Smith scored a 9.1 on her floor routine which qualified her for state.
DeKalb County is less than three weeks away from its April 3 county meet and this Friday, Arabia Mountain will host Southwest DeKalb, McNair, Redan Lithonia and Cedar Grove while Dunwoody hosts Ola, Tucker, Chamblee Lakeside-DeKalb and M.L. King. Lakeside-DeKalb senior Meg Stephens led the Vikings to their second straight county title last season by sweeping gold metals with an 8.70 on the bars, 9.0 on beam, 8.95 floor and 8.50 in vault. Lakeside has won the DeKalb County meet 17 times in its history.