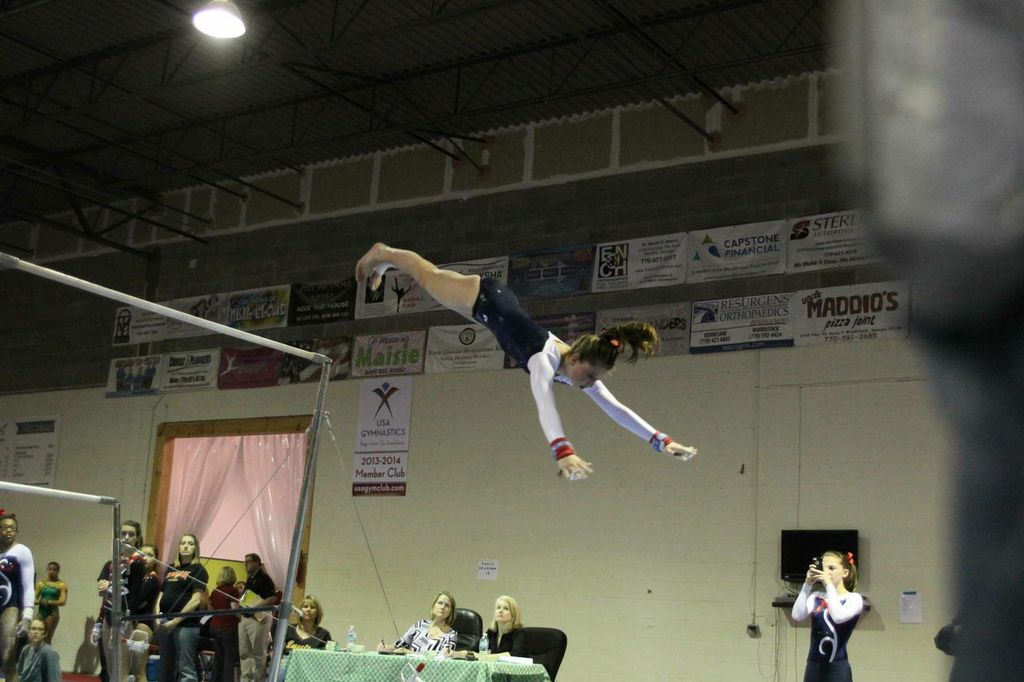 Photo by LHS Gymnastics
The 2014 gymnastics state championship meet will take place Friday at Westminster. The top six teams in the state from last weekend's preliminary meet at Dunwoody advanced to championships. Defending champion Lambert as well as Carrollton, Buford, Forsyth Central, Milton and Westminster comprise the field of six. In each event, there will be 12 gymnasts competing for the individual title.
A team can put up to four gymnasts in a single event and the top three scores will advance to the event state title. Lambert will have four gymnasts for each event on Friday including junior Katie Stuart, who won first place in floor and all-around at the prelims. Stuart will be a headliner in the all-around competition this year, which appears to be deep with talent and wide-open. University of Georgia "Gym Dog" and freshman Beth Roberts won the all-around title last year with Tift County by posting a 38.15. Stuart finished second in state at 37.8 and edged third-place Sydney Goad (37.2) out of Newnan. Goad edged Stuart in the vault (9.6) and beam (9.0) last year, but Stuart was able to outscore Goad in her floor routine (9.6) and bar (9.85). Goad scored a 38.0 all-around score in Newnan's last meet of the regular season and will enter as a favorite with Lambert's Stuart.
Carrollton has shown a lot of depth this season and head coach Nicki McGovern describes her team as being more consistent than in previous years. The dependability within her lineup allowed the Trojans to finish first in a meet with a 106.9 score despite what McGovern pointed out as a day with plenty of correctable mental errors and falls. The 106.9 finish gave Carrollton a tight margin of victory over Forsyth Central, which turned in a 105.9 team score at the March 27 meet.
Buford, in just its second season of competition, looks to improve on its fourth-place finish last year at state. Sophomore Logan Nugent leads the Wolves and helped them finish their first undefeated regular season in school history this year.
Westminster was not one of the six qualifying teams in 2013, but the Wildcats return to state on their home turf this year. Westminster's regular season schedule allowed it to face all the top teams in the state and its 106.45 team win on April 14 was one of the top team scores in the state this season.
Milton (1990, 1991, 1998, 1999), Lambert (2013) and Westminster (1980) are looking for returns to the podium while Buford, Forsyth Central and Carrollton are searching for their program's first state titles.