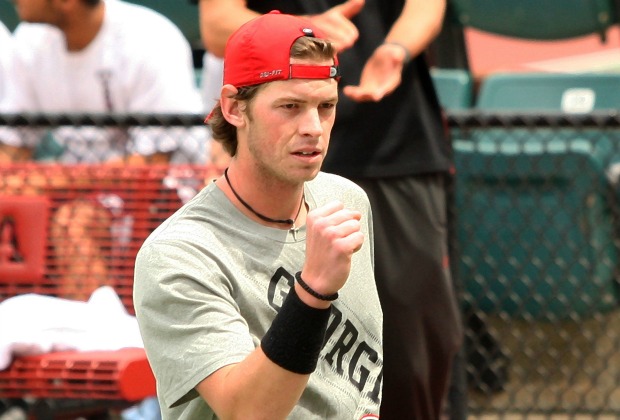 UGA Athletics
The Georgia men's tennis team received a No. 10 seed in the upcoming NCAA tourna- ment and will host the first and second rounds in Athens on May 10-11. UGA will play Jacksonville State in the opening round, while Oregon and N.C. State will square off in the other first- round match. Head coach Manny Diaz was glad to hear that the team is staying at home for the first two rounds—and beyond.
"We are certainly excited about all the great tennis that's going to be played here in Athens," Diaz told the team website, also referring to the fact that the round of 16 through the final will also be hosted entirely by the Bulldogs. "To host the regional is a feather in our camp. We were sort of anticipating the No. 10 seed. I thought we had a great regular season, but we had more losses than in recent years. There are so many great teams capable of win- ning the championship and I believe we are one of them."
Diaz is in his 26th year as head coach and this will be the 31st consecutive NCAA tournament appearance for Georgia. The Bulldogs are looking to add their seventh NCAA title.
DIAMOND NOTES …
The Bulldogs baseball team had a tough matchup with nationally-ranked Vanderbilt last weekend and it was handed three losses by the Commodores. Mike Bell had the lone RBI for UGA in a 6-1 loss in Sunday's series finale. Bell was also the only Bulldog with two hits on the day. Junior outfielder Hunter Cole continues to lead the team with a .314 average and ranks second with 24 RBIs in 44 games. Georgia has another difficult test on its hands against South Carolina this weekend in Athens. The Bulldogs will be looking to stop an eight- game losing streak that has dropped their re- cord to 21-22 overall this season.
SEC STORIED …
UGA gymnastics is one of the most storied programs in all of college athletics and the Gym Dogs will be featured in the next ESPN SEC Storied show this week. The documentary will focus on the rivalry between head coach Suzanne Yoculan and Alabama head coach Sarah Patterson. UGA and Alabama have com- bined for 16 NCAA titles and 24 SEC champi- onships. The title of the program, set to air on ESPNU, is "Sarah & Suzanne."