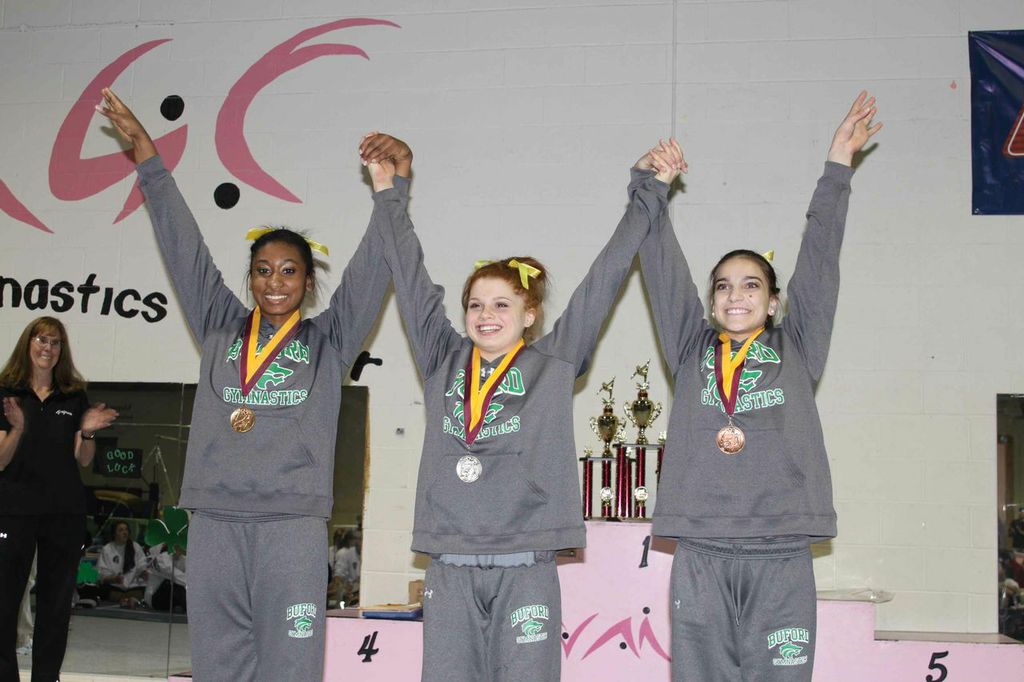 Photo by LHS Gymnastics
With regular season meets in the rearview mirror, the next week and a half will be spent looking ahead to the State Preliminary Meet on April 26 at Dunwoody. Each program and gymnast in attendance will be competing for the right to participate in the state championship on May 2 at Westminster. The minimum qualifying score for team to reach the preliminary meet this year was 96.0 and the all-around qualifying score was set at 34.0. In order to compete in an individual event, gymnasts need a score of 8.5 or better during the regular season. Team scores are determined by the top three individual scores and those are then tallied to determine a team's event score (bar, beam, floor, vault). Each team may enter four gymnasts per event, which includes all-around and the top three scores from each event determine a team's score for that event.
This season has seen a deep field of teams obtain new heights. Camden County's Tierra Acoff scored a 36.3 all-around score to qualify for state earlier this month in a dual meet with Lowndes and helped the Wildcats qualify with a team score of 101.9 (the highest team score in school history). Newnan's Sydney Goad has been the Cougars' star and scored a 38.05 all-around score in Newnan's meet with Henry County, Ola and Pike County earlier this month. Goad scored a 9.75 on vault and a 9.4 on beam and her teammate Elizabeth Hovey finished with a 36.575 all-around score that meet. The combo of Goad and Hovey gives Newnan a good chance to improve from last year's fifth-place team finish at state.
Lakeside-DeKalb standout Meg Stephens led the Vikings to a third straight county title this season and became the second gymnast in DeKalb County history to record three straight all-around titles. Stephens owns 11 DeKalb County gold medals in individual events and will return to the site of her three-peat after helping her team notch a 99.425 qualifying score and an all-around mark of 35.075.
Carrollton has been consistent throughout this season and only Buford has been able to outscore the Trojans. In its last meet, Carrollton scored 106.9 points to edge runner-up Forsyth Central's 105.9. In March, Carrollton scored even higher with an impressive 108.3 in the House of Troy Tournament. Carrollton placed third in the state last year with a 107.4 team score. Both Carrollton and Buford are deep with super stars and Buford's 110.4 team score in the House of Troy is one of the top scores this season. For perspective, Lambert won the 2012-13 state title with a score of 109.575.
Neither Carrollton nor Buford has won a gymnastics state title before, but that is not a surprise considering this is just Buford's second season. The depth present on these two squads could change that. When the teams went head-to-head at Lassiter on March 11, Buford finished first in every event except for the bars (fourth place). Carrollton grabbed first in the bars with a 26.650 and finished close behind Buford for second place in each of the other three events.