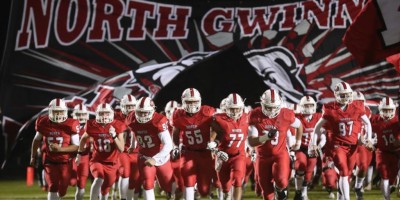 The new school year is off to a tempestuous start in Georgia with the state on the receiving end of nationwide criticisms for a growing list of concerning headlines and viral images that have brought the state's efforts to reopen schools safely in the midst of the ongoing battle with COVID-19 into question. This past Sunday, it was reported that Gwinnett County—the largest school district in the state—had 260 employees that had either tested positive for COVID-19 or were in quarantine after possible exposure.
Later that evening, on what marked the eve of the first day of classes at North Paulding High School, principal Gabe Carmona sent out a letter to parents that confirmed that there had been both new positive tests and potential symptoms within the football program. In total, the GHSA has received more than 600 reports of players testing positive for COVID-19 since workouts resumed in June. When North Paulding High School opened its doors on Monday in the wake of all this, a viral image of a packed hallway with very few students wearing masks began circulating rapidly throughout social media.
While much of the attention remained focused on these trending stories, a trio of Metro Atlanta School Districts revised their reopening plans Tuesday afternoon; Atlanta Public Schools decided to postpone the start of its school year two weeks (Aug. 24), the Decatur Public School System announced a three-week delay to the start of all athletics, activities and clubs (Sept. 25) and Gwinnett Public Schools released a plan to start the school year digitally on Aug. 12 and incrementally bring in more grades for in-person instruction on a staggered basis.
Since the beginning of the COVID-19 outbreak, the decisions about the school year and fall sports have been characterized by those making the decisions as being 'fluid'. With fluidity comes a constant state of uncertainty and the fate of a possible football season this fall is still up in the air for coaches and players across the state. That is, with the exception of North Gwinnett's Jordan Hancock—who announced his decision to opt-out of his senior season regardless of whether or not a season is going to be played this fall.
The four-star cornerback's decision to opt-out of his final varsity year was ultimately made because both of his parents have underlying health conditions, and his status as the highest-ranked cornerback in the entire state made his announcement a major headline. Because Ohio State was supportive of his decision to opt-out of the season, Hancock is now able to shift his focus on completing his final semester of high school and then enrolling early with the Buckeyes this January. That is just five months away from now, and based on all the factors, it is understandable to see why Hancock felt that this was the best decision for himself and his family. While it may have been the best decision due to all the circumstances, it was still a tough one for Hancock to make, according to North Gwinnett assistant head coach Jeff Carlberg.
"I wish we were a boarding school right now so we could just have Jordan on campus and he didn't have to worry about bringing the virus back home to his family," said Carlberg. "It is just a tough situation for everyone right now and I feel bad that this is the situation we are in. We have a chance to be a really good football team this year and so I hate it for him and not having him hurts. This group of seniors that he has been playing with his entire life is really close and so I know that made the decision hard for him."
For Class of 2021 players in the state that do not already have scholarships secured like Hancock, the decision to opt out of this upcoming season would be much different. That being said, it is important to remember that ultimately, no one is being forced to play football and schools are also providing an option for students to choose to go with a virtual route if they are not comfortable with in-person instruction
"Virtual is not a bad, seven-letter word," said Atlanta Public School Superintendent Lisa Herring on Tuesday. "Just because we will be amid virtual learning does not mean that quality teaching and learning will be absent. In fact, it will be the forefront in everything we do," she said. "We expect to have a successful school year, and we will work to ensure just that."