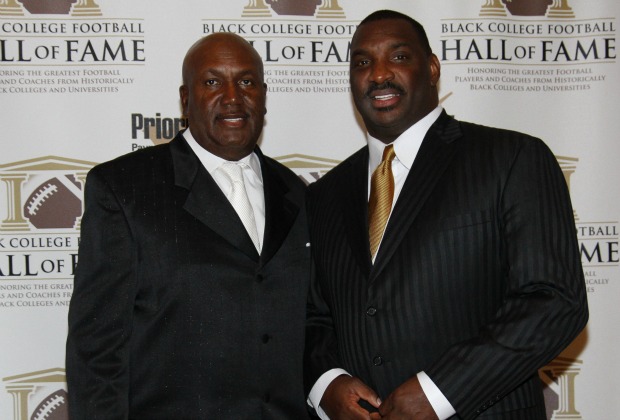 Black College Football Hall of Fame
The Black College Football Hall of Fame will enshrine its fourth class Saturday night at the Loews Hotel in midtown. The event begins at 6 p.m. with a cocktail hour and silent auction before the ceremony, which begins at 7.
This year's enshrinement has a distinct Atlanta Falcons flavor. The team is the presenting sponsor and owner Arthur Blank will serve as the honorary chairman of the ceremony. The reason for the Falcons' involvement lies in Blank's sincere devotion to the hall of fame's cause.
"Most of the time owners will come into an event like (the inaugural enshrinement in 2010) and they're gone in an hour and everybody understands," Doug Williams explained. "Mr. Blank was there for two-and-a-half hours. Did not move. And after the event was over, I remember walking over to Mr. Blank and saying 'I appreciate you coming and I appreciate your support. I hope you enjoyed it.' He told me one thing: 'I could watch this all night.' That was a heck of a statement."
While the Falcons are playing a big role in this year's event, they have been there from the start. In addition to vital financial support, the team has helped out in a variety of other areas as well.
"We certainly feel good now with the support we are getting from Arthur Blank and the Atlanta Falcons and the fact that they see the vision," Harris said. "That makes us extremely proud. We're very happy to be able to honor so many high achieving athletes that some people could very easily forget about."
TAKING OFF …
Shack Harris and Doug Williams shared a vision for many years. The two former Grambling quarterbacks noticed a huge void in the world of college football: there was not a place that recognized the achievements of football greats at historically black college football programs.
To the two legends, the void was obvious and inexplicable. With all of the greats who had graced the fields at schools like Grambling, Southern, Prairie View A&M, South Carolina State and more, it seemed there needed to be a place that honored them all.
"You tend to wait on it and hope it's going to happen," Williams said. "Sometimes realization sets in and you realize it's not going to happen."
Williams and Harris stopped waiting and decided to do it themselves. And in 2009 with the help of many other like-minded proponents, the Black College football Hall of Fame held its first induction ceremony. Household names like Walter Payton, Deacon Jones and Eddie Robinson were among the 11 inductees. To say the least, it was a long time coming for all involved.
"When I saw Deacon Jones sit on the stage and start crying with all of the halls of fame he's in and the great speech that he gave, it was unbelievable," Williams recalled. "It makes you feel good to know that you not only touched yourself, but you get a chance to touch other people's lives and their families."
Long overlooked, football at historically black colleges finally has a place to honor its greats. The memorable moments, figures and games now have a home that will store their memories despite years of neglect.
"The reason they established it is to preserve the history of the sport," said Marques Fitch, executive director of the hall of fame. "You have to understand there's not a lot of footage for them. It's just not available. There was a year that Grambling State University was left out of the (Louisiana) state budget. They didn't receive any funds for the entire year, so the athletic department had to maintain and make it work."
One person Harris and Williams both wish was around to see their creation is Robinson, the legendary head coach they each played for in college. Robinson passed away in 2007.
"Man, I wish I could put it into words," said Williams when asked what Robinson would have thought about the hall of fame. "I know what Coach would've thought about it, and I certainly wish he was here, because he was so happy to tell us about a lot of those guys that we didn't know about. I'm just glad we've got a committee who has seen most of these guys (play)."
Williams lists the hall as one of his greatest achievements in sports, and that is saying a mouthful. The longtime NFL star has reached success at every level of the game.
"I've been fortunate to have finished fourth in the Heisman, been two-time Black College offensive player of the year, a first-round NFL draft pick, Super Bowl MVP," Williams said. "The Black College Hall of Fame is not as high as the Super Bowl win, but it fits right in there with all the other things because it's not just about you, it's about a lot of other people.
DESERVING CANDIDATES …
The impact of the hall of fame is enormous in the world of football. Hundreds of former players at historically black colleges have played in the NFL and 26 of them are currently enshrined in the NFL hall of fame. The BCFHOF selection committee, therefore, has the unenviable task of trying to narrow hundreds of worthy candidates down to 11 inductees.
"Right now we're dealing with so many players that deserved to be in a long time ago," Harris said. "This is something that should've been done years ago. The guys that we're deciding on, should already be in this hall of fame. and that makes it tough."
One thing in the committee's favor, though, is that it really can't go wrong with who it decides on. With so many accomplished people in the world of football at historically black colleges, it isn't hard to find deserving candidates.
The selection committee is made up of 11 people who come from diverse backgrounds, but also have a deep interest and knowledge of the subject. From former NFL general managers and scouts to sportswriters, there are 11 minds full of knowledge about the game of football and its history at historically black colleges.
"There's a lot that goes in it," Fitch said. "With the different types of backgrounds the selection committee comes from, we have a pretty diverse group. So that makes for some pretty heated selection committee calls that everyone looks forward to each year."
While the calls are highly anticipated by all involved, they do tend to get contentious when deciding on the final 11. In fact, Williams and Harris are not even involved in the calls, as they know just how difficult the job is.
"One of the toughest jobs is finding 11 to go in that Hall of Fame every year," Williams said. "That's a tough job. Emotions get high, too, when they start to vote on it."
Harris had another way of explaining it.
"Try picking 11 of the guys that are already in there. That is how difficult that is. That's what the committee has to do. It's hard to do, because you're always leaving somebody out."
While it may be difficult to decide who gets in each year, one thing everyone can agree on: they are all deserving.
The 2013 class:
Elvin Bethea, NC A&T
Charles "Choo Choo" Brackens, Prairie View A&M
Joe Gilliam, Tenn. State
Ken Houston Prairie View A&M
Charlie Joiner, Grambling
Ed "TooTall" Jones, Tenn. State
Larry Little, Bethune-Cookman
Shannon Sharpe, Savannah State
Jackie Slater, Jackson State
"Big John" Merritt, Tenn State
Charlie Neal, Commentator