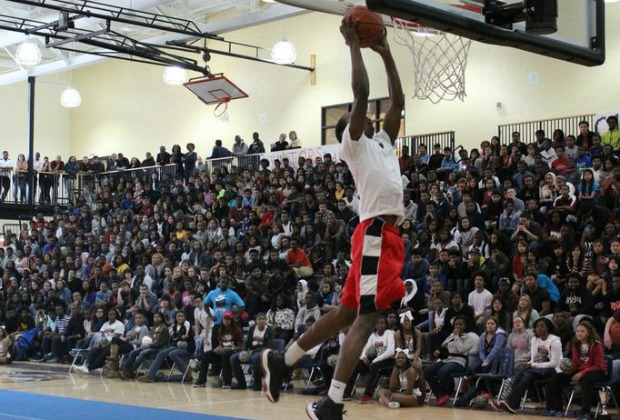 On Friday, the Atlanta Hawks continued their outstanding work in the community by honoring Tucker High School as the Atlanta Hawks' and National Guard's School of the Week. The festivities took place inside the Tigers' gymnasium on the Tucker campus.
Sgt. Shannon Byrd of the National Guard spoke to the students and was joined by former Atlanta Hawk Rick Brown and Atlanta Dream mascot "Star" in presenting an autographed ball to women's basketball coach Robin Potter. Coach Potter's acceptance of the ball was a token of gratitude to honor her and the rest of the 2014 AAAAA State Champion Lady Tigers' basketball team. The March 7 triumph over region-rival Southwest DeKalb gave the Lady Tigers' their first title in program history.
Potter very humbly accepted the award, and introduced each player on the team and presented them with an Atlanta Dream bag. Potter then surprised her team with tickets to a Dream game where they will not only attend the game but also be recognized for their work on the court. The celebration continued as two Hawks cheerleaders energized the crowd with a spirit contest; the senior class narrowly escaped the rowdy junior class with the spirit stick.
To keep the crowd energy high, a raffle was conducted with a t-shirt give-away. The pep rally marched on as a male and female student from each class were selected from the crowd to compete in a free throw contest. After the first round of the contest, only a junior and freshman were left standing. Both students hit three in a row, which led to a best-of-three final round, and much to the dismay of the crowd, the freshman student won. The event's highlight came during the student slam dunk contest when one student thew down a windmill dunk that had the whole gym rocking.