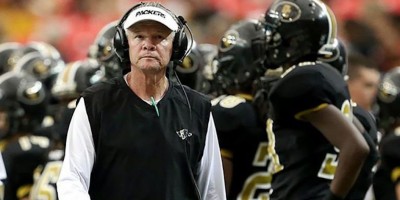 By Craig Sager II
The Valdosta Wildcats are reported to be the new home for one of the nation's top quarterbacks. On Wednesday evening, 247sports' Greg Biggins first broke the news—announcing that four-star USC-commit Jake Garcia would be making a cross-country transfer from Narbone High School in California to Valdosta to play his senior season.
Garcia's decision was made just over two weeks after California's announcement that it would be pushing its football season to the spring. The 6-foot-3 passer plans to graduate this December before enrolling early with the Trojans and he stated the importance of being able to play this fall to better prepare him for the next level as leading factor for his decision.
"I'm really excited about the decision," Garcia told Biggins. "For me, it was big to play as a senior. I need those game reps and this is going to be big for me mentally as well in terms of preparing for college. … With not just California football shut down but the entire West Coast pretty much—I knew I had to leave the region. …This will be big for my development and I felt this was the best move for me to make long term.
The Wildcats were already one of the top 100 ranked teams heading into the season before Garcia announced he would be transferring in and the program already had another high profile newcomer arrive earlier this offseason when former Colquitt County and Hoover head coach Rush Propst took over. Propst—who accepted the job in April—said that his team has been gearing up for the start of the 2020 season at warp speed since the GHSA gave teams the greenlight to begin the acclimation phase of the offseason. He also stated that Thursday morning was the first that he had heard about Garcia's plans to join the team.
"This morning when I read it on Twitter was the first time, I heard about it," said Propst. "I read the story, but the way I am whether it has been at Hoover or Colquitt, is that when it comes to these big programs, kids come. … My philosophy about it is that I am going to coach the kids that are on the field every day. Right now, this morning was the first I had heard about it. I had heard a rumor from a college coach that he was looking around in the Atlanta area and the South. There is another college coach that basically told me the same thing, but I didn't hear anything about Valdosta until this morning that he had made a decision to come here."
When I spoke with Propst this afternoon, he had not yet gotten an opportunity to speak to Garcia or his family. Propst also stated that until he has made sure that Garcia has made all the right moves and done all the right paperwork and the coaching staff is able to check off all of the boxes and make sure that it is a bona-fide move and he is enrolled in the school, then he will be able to start that process.
"I can understand his motivations and why he is doing this and I respect his decision," added Propst. "If you are a state with 40 million people like California and they shutdown football and take away that opportunity, I don't blame him for wanting to come here to play. I thought Garcia sounded mature and professional with his decision. We would not be the only school to have an out-of-state player come in from a state that has cancelled its season. Recently, Grayson had a stud lineman move in from California and there have been other moves like this already."
Valdosta has been a breeding ground for big name quarterbacks for decades. And as the all-time winningest high school football program in the entire nation, Valdosta has a fraternity of quarterbacks that have upheld the school's historic success. Garcia, who passed for 25 touchdowns, more than 250 yards per game and completed more than 70 percent of his attempts this past season, could become the next big name to come through the school.
Valdosta's past list of talented leaders and state championship passers includes University of Georgia quarterbacks Buck Belue, John Lastinger and Greg Talley in addition to John Bond (Mississippi State), Alton Histon (Georgia Southern), Seth Shuman (Georgia Southern) and last year's starter Tate Rodemaker (Florida State). Belue was the first player to start all four years at quarterback for Valdosta and helped lead Georgia to the 1980 National Championship. He also led the Valdosta baseball team to the state championship his senior year. Bond went on to be a four-year starter and an All-American at quarterback for Mississippi State. Hitson quarterbacked the Wildcats to back-to-back state championships (1989 and 1990) before attending Georgia Southern. Lastinger was the quarterback of Nick Hyder's first state championship team in 1978. Once at Georgia, he led the Bulldogs to the Sugar Bowl and the Cotton Bowl in his two seasons as a starter. Josh Belton, who quarterbacked Valdosta to its 24th all-time state title in 2016 is now at Mississippi Delta.