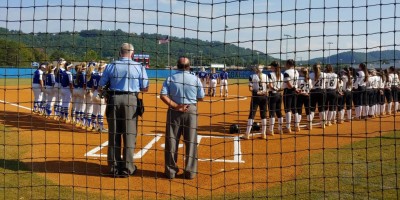 The initial semblance of high school sports in a new era emerged on Thursday as softball teams across the state took to the field under strict COVD-19 guidelines.
In the state's highest classification, No. 7 East Coweta overcame a 6-0 deficit late in the game to defeat Whitewater 8-7. The Indians got a two-run home run from senior Kipp Heggood to take the 8-7 lead in the top of the seventh inning. Whitewater led 6-0 in the top of the fourth inning before East Coweta scored with a two-run single by Kenadie Cooper to get on the board. East Coweta sealed the victory on a ground out to the short stop.
Adairsville took a 2-1 walk-off win over Model in extra innings to open its season. Pitcher Victoria O'Neal pitched four scoreless innings in the win. Senior Sadye Johnson hit solo home run in the first inning to give the Tigers a 1-0 lead. Model tied the game in the top of the fifth before Adairsville scored the winning run in extra innings on a dropped pop fly.
See the rest of the scores below.
Tuesday softball scores.
Cass 9, Paulding County 8
North Cobb 19, Hiram 6
Tattnall County 1, Bryan County 1
Thursday softball scores
Adairsville 2, Model 1
Baconton Charter 13, Southwest Georgia Academy 0
Bleckley County 4, Fitzgerald 0
Burke County 7, Grovetown 4
Crisp County 8, Schley County 6
Dodge County 10, Telfair County 1
East Coweta 8, Whitewater 7
Glascock County 9, Thomson 0
Irwin County 9, Deerfield-Windsor 8
North Cobb 11, Kell 10
Northside-Columbus 22, Cedar Shoals 0
Northside-Warner Robins 22, Cedar Shoals 0
Parkview 9, Shiloh 1
Shaw 6, Taylor County 5
Strong Rock Christian 4, Woodland-Stockbridge 0