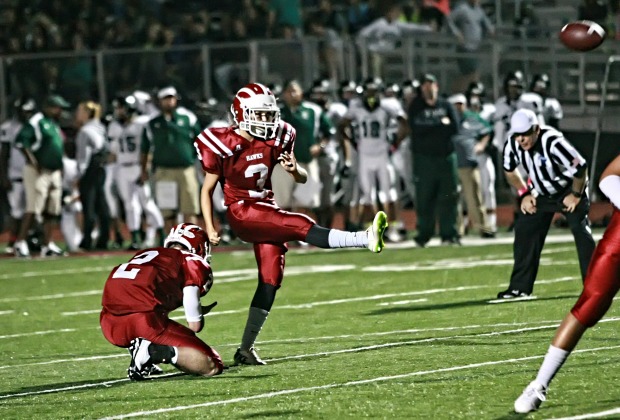 John Silas/Silas Photography Group
This week's Children's Healthcare of Atlanta's Girls Athlete of the Week is Hillgrove kicker Rachel Palazzo. Until last Friday night, Palazzo was just a student trainer for the football team, as she had been for the past three and a half years. During this time, the senior had already built relationships with the coaches and players. Due to her powerful striking ability from being apart of the Hawks' girls soccer team throughout high school, kicking field goals through the crossbar looked as though it would be an easy transition for Palazzo.
Throughout the week leading up to the game against Kennesaw Mountain, head football coach Phil Ironside told Palazzo at practice she would likely get her chance to kick in the second quarter after he had seen her belt field goals from the 20-yard line and the 25-yard line during practice. That promise came to fruition after quarterback Matt Wilson's 16-yard touchdown pass to Richard Hallman early in the second quarter. With the support of her team rallying behind her and the encouragement of the crowds in the stands, the extra point went through and Palazzo became the first female in Hillgrove history to score points for the football team. It is still unknown whether or not Palazzo is the first female football player in all of Cobb County to score points.
She ended up kicking six more extra points during the game, finishing the night a perfect 7-for-7. With the senior kicker's help, the Hawks dominated the Mustangs 52-20, and Palazzo will likely see the 20-yard line again this season.