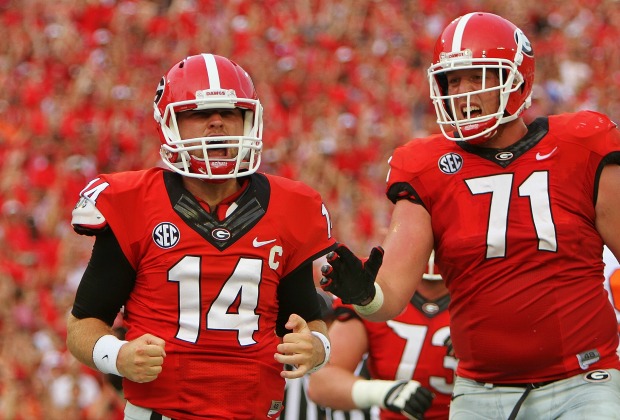 Photo by Rob Saye
Well sort of the midseason point for this team, given the fact they've now played seven games into a 12 game regular season. The good news during the second bye week for the Bulldogs, is they're leading the SEC East and are still in position to make a run for one of the four spots in the newly created college football playoff.
At the moment, Georgia is 6-1 on the season and ranked ninth in both the AP and Amway USA Today Coaches Polls. They still have three conference games remaining on the schedule against Florida (in Jacksonville), at Kentucky, and then home for Auburn. At the moment, Georgia's lead on Missouri is in effect a three game lead. The Bulldogs are 4-1 in conference play, while Missouri is in second at 2-1. The games itself is about a two game lead. However, Georgia has the tiebreaker over the Tigers.
The truth of the matter is yes Georgia wants to win the SEC East and get to Atlanta to play the winner of the SEC West for the conference title. Yet, at this stage of the game the national title hopes are still very much in reach.
With all this being said, this seems like a good time to give out grades for the performance so far to this point. Today we're looking at the offense. Where should we start?
Running Back: A+
Where else should we start? This position group has been outstanding to this point of the season. Todd Gurley of course has been the tone setter for this group and despite his two games missed for an indefinite suspension, he still leads the SEC in rushing yards with 773 on 94 carries. While Gurley has been away, Georgia has relied on freshman Nick Chubb to lead this stout rushing attack. He's only gone out and run the ball 68 times for 345 yards in these last two games. Not to mention he's scored three touchdowns in those last two Georgia wins. Let us also keep in mind that Georgia has also gotten meaningful contributions from freshman Sony Michel for four games until a shoulder injury forced him to miss the last three contests. He has run for 223 yards on 23 carries. The even better news is that he could return for next weekend's matchup with Florida. How could we forget about Keith Marshall? The standout running back has missed the last four games with knee and ankle issues. He too could return for the game against the Gators. He's also trying to find his "game legs," after tearing his ACL last season against Tennessee. Also not to be forgotten is sophomore running back Brendan Douglas. He was seemingly lost in the shuffle earlier in the season and now has once again proven that he can make plays when called upon. Things have been great so far for the running backs. That means it could only get better as the season rolls on.
Offensive Line: A+
This group has also been a huge bright spot for the Bulldogs offense this season. Let's not forget that offensive line coach Will Friend had to groom three new starters this season on the line. Out from last season were Kenarious Gates, Dallas Lee, and Chris Burnette. In for this season are Kolton Houston, Greg Pyke, and Brandon Kublanow. This unit also had to rely on John Theus moving over to the left tackle spot. The anchor of this line is their senior starter at center, David Andrews. His leadership has been felt and this group has played outstanding to this point. They've only blocked for the SEC's top ranked rushing attack and given up 10 sacks through seven games. The glue of this group has been Andrews and the job done by Will Friend has been outstanding.
Quarterback: C
This is probably a little bit of a harsh grade for Hutson Mason and the rest of the group. Especially given the fact they haven't needed to rely on the passing game so far this season. The good is that they haven't turned the ball over very much and when they've needed to go to that part of the offense it has set up scores. The bad is that they haven't been able to go down the field very much this season. That said, we've Mason take shots deep for touchdown catches by Chris Conley against Vanderbilt and Arkansas. Mason's longest pass of the season came this past weekend for 48 yards against the Razorbacks. Yes, I do get that depth at the wide receiver and tight end spots hasn't been as good or productive as the running backs. However, the explosive plays have not come from this group. That said, a "C" is for good work. "B's" are for great work "A's" are for excellent work. Mason and the quarterbacks have done good work and this is what grade they get.
Wide Receivers/Tight Ends: C
I combine these groups because they really haven't separated themselves in terms of production on the field. Injuries and relative inexperience has been a sticking point for both position groups. The Georgia passing game is accounting for about 1.6 touchdowns per game. Senior wide receiver Michael Bennett leads the team with four touchdown catches and fellow senior Chris Conley is second with three. As for the tight ends, Jay Rome has one touchdown catch to lead his group. A pleasant surprise has been the emergence of freshman tight end Jeb Blazevich. He has nine catches for 157 and is the fourth leading receiver on the team. Georgia would still like to get Malcolm Mitchell and Justin Scott-Wesley back up to speed to become the deep ball threats that they very well could be for this offense. The two wide receivers have been battling all season to return to full strength from torn ACL's that forced them to miss most of last season. So far this season, Mitchell has eight catches for 50 catches. His longest gain is 12 yards. Scott-Wesley has yet to record a catch in two games played.
Offensive MVP: Todd Gurley- Despite being suspended indefinitely and playing in five of the first Georgia seven games, he is still the most productive player to this point of the season. His status is up in the air at the moment. However if he comes back, Georgia will be a tough out as the season continues.
Offensive Surprise: Nick Chubb- There's no doubt his last two games have propelled him to this spot. He's been named the Athlon Sports Freshman of the Week for two straight weeks. He was given this honor after running for just under 150 yards and a TD against Missouri and over 200 yards with two touchdown runs against Arkansas. Football fans might get tired of hearing the words "next man up" from football coaches and teams. Truth of the matter is that Georgia has needed someone to step up and he has done it.