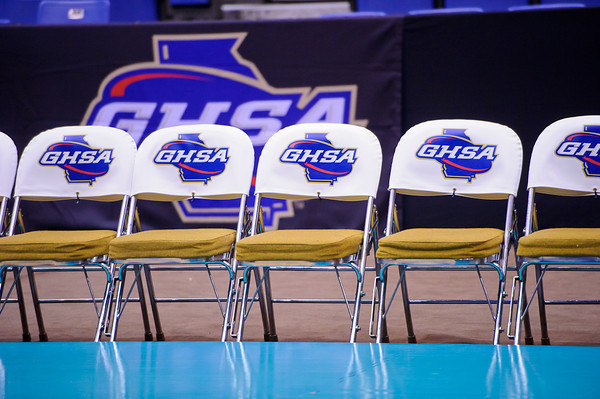 Photo by Ty Freeman
West Ashley Classic
Boys
East Hall 73, St. James (SC) 58: East Hall jumped to a 17-6 lead after the first quarter and added a 25-point outburst in the second quarter to grow a 42-20 halftime edge. Tylor Brown led the Vikings with 21 points and Triston Cooper finished with 16. Mahki Brown grabbed 13 rebounds and netted 14 points and Luke Cooper chipped in 12 points.
War Eagle Holiday Classic 
Boys
Woodward Academy 71, Fulton Leadership 50: Woodward Academy took a 39-18 halftime lead and grew the lead to 56-32 entering the final quarter. Junior Brennan McDaniel notched a double-double with 12 points and 10 boards and junior guard Julian Cameron finished with 13 points. Senior Maxwell Chester finished with a team-high 15 points and junior Hunter Falconer chipped in with 10 points, six rebounds and four assists.
Girls
Chamblee 51, Starr's Mill 50: Chamblee's Trinity Edwards netted the game-winner at the buzzer on a put back and finished with 13 points. Liyah Terrell led Chamblee with 15. Chamblee led 39-35 entering the final quarter and held a 27-24 lead at the half.
Other Recaps
Boys
East Jackson 91, Monroe Area 70: Travis Anderson ended the third quarter with a 3-pointer at the buzzer to give East Jackson a 72-45 lead. Anderson added six more points in the final frame and finished with a game-high 33 points. Teammate Drue Drinnon also scored six points in the fourth quarter and finished with 28. East Jackson led 27-17 after the first quarter and 49-27 at the half.
Stratford Academy 80, Dooly County 63: Stratford Academy trailed 35-34 at the half but used a 24-17 scoring edge in the third quarter to grow a 59-51 lead. O'Showen Williams led the Eagles with 25 points and Quintez Cephus finished with 24. James Mitchell chipped in 14 points in the victory.
St. Pius 46, Greater Atlanta Christian 45: St. Pius trailed GAC 23-17 at the half, but outscored the Spartans 19-10 in the third quarter to take a 36-33 lead. St. Pius trailed 45-44 before Christian Merrill hit a game-winning floater. Merrill finished with a team-high 14 points and teammate Jakob Spitzer grabbed a team-high 13 rebounds.
Girls
East Jackson 47, Monroe Area 42 (OT): East Jackson led Monroe Area 34-21 at the end of the third quarter but got outscored 19-6 in the fourth quarter and entered overtime tied 40-40. Libbi Lance led East Jackson with 17 points, including two clutch free throws in overtime with seven seconds left to seal the victory.
Stratford Academy 67, Dooly County 15: Host Stratford Academy took a 23-3 lead after the first quarter and led 44-5 at the half. Ginn Ann Pinson scored 17 points in the first half and finished with a career-high 28. The Eagles grew the lead to 62-13 before outscoring the Bobcats 5-2 in the final frame.
Other Scores
Boys
Berrien 79, Florida State (FL) 38
Carver-Columbus 74, Columbus 41
Chattooga 73, Sand Rock (AL) 66
Christian Heritage 68, Model 56
Decatur 57, Griffin 48
Fayette County 63, Henry County 50
East Hall 73, St. James (SC) 58
Hebron Christian 51, Providence Christian 27
Holy Innocents' 51, Sparkman (AL) 44
Howard 67, Jefferson 51
LaGrange 60, Dutchtown 53
Lakeside-DeKalb 58, M.L. King 54
Montverde Academy (FL) 82, Wheeler 72
North Murray 49, Murray County 40
North Paulding 61, Lassiter 47
Ola 78, Eagle's Landing Christian 64
Paulding County 92, East Paulding 91
Pierce County 56, Jeff Davis 51
Providence Day (NC) 69, Pace Academy 51
Quitman County 69, Jordan 61
Seminole County 60, Calhoun County 46
Shaw 83, Douglass 74
Stratford Academy 80, Dooly County 63
St. Pius 46, Greater Atlanta Christian 45
Toobs County 64, Bacon County 40
Union County 57, Greene County 43
Warner Robins 58, Southwest Macon 45
Washington County 62, Eastside 28
Westminster 79, Alcovy 50
York (SC) 61, Lowndes 60
Girls
Bryan County 74, Screven County 12
Cross Creek 61, Westside-Augusta 25
DuPont Manual (KY) 52, Lovett 35
Eagle's Landing Christian 70, Ola 20
East Hall 77, Grandview Prep (FL) 58
Effingham County 59, Howard 52
Greater Atlanta Christian 63, St. Pius 34
Harrison 61, Brentwood Academy (TN) 52
Henry County 64, Monticello 28
Hiwassee Dam (NC) 66, Fannin County 30
Holy Innocents' 65, Griffin 48
Lanett (AL) 36, Douglass 32
Marion County 47, Quitman County 45
Mt. Paran 51, Fellowship Christian 33
Providence Day (NC) 38, Archer 31
Ridgeland 60, Trion 32
Sandy Creek 62, Hardaway 41
Shiloh 62, Woodward Academy 46
St. Francis 77, Lake Highland Prep (FL) 66
Stephenson 55, Niceville (FL) 48
Stratford Academy 67, Dooly County 15
Toombs County 41, Bacon County 17
Union County 61, Greene County 21
Union Grove 37, Excel Christian 30
Wesleyan 48, New Trier (IL) 42
West Laurens 61, McIntosh County Academy 29
Westminster 43, Alcovy 33
Whitewater 42, Therrell 33